Tesla's CEO Elon Musk has confirmed the new Tesla pickup truck, which he calls the "cybertruck", will be unveiled on November 21. Specifically, it will be revealed near the SpaceX rocket factory, according to his tweet.
Cybertruck unveil on Nov 21 in LA near SpaceX rocket factory

— Elon Musk (@elonmusk) November 6, 2019
The Tesla pickup, first hinted in 2017 (pictured below), will be the seventh new model from the electric vehicle upcomer since the company properly entered the market with the Model S. Since the Model S, we've seen the Model X large SUV, the Model 3 mid-size sedan, the Model Y mid-size SUV, and the new Roadster 2.0. Tesla is also planning a 'semi' full-size truck.
In terms of the pickup though, it's set to be a full-size ute like the Ford F150 and co. Only, some say it will be even larger, particularly in regards to the tray and cabin areas. Due to the space-efficient way electric vehicles are made, there are no driveshaft tunnels sapping cabin space. This could also benefit the cargo load area.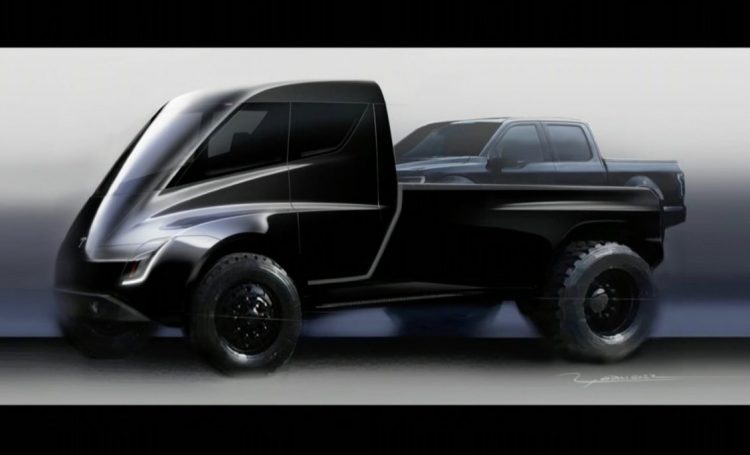 It's understood the Tesla pickup will also showcase the latest and greatest driving technologies from the company, including advanced autopilot functionality with automated steering. We also suspect Tesla will introduce some kind of innovative automatic reverse parking tech exclusive for the truck, and potentially even a system that allows the driver to step out of the vehicle before reversing.
There's also speak of a high-voltage power system in the tray area to power all kinds of work tools, while the cabin is expected to show off a huge touch-screen command centre for all of the on-board functions. If the teaser above is anything to go by the cabin might adopt a two-door configuration but with two rows of seats inside.
As for the powertrain, this area is still a bit hazy at this stage. But judging by the current product lineup, the pickup will probably be offered with a variety of battery systems and potentially options offering driving ranges beyond 750km. Straight-line performance and even towing torque will no doubt blow any of the competition out of the water.