Hyundai introduced the updated 2016 iLoad Series II earlier this year. And although there are no major powetrain upgrades, the iLoad still remains as one of the torqueist short wheelbase commercial vans on the market.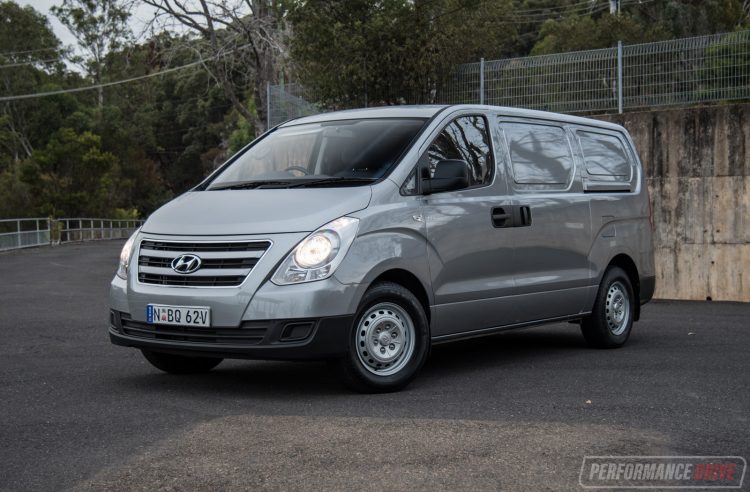 Instead of our usual review format, for the iLoad we're going to go over the seven key areas that you should know about. If you're looking to buy a van, chances are, time is money, so we're keeping this as punchy and digestible as possible for you.
Size
Being a commercial vehicle the size obviously matters. The iLoad remains as one of the largest in this specific short wheelbase van class in terms of external dimensions. It stands at just over 5100mm in length, largely down to the bonnet-style front end design Hyundai has adopted. However, the load area is not actually that impressive, offering 4308 litres of useable volume. The bed floor measures 2375mm in length and 1620mm in width and 1350mm in height. These measurements don't lead the class in any specific area, but there are respectable, and capacious enough to swallow toys such as a dirt bike. Twin sliding side doors help boost practicality.
Sales
In Australia, the iLoad is the second-best-selling van in the class, only behind the fleet special Toyota HiAce. Hyundai Australia has sold 4366 examples so far this year compared with 5457 HiAce sales. The next-best is the Volkswagen Transporter, with just 1490 sales. Sales are up 22.5 per cent so far this year for Hyundai (through September).
Features
New for 2016 is a touch-screen interface system. This is like what is seen on many of Hyundai's passenger cars, which means you're getting, pretty much, Hyundai's latest and greatest. It's a 7.0-inch screen with Apple and Android connectivity, making it easy to integrate with your smart phone. The screen also doubles as a display for the standard rear-view camera – an important omission on the Series I.
You also get a flip-down centre console/middle seat with two cup holders and large trough for notes and so on, and there are bottle holders in the doors and a decent-size glove box with an additional box above. Hyundai has fit cruise control for all diesel automatic models, along with a revised gear shifter and a 'premium' steering wheel with button controls for Series II.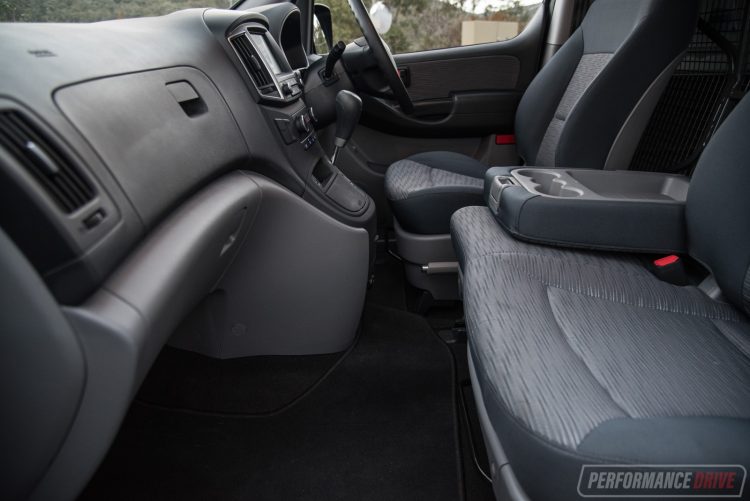 Comfort
With a bit of a bonnet on the front it allows for the front wheels to be pushed forward. This means you don't sit directly on top of the wheels, which, in turn, has massive benefits in comfort. Ride quality is surprisingly good, with very little jiggling about like you get in some vans.
The seats are easily accessible thanks to a nice big step to get in, with a handle on the A-pillar. Getting in and out frequently isn't all that tiresome as the seat isn't as high as it is in some vans that side on the front wheel, but it isn't as comfortable as, say, a regular SUV. Seat cushioning is supportive and reasonably soft, and, ergonomically, most controls fall relatively naturally. The steering wheel is perched forward slightly, although not nearly as horizontal as a bus, or some other vans for that matter.
Performance
Okay, so it's a commercial vehicle. A vehicle that is designed for the city rat race and a busy schedule of delivering and meeting deadlines. However, performance might be more important than you think. After all, a van with decent power and torque will allow you to carry more things with less effort. The iLoad remains as one of the torqueist vans in the class as mentioned, with its 2.5-litre turbo-diesel four-cylinder producing 125kW and 441Nm.
Peak torque is spread from 2000-2250rpm, giving it a decent mid-range, with peak power arriving at 3800rpm. Around town the iLoad is surprisingly zippy, squirting up little hills and through short streets, and with that low-down torque – and lots of it – it can actually be quite fun to drive. With our VBox suction-capped onto the windscreen, we timed 0-100km/h in a respectable 11.23 seconds. We also did the quarter mile – just for fun – and it stopped the clock in 17.95 seconds. These times are not bad for a van. Obviously times are going to vary depending on what you're hauling around.
Driving
With the energetic engine on board, the iLoad can be enjoyable to drive. More importantly though, it's not tiresome or uncomfortable. The driving position is good, although perched higher than a regular car, with a low windscreen providing heaps of forward view. Judging the external proportions is also easy and you can place the van confidently into tight places thanks to the communicative steering. You're probably not going to believe us when we say this, but we genuinely enjoy zipping around in the iLoad. There's no body roll at all and the handling and grip is impressive, for a van, with its industrial-strength 215/70 tyres – these emit a full-bodied chirp if you're on the power too early exiting a tight corner.
Economy
Lastly, one of the most important elements you're be looking into when buying a van for your business is fuel consumption. After all, there's no point working hard only to see all your earnings going into petrol stations and the tax man. Time is money as well, so less time at the bowser means more time on the road. The iLoad offers an official average fuel consumption of 8.8L/100km. It's not the leader of the class but it is decent. You can expect to get very close to this in the real-world too, unlike some other vehicles on the market which are nowhere near the official ratings. With a 75-litre fuel tank as standard, the iLoad offers a potential maximum range of 1014L using the official highway consumption rate of 7.4L/100km. Around the city, using the official 11.2L/100km rating as a gauge, the potential range is 670km. Average range is calculated at 852km. Again though, this is going to depend on how much weight you're lugging around every day. Keeping the cargo area as empty as possible is going to help – those half-filled dried-out cement buckets aren't going to do you any favours.

2016 Hyundai iLoad Series II – THE SPECS
Engine: 2.5-litre turbo-diesel four-cylinder
Output: 125kW@3800rpm / 441Nm@2000-2250rpm
Transmission: Five-speed auto
Drive type: Rear-wheel drive
Wheels: F: 16×6.5, 215/70  R: 16×6.5, 215/70
ANCAP: Four stars (scored 25.81 out of 37)
Tare weight: 2080kg
Power-to-weight: 16.64:1 (kg:kW)
Official fuel economy: 8.8L/100km
Economy during test: 9.0L/100km
Fuel capacity/Type: 75L/Diesel
Power efficiency: 14.2kW:L/100km
0-60km/h: 4.68 seconds*
0-100km/h: 11.23 seconds*
1/8 mile: 11.59 seconds at 101.3km/h*
1/4 mile: 17.95 seconds at 125.2km/h*
100-0km/h braking: 3.44 seconds at 42.44 metres*
Decibel at idle: 54*
Peak decibel at 60-100km/h: 81*
Priced from: $43,790
* Figures as tested by PerformanceDrive on the day. Factory claims may be different