Mazda has revealed an all-new crossover concept called the KOERU concept at the Frankfurt show. It gives us a look at the company's upcoming SUV design theme which is expected to be adopted on the future CX-5 and CX-9 models, or even a 'CX-6'?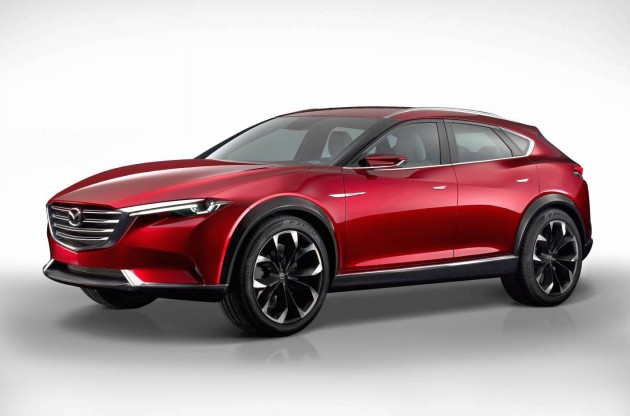 The KOERU, which means 'exceed' or 'go beyond' in Japanese, is an interpretation of Mazda's future crossover design. It measures 4600mm in length, 1900mm in width, and 1500mm in height, making it slightly longer and wider than the current CX-5, but around 200mm lower.
Specific details haven't been mentioned, however, Mazda says the concept possess its latest SkyActiv technologies. The company has so far been quite vague, only saying that it "responds linearly to the driver's operations, providing a true Jinba-ittai driving experience".
In terms of design, it looks very sporty and sharp. At the front is an angular nose with defined bonnet lines, inverted slimline headlights, and a sporty lower lip section. The back appears to be inspired by the latest MX-5 in the centre, with an integrated lip, while a narrow rear windscreen and high rear haunches give the impression of a pouncing untamed animal.
Inside, the 2700mm wheelbase offers seating for five, while the dash features Mazda's latest MZD Connect 2 interface for full connectivity. The dash fascia is slightly skewed to the driver, with a high centre console providing a sporty, closed-in layout.
More details are expected to unravel in the coming hours. We will update this report with anything further that we hear in regards to its relationship with production models.