For about the price of a BMW M3 and a BMW X5 M50d combined, you could buy a Tesla Model X P90D. And that's what you're essentially getting with the Tesla. A fast sports car and a fast yet efficient and roomy SUV, in one. It might come as a surprise that the Tesla is actually quicker than both the Beemers – a lot quicker – and produces almost as much power as both of them combined.
The Tesla Model X is the now-famous Californian brand's latest addition to join the Australian lineup. It's pitched as a large SUV/crossover, although offering questionable 'off-road' performance just like most luxury SUVs, while boasting seating for up to seven passengers (five-, six-, and seven-seat configuration available at order). Fuel consumption is not applicable as this is a fully-electric vehicle, available with a variety of battery sizes and driving ranges.
Here we're testing the just-superseded flagship P90D. If you were to walk into a Tesla showroom now and order one, the salesperson would point you to the new P100D. Even still, the P90D is a seriously intriguing, advanced, and extremely quick vehicle in the luxury SUV space. Prices for the Model X start at around $144,000 for the base model 75D (depending on state and taxes), and top out at around $240,000 for the P100D, without options. This P90D with various options has a total price of $285,713.
2017 Tesla Model X P90D – THE SPECS
Engine: Dual electric motors (front and rear)
Output: 193kW front motor, 375kW rear motor
Transmission: Single-speed auto
Drive type: All-wheel drive
Wheels: 22in as tested, F: 265/35  R: 285/35
ANCAP: Not tested
Tare weight: 2449kg
Power-to-weight: 4.31:1 (kg:kW)
Economy during test: 0L/100km
Full-charge range: 470km
0-60km/h: 1.93 seconds*
0-100km/h: 3.83 seconds*
1/8 mile: 7.87 seconds at 149.6km/h*
1/4 mile: 12.23 seconds at 180.3km/h*
100-0km/h braking: 3.01 seconds at 37.54 metres*
Priced from: $285,713 (as tested)
* Figures as tested by PerformanceDrive on the day. Factory claims may be different

2017 Tesla Model X P90D – THE PACKAGE
If you've never seen a Tesla up close, or even jumped inside one you'll be immediately amazed by the presence of the Model X and the sheer simplicity of the cabin. Well, we say simplicity but this is before you see the massive touch-screen interface that takes prime position on the dash. It's basically a laptop tilted on its side, providing full internet connectivity with songs on-demand, the real Google Maps, and suite of driving and luxury-supporting functions.
You'll be further amazed by the 'falcon-wing' rear doors, and the fact that all doors open and close electronically. So long as you have the key on you, the driver's door can automatically open for you as you approach the car – did we mention Tesla is an American brand? Obesity is an ongoing concern in the U.S. and Australians aren't far behind. We don't think these doors are any help in regards to the epidemic, but nonetheless they are very cool.
After the initial amazement has worn off, the doors can seem gimmicky and not that practical (we should point out they won't open if an object is in the way). Fortunately, the two front doors can be opened and closed the conventional way as well, which is great if you live a busy lifestyle and don't have time to wait for doors to open and close. Those falcon wings at the back though, you have to wait for them. And if somebody happens to be standing in the wrong spot or walk near while the wing is in the process of opening, the cameras will pick it up and the door stops mid-air. This, again, can be frustrating if you just want to get in the car and get to where you need to go. They will open in surprisingly tight spaces though, so we must commend the technology for that.
Once you're inside it is very calm and peaceful. There's no noise, with good sound insulation from the outside world. An engine is non-existent so there's no noise there, at all. Even slotting the Mercedes-Benz column-shifter into D sees no change to the tranquility. You just apply some throttle and it moves away, just like a regular car but in total silence. It's weird.
Comfort levels are pretty good, but not excellent. For a vehicle in this price range you might be expecting some super-soft, quilted-leather armchairs with thick plush carpets, and no plastic trimming anywhere. But that's not the case. It's bare, with decent-quality materials and some plastic, but nothing above or beyond. Part of this seeming bareness is due to every button and knob being consolidated into that massive touch-screen, so there are no major fixtures or special areas that house buttons and controls. It's all in the screen. In this sense, the Model X changes conventions and what we're all used to in the SUV world.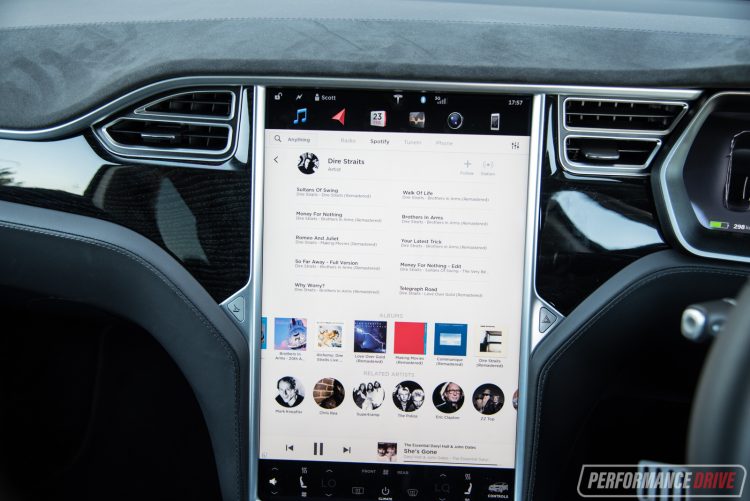 The touch-screen interface is definitely a change for the better. It's easily the most user-friendly, clear, yet most comprehensive unit you'll see in any production vehicle currently on sale. The car comes with its own SIM card and is connected to the internet constantly, allowing you to browse music via any of the various in-built digital music apps, and also navigate your route using Google's superb Maps program with live traffic. Sure, some other luxury vehicles offer this but the menus and functionality of the Tesla system is far superior. For example, stepping into a Mercedes-Benz or Lexus for the first time, the infotainment system can be overwhelming. It's not in the Tesla. It makes it all look easy and somehow you automatically acclimatise to where everything is and how everything works.
Within the screen you can also configure a multitude of vehicle settings, open and close doors, change the air suspension ride height (included as standard on the P90D), and set the cabin temperature and even engage the air-tight "bioweapon defense" mode if you happen to drive through a failing waste management facility. You can also engage the Ludicrous Speed driving mode, giving you the full power of the electric motors. The mode is a $14,500 option on the P90D.
Despite all of the interesting and game-changing elements to the Tesla, there are some areas that we think need further attention. The 'receding' roofline, for one. All Model X models come with a giant windscreen that extends right back to where a sunroof would normally sit. In Australia's hot summer climate we found this almost unbearable. Facing the sun, stuck in afternoon traffic, it can be super-annoying. And you can't escape it.
There are very thin folding sunvisors but these are only useful at that precise moment where the sun is eclipsing this part of the windscreen. For most of the morning and afternoon, if you're driving somewhat west or east, the sun just pierces straight down onto your head (tinted top section isn't enough). We think there should be a roller-shutter option here, or even the option for a conventional-size windscreen.
Another area that we think needs improving is the craftsmanship and fit and finish, especially at this price point. We noticed there are plenty of uneven panel gaps around the body, with an ill-fitted rear hatch, while some of the interior can creak and rattle over bumps. As mentioned, some of the materials such as the hard leather aren't deserving of that high starting price either.

2017 Tesla Model X P90D – THE DRIVE
We'll get the performance side of things out of the way first, as you're probably eager to know how the Ludicrous mode goes. In short, acceleration response is immediate and immense, just like electricity. The faster you hit the throttle the faster it will take off, relentlessly pressing you back hard into your seat like a roller-coaster. And there's no wheelspin or hesitation at all. The power is cleverly delivered straight to the wheels via a 375kW electric motor on the rear axle, and a 193kW one on the front. There's no central driveshaft, saving not only weight but also energy, with minimal mechanical transfer loss. With such short driveshafts feeding power to the wheels, it also means there aren't many moving parts, aiding longevity and driveline strength.
Another reason for extraordinary grip is the weight of the Model X. It tips the scales at 2449kg, which is very heavy for a large SUV. You can think of it as like having constant aero downforce, pressing, in this case, the 22-inch wheels and Goodyear 265 front and 285 rear tyres firmly onto the tarmac at all times. Also pressing them hard is the completely independent four-wheel air suspension setup. There are struts at each corner, allowing the wheels to manage their own conditions separately and without disturbing other corners of the platform.
So, in terms of straight-line acceleration. We timed 0-100km/h in an incredible 3.83 seconds, in real-world conditions, and the quarter mile in an equally astonishing 12.2 seconds. This puts it on par with an number of Ferrari and Lamborghini supercars from not that long ago. No other factory SUV is able to better this. In fact, the only SUVs that get anywhere near it are the $420,600 Bentley Bentayga with its 450kW 6.0-litre twin-turbo W12 (claimed 0-100km/h in 4.1 seconds), the $185,225 BMW X5 M with its 423kW 4.4-litre twin-turbo V8 (4.2), and the $190,616 Mercedes-AMG GLE 63 S with its 430kW 5.5-litre twin-turbo V8 (4.2).
As impressive as this is, you can't help but remember the Model X uses no fuel at all, unlike the above rivals that consume the stuff like uni students downing beer during a drinking game. Buyers can use Tesla's Supercharger network for free charging (not for much longer, credits will be introduced in April), and there are currently two in Sydney and 12 in Australia (and growing). These can recharge the P90D in a bit over an hour, or recharge to around 80 per cent in half the time.
During the opposite end of lateral g-forces, the big Model X stops surprisingly well. We clocked an emergency 100-0km/h stop in a very respectable 37 metres, in three seconds. Again, this could have something to do with the tyres' ability to bite down hard on the tarmac with all wheels firmly planted.
Aside from the performance appeal, even though it's probably one of its key attractions and potentially the main reason why a buyer would be drawn to the top P90D, the Model X is a nice crossover to drive. It handles well enough and remains extremely flat and neutral in the corners, and visibility is great with easy-to-judge external proportions, so it is relatively easy to park for a large vehicle. Ride quality is also good, even with the 22-inch alloy wheel option (as tested).
2017 Tesla Model X P90D – THE VIDEO
2017 Tesla Model X P90D – THE VERDICT
The Model X P90D is such a great product in many ways. Despite being a relatively new company, Elon Musk and his engineers show the automotive world things don't have to be so complicated when dealing with modern technology. They also show us we don't need big, petrol-guzzling twin-turbo V8 engines to achieve extraordinary performance.
We don't think the sum of the parts of this Model X P90D are worth the sticker price, not even by half, but in the end you're getting the most advanced, most environmentally friendly, perhaps roomiest and most practical SUV money can buy. It's also the world's quickest production SUV ever. So we guess all of this must come at a cost, right?
PROS:
– Surreal drive experience
– Scary-fast acceleration
– Clever and practical cabin layout
– Best touch-screen in the industry
– Uses no fuel
– Seating space, with USB ports for all three rows

CONS:
– Receding windscreen, especially in summer
– Gimmicky falcon-wing/electric doors
– Not '$250k' craftsmanship and quality
– Price
As always, if you're thinking about buying a new car don't forget to click here to speak with our car buying specialists.