As suspected, McLaren was planning to unveil the new 650S GT3 race car at the Goodwood Festival of Speed. The new model replaces the MP4-12C GT3 racer.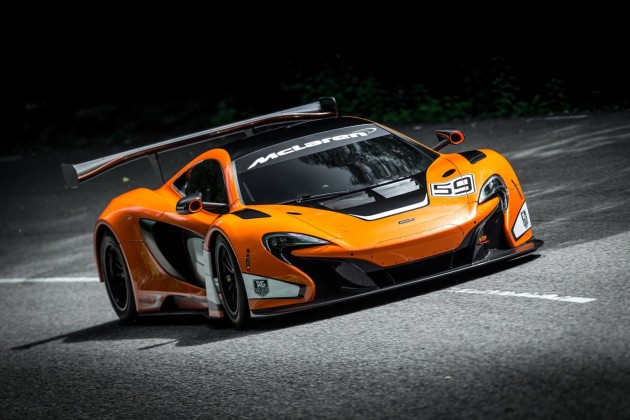 McLaren says a number of changes have been made to the new model to help optimise handling and boost overall safety. It also gets a CFD-developed body with various wings and splitters that improve aerodynamics and cooling.
Built for GT3 championship class racing all around the world, the new version is based on the 650S road car, obviously. It uses a form of the 'M838T' 3.8-litre twin-turbo V8 as seen in the road car, although, power is capped to around 500PS (368kW) as per FIA regulations. The ECU features increased functionality with boost and transmission control, and adjustment for the all-new six-speed sequential transmission.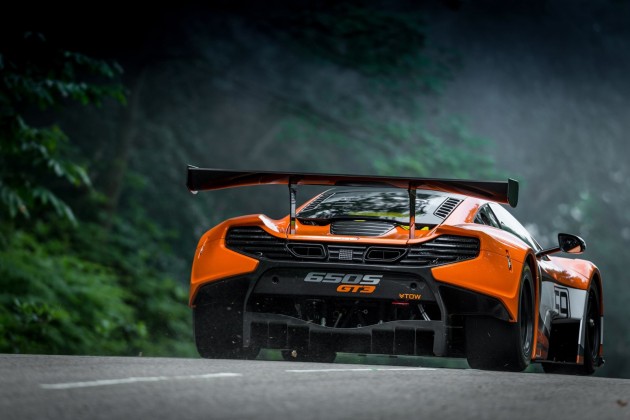 Underneath, the suspension geometry has been revised and it now sits with a wider track (by 52mm) than the predecessor. These changes, according to the British company, help to enhance driver engagement for a wider range of drivers, and improve overall drivability.
Customer deliveries will kick off towards the end of 2014, ready for competition in the 2015 season.
See below for the full McLaren 650S GT3 specifications:
Chassis/Body
McLaren carbon fibre MonoCell with aluminum front and rear sub frames
Bespoke lightweight carbon fibre/composite body panels
Left hand drive
o  FIA approved safety roll cage
Air-jacking system
Colour – customer choice
Aerodynamics
Front splitter and dive planes
Rear wing – fully adjustable with gurney
Front and rear diffusers
Engine/Management
Race prepared 3.8L V8 twin turbo McLaren M838T
McLaren Electronics ECU incorporating turbo boost and transmission shift control
Transmission
Six-speed sequential motorsport transmission pneumatically actuated via steering wheel mounted paddles
Electrical System
Lightweight motorsport specification wiring and connectors
Electronic power management system
Membrane type switch panel
o  Auxiliary power supplies for fitment of team equipment (radio etc)
Data System
McLaren Electronics 'ATLAS' data system
Motorsport digital dash display
• Front/Rear Suspension
Double wishbone adjustable for ride height, camber and toe
4-way adjustable dampers with coil over springs
Motorsport axles with single wheel retaining nut
Adjustable anti-roll bars
Forged aluminium wheels: Front 12.5 inches x 18 inches, Rear 13 x 18 inches
Steering
Electro-hydraulic power assisted steering
Unique McLaren GT composite steering wheel incorporating key driver switch controls and map settings
Fuel System
Motorsport 'bag tank' system with 125L capacity
Motorsport 'quick-fill' system
Brake System
Monoblock calipers with ventilated discs
Front – six-piston caliper, 380mm x 35mm disc
Rear – four-piston caliper, 355mm x 32mm disc
Bosch motorsport ABS
Adjustable brake bias
Cockpit
McLaren GT bespoke composite seat shell
Six-point racing harness
Motorsport pedal box – adjustable position
Lightweight carbon fibre dash with integrated driver display and switch panel
o  Motorsport fire extinguisher system