BMW Australia is announcing the updated i3 range, arriving in October, adding two variants with more efficient batteries and bringing a longer range.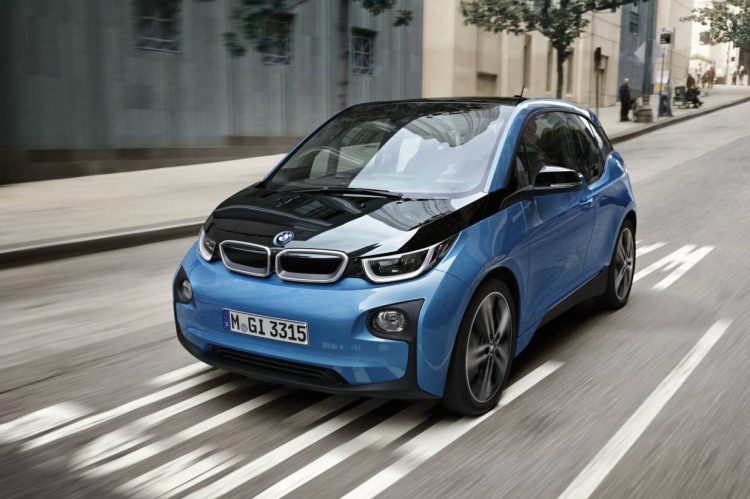 The format of the lineup remains unchanged, with the choice of either a battery electric vehicle (EV), or a range-extender variant which is mated to a tiny 650cc two-cylinder engine that acts as a 28kW generator.
The i3 94Ah in pure-EV form is rated by European NEDC standards at 310km, whereas real-world driving conditions, like using the air conditioning and radio, brings this down to 200km, consuming energy at a rate of 12.6kWh/100km. Opting for the 94Ah Range Extender variant raises this NEDC range to 390km, equating to a real-world driving range of 320km, consuming 0.6L/100km and 11.3kWh/100km.
To put this in more context, the previous i3's 60Ah battery pack offered 22kWh of electricity, 19kWh of which was usable energy. The updated 94Ah pack offers a total of 33kWh, with 27kWh of this useable energy. The new battery packs come thanks to a partnership with Samsung SDI.
The updated i3 94Ah's electric motor generates 125kW/250Nm and can take the EV from 0-100km/h in 7.3 seconds, and onto a top speed of 150km/h.
The carbon fibre reinforced plastic (CFRP) architecture from the previous i3 has been carried over, which BMW says reduces weight by 350kg over a steel structure, resulting in a 1245kg kerb weight.
There are no changes to the exterior dimensions of the i3 however, think of it more as a technical upgrade.
BMW says the i3 is packaged with a Type 1 connector – the Australian standard for electric and plug-in hybrid vehicles. Customers that opt for BMW's i Wallbox Pure will be able to charge their i3 to 80 per cent at home in less than eight hours using the 3.7kW at 16 amps charging box.
BMW's 360° ELECTRIC program allows owners to use ChargePoint facilties which supply 7.4kW at 32 amps, halving the 80 per cent charge time to just four hours.
Inside, customers can expect the same range of leather, wool, wood and other renewable materials across the interior, with BMW Australia offering the choice of the loft, lodge or top-of-the-line suite interior finishes, which utilise local materials like eucalyptus wood. BMW Australia managing director Marc Werner said:
"BMW remains at the forefront of providing e-mobility solutions, and the upgraded battery package of the latest BMW i3 is proof of this. It reinforces the BMW i brand's innovative strength and builds on the positive reactions drawn from the recently-launched iPerformance vehicles; products that directly benefit from the work done at BMW i."
The 2016 BMW i3 94Ah will be available in October. Prices will start from the following (excluding on-roads):
2016 BMW i3 – $63,900
2016 BMW i3 with Range Extender – $69,900
2016 BMW i3 94Ah Electric Vehicle – $65,900
2016 BMW i3 94Ah with Range Extender – $71,900