Tesla could be looking to have a go at taking the electric sedan Nurburgring lap record from Porsche, with company boss Elon Musk recently sending out Tweets that suggest an attempt is just around the corner.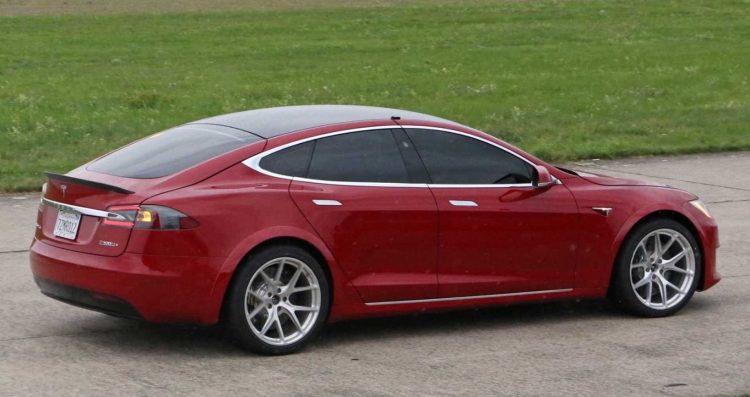 At least two Model S vehicles have recently been spotted at the German circuit conducting heated laps. One of them appears to be a highly modified version (above, not shown on the Nurburgring), complete with widened wheel arches, unique wheels and semi-slick tyres, and a big lip spoiler at the back. Ceramic brakes are also seen in spy photos which we do not have access to. Most interestingly though, the prototype wears a new badge on the back; P100D+, which has never been used before.
It's understood the 'P100D+' is a development vehicle for now, testing a new powertrain system known as 'Plaid'. According to an InsideEVs report, this could be a new variant on the way for the near future to slot above the P100D.
Details are thin at this stage but we know the Plaid powertrain will come with three electric motors, otherwise known as the tri-motor layout. A Twitter user asked Elon Musk straight up if the Plaid system uses three motors, to which Musk said:
"Yes. To be clear, Plaid powertrain is about a year away from production & applies to S, X & Roadster, but not 3 or Y. Will cost more than our current offerings, but less than competitors."
Another example was spotted on the circuit looking pretty much like a standard model. It was captured on video (see below), albeit briefly. It's understood Tesla has been booking the circuit exclusively for its own testing for 30-minute or hour slots, suggesting it is looking to set an official lap.
So far there hasn't been an official lap time for the Model S. According to the Wikipedia page on Nurburgring lap times, someone has set a lap around what's known as the 'Bridge to Gantry' section in a Model S P85D in 8:50. But that's no real feat considering even we have set a lap for that part of the circuit in a 2017 M3 in 8:21 (video here).
Taking a look through company boss Elon Musk's Twitter account, it seems he is interested in taking on the circuit, perhaps more so since Porsche has laid down the benchmark with the Taycan. It recently set a record for a production-based electric sedan with a full lap (minus the 200m strip near the old pit exit, as per the current standard) in 7:42.34.
In a Tweet, Musk said the Model S set a record at Laguna Seca in the US, and another user asked when in regards to the Nurburgring. Musk said, "Model S is already there". More interestingly, Musk later said, in the same thread, that a best lap isn't planned this week. He said:
"But we probably won't try for best lap time this week, as we need to review & tune Model S thoroughly for safety on Nurburgring, especially Flugplatz section."
So it seems there could be two different things happening at the same time. Tesla is planning a more hardcore powertrain which could receive a P100D+ moniker, while the company is also looking to set a proper Nurburgring lap time. Whether or not these two cross over is unknown. As in, is Tesla planning a lap time with the Plaid setup? Or is the Plaid setup still in early development stages and coincidentally being tested at Nurburgring?
Feel free to vent your thoughts in the comments below. And check out the quick spy video to see how the Model S goes on the Nurburgring so far.