Welcome to the all-new Porsche Taycan Turbo and Taycan Turbo S. This is a big moment in the company's history, as it comes in as the first fully electric Porsche production car. It's been four years in the making, developing all-new technologies, drive systems and a fresh design for Porsche.
We'll start with the power source as that's perhaps the most interesting element and very different to any other Porsche model. There's a world-first (for a production car) application of an 800-volt electrical system, with a 93.4kWh battery to provide fully electric propulsion.
Buyers will have two variants to choose from, including the Taycan Turbo and the Turbo S. Yes, we know. There's no turbocharger involved. However, those familiar with the Porsche brand and its history will recognise the iconic 'Turbo' badge as being the flagship.
The base Turbo develops 500kW which is enough to see 0-100km/h done and dusted in a claimed 3.2 seconds. Moving up to the Turbo S gets you a 560kW version of the same powertrain, with an added overboost function. It also includes launch control which helps get the Taycan off to a 0-100km/h sprint in a claimed 2.8 seconds. Keep it pinned and both offer a top speed of 260km/h. Unlike many electric vehicles currently on the market, the Taycan promises repeatable performance regardless of the battery level.
Like every other Porsche, the Taycan has been set up to be a proper driver's car. All of that power is directed through an advanced chassis system called Porsche 4D Chassis Control. It essentially ties in all driving systems, including the adaptive air suspension, electromechanical roll stabilisation, and Porsche Torque Vectoring Plus. It also manages the all-wheel drive system. Depending on what driving mode is selected (Range, Normal, Sport, Sport Plus), the Taycan will alter its systems to suit your intentions.
"We promised a true Porsche for the age of electromobility – a fascinating sports car that not only excites in terms of its technology and driving dynamics, but also sparks a passion in people all over the world, just like its legendary predecessors have done. Now we are delivering on this promise," said Michael Steiner, member of the executive board of Porsche AG for research and development.
In terms of the range and charging, the Turbo has a range of 450km (WLTP), while the Turbo S offers slightly less, at 412km. Recharging via the European infrastructure at a peak of 270kW, the battery charge can be replenished from 5 per cent to 80 per cent in just 22.5 minutes. Users can also plug in a high-powered DC charger to top up 100km of range in just 5 minutes. Users will also be able to charge the Taycan at home using an AC socket at 11kW.
Most of this stuff we kind of already knew thanks to various previews. However, this is the first time the full exterior design has been revealed. At the front you'll notice a completely new look for the LED headlights, which are submerged into their 'eye sockets', while swelling front guards provide that iconic silhouette. Around at the back is a subtle and stylish full-width taillight, with muscular haunches and a neat diffuser section at the bottom. Obviously there are no quad-outlet exhaust pipes here.
As previously revealed, Porsche presents a modern, clean and user-friendly cabin incorporating a 10.9-inch touch-screen media interface, another 8.4-inch touch-screen for the on-board controls on the centre console, and then a wrap-around digital screen for the instrument cluster measuring 16.8 inches. As an option, buyers can go for an additional screen for the passenger side as well.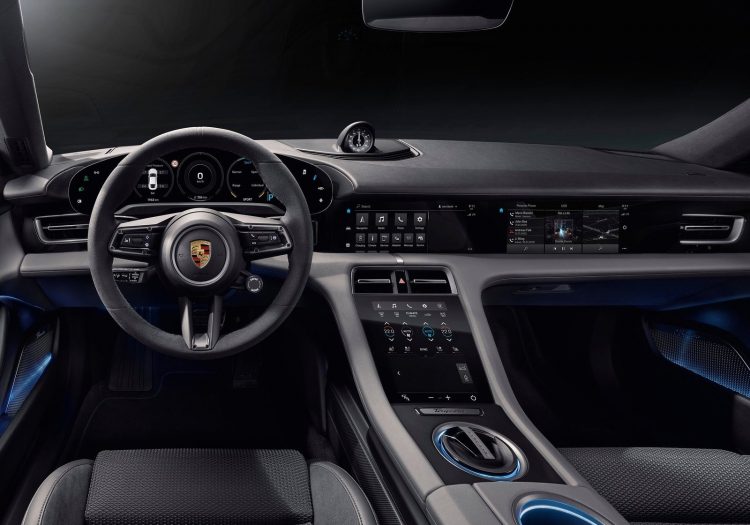 With four doors, the Taycan should offer respectable passenger space front and rear. Buyers will be able to select from a range of trim and material options, including leather or complete leather-free configurations. Cargo is taken care of thanks to two compartments; a front under-bonnet section offering 81L, and a rear boot with 366L.
Porsche confirms there will be other variants entering the market later down the track, including variants with less power and likely lower starting prices. For now, Australian buyers will be able to place their orders for the Turbo and Turbo S from early 2020. Local prices will be announced closer to this date, with the first deliveries scheduled in Australia for the fourth quarter of next year.