BMW has sent out its first proper teaser image of the upcoming BMW X7 grand-size SUV. Up until this point the company has only released images showing pre-production prototypes.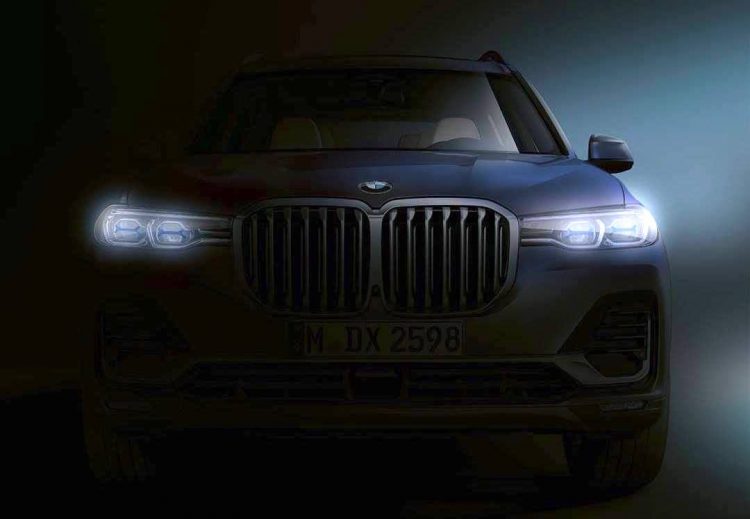 BMW has used Facebook to preview the new model ahead of its reveal a bit later this month. The poorly-lit image gives us a decent look at the front end. And as expected, it looks very similar to other late-model SUVs from BMW, such as the new X5 and X3, only it uses huge, imposing front grilles like on the concept version.
The X7 will be the largest SUV BMW has ever offered, giving it a product to compete against the likes of the Mercedes-Benz GLS, Lexus LX, and the big Range Rover. It's likely to be offered with seven seats, like the X5, but overall cabin room will be much larger.
Luxury and finer details are also set to be turned up a few notches over the X5, given that it will sit alongside the 7 Series. Options such as two seats for the middle row with a large centre console could potentially be offered. Special leathers and uber-decadent features such as perfume air-con, a wine cooler, and rear digital screens are also expected.
Under the bonnet, BMW will probably install its latest 4.4-litre twin-turbo V8 that recently debuted in the M850i. In that the unit produces 390kW. A quad-turbo diesel might also join the lineup, and possibly a singe-turbo '30d' tune for the entry-level model.
Production of the BMW X7 will take place at BMW's Spartanburg facility in North Carolina, USA. This is where the X3 and X5 are currently built for some markets. Pre-production has already commenced, with market entry set to kick off later this year. BMW Australia has confirmed the X7 will be offered locally. Stay tuned for the full reveal.