German tuning company and manufacturer, Alpina, known for warming BMWs, has unveiled the new Alpina D5 Bi-Turbo at the 2011 IAA Frankfurt Motor Show. The performance model is based on the latest BMW 5 Series 535d turbo-diesel.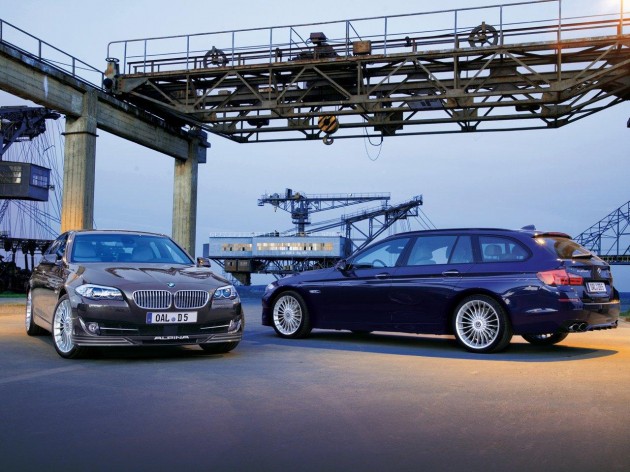 The engine in the Alpina D5 Bi-Turbo is the same 3.0-litre TwinPower turbocharged inline six-cylinder diesel found in the BMW 5 Series 535d, however, Alpina has increased the power to 257kW, up from the standard 220kW. Even though power has increased, CO2 emissions for the Alpina D5 Biturbo are rated at a conservative 165g/km.
The engine in the Alpina D5 B-Tturbo is joined up to an eight-speed Sport-Automatic ZF 8HP70 SWITCH-TRONIC transmission. The gearbox offers three driving modes; automatic, sport and manual. It also uses a tailored version of the BMW's ECO PRO Mode, helping to reduce emissions and fuel consumption.
Being a modern diesel, you know fuel economy is going to be good, and it is, sipping just 7.5L/100km around town, and 5.5L/100km out on the freeway. Combined cycle is said to be 6.2 l/100 km – not bad for a car with 257kW.
Alpina has reported that the D5 Bi-Turbo can clock a 0-100 km/h time in just 5.2 seconds, beating the factory BMW 5 Series 535d by 0.7 seconds. Top speed is rated at 270km/h.
Power isn't anything without looks, especially on an Alpina. Known for its subtle yet elegant inner and outer styling appointments, the Alpina D5 Bi-Turbo comes with a new aerodynamics package to suit either 5 Series sedan, or Touring (wagon) model – the kit includes a front apron, rear diffuser, and a rear spoiler.
Further, Park Distance Control, full leather trim with adjustable sport seats, Xenon headlamps, LCD screen and wood and leather styling accents, electronically-adjustable dampers and 20-inch wheels are also standard fitment.
Pricing for the Alpina D5 Bi-Turbo has not yet been released.