Finally, BMW is offering a proper performance version of its medium-size premium SUV. Most of the Euro competitors have been in this space for a few years now. Do good things come to those who wait? Let's check out the new BMW X3 M40i and see.
Before the M40i came along the bestest, most-powerful and most badass X3 was – in Australia at least – the xDrive30d. Yep, a diesel. Many carmakers are starting to wind back on diesel options. In fact, Audi's main rival, the SQ5, switched from a potent diesel to a petrol engine (250kW/500Nm) for the latest generation. Jaguar has been offering the F-PACE S (280kW/450Nm) for a couple of years now, and Mercedes-AMG has the GLC 43 (270kW/520Nm) and 63 (375kW/700Nm).
For the X3 M40i BMW is using a revised version of the 3.0-litre turbo inline six 'B58' engine. It's actually the most powerful version of this engine so far, producing 265kW and 500Nm. This is sent through the slick ZF-based eight-speed automatic and into an xDrive all-wheel drive system. BMW Australia still offers the 30d (195kW/620Nm), but we miss out on the 240kW/680Nm X3 M40d offered overseas.
Alright, alright. Enough with the numbers. Actually, one more; $99,900 (excluding on-roads). Compared with the aforementioned rivals, this is bang in line with the SQ5, and slightly more affordable than the F-PACE S and Mercedes-AMG GLC 43 (both around $104k).
2018 BMW X3 M40i – THE SPECS
Engine: 3.0-litre turbo inline six
Output: 265kW@6500rpm / 500Nm@1520-4800rpm
Transmission: Eight-speed auto
Drive type: All-wheel drive
Wheels: F: 21×8.5, 245/40  R: 21×9.5, 275/35
ANCAP: Five stars
Tare weight: 1768kg
Power-to-weight: 6.67:1 (kg:kW)
Official fuel economy: 8.9L/100km
Economy during test: 10.5L/100km
Fuel capacity/Type: 65L/95 RON
Power efficiency: 29.77kW:L/100km
0-60km/h: 2.40 seconds*
0-100km/h: 4.96 seconds*
60-110km/h: 3.22 seconds*
1/8 mile: 8.67 seconds at 140.2km/h*
1/4 mile: 13.28 seconds at 172.8km/h*
Max acceleration: 0.924g
100-0km/h braking: 3.05 seconds at 37.28 metres*
Max deceleration: -1.194g
Decibel at idle: 46*
Peak decibel at 60-100km/h: 86*
Priced from: $99,900
* Figures as tested by PerformanceDrive on the day. Factory claims may be different

2018 BMW X3 M40i – THE PACKAGE
Being the new flagship X3, the M40i does come extensively equipped with convenience- and luxury-enhancing features as standard. And for a refreshing change, this test vehicle isn't optioned to oblivion. This gives us a nice insight into what you actually get even if you hold back on ticking the supplementary boxes.
To reel off some of the highlights, the interior gets the latest 10.25-inch wide-screen media interface with touch functionality and iDrive 6. Digital radio, 3D- and surround-view camera displays (including the ability to call for imagery to be sent to your phone at any time via the BMW app), and sat-nav are all packaged in, but Apple CarPlay is a $623 option.
In our opinion, it's fine without Apple CarPlay as the iDrive system is very practical and offers an easy menu setup and even remembers where you last were in any specific area. For example, if you dive into the vehicle settings, and then select displays, and then select the standard head-up display adjustment, then next time you start from main menu and select vehicle settings, it'll remember and pre-select the appropriate menus as you go in. It's hard to explain, but just trust us. It's clever. There's also a range of quick selections buttons available around the main control knob.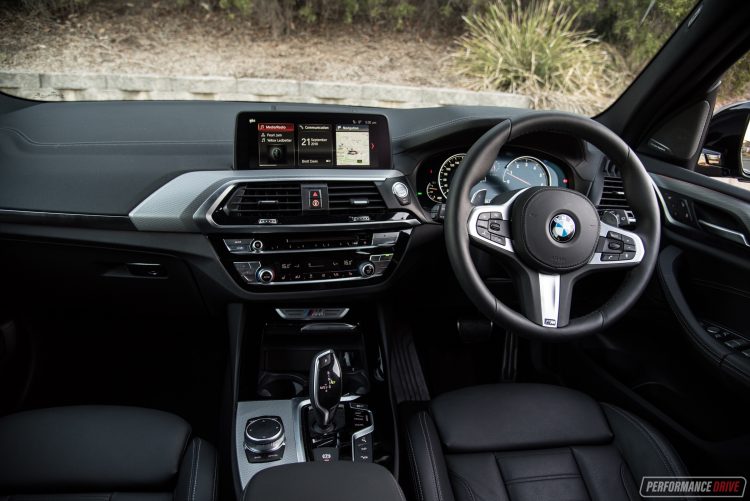 Other highlights, you've got rear temperature and fan speed control as standard, with dual-zone climate in the front and charcoal filtering, as well as leather sports seats (also seen in the optional M Sport pack in the regular X3 models). About the only key difference to the interior compared with the regular X3 M Sport option pack is a special 'M' badge at the front of the centre console. There's also an M40i logo within the standard 12.3-inch fully digital instrument cluster.
The fact that the interior is not too different to the regular X3 is a good thing we reckon, as the latest model presents one of the most practical and well built setups in the class. There are no creaks or rattles, and the upright orientation provides ample headroom and legroom. Door openings are also very ergonomic, with the front doors featuring three safety stop points to reduce the chances of the door being flung out. The front doors also open surprisingly wide, to almost 90 degrees.
Speaking of opening doors, the tailgate is power-operated as standard and you can adjust the angle in which it opens to. It hides a 550L/1600L cargo capacity, with a well-organised area with tie-down rails, under-floor storage and pockets in the sides. There's also a 12V socket in the wall of the cargo area, and levers to fold down the rear seats from the back.
As for the exterior, you get 21-inch alloy wheels, grey side mirrors and front grilles, and bespoke front and rear bumper bars with more aggressive air intakes and vents. BMW has decided not to equip the M40i with the fashionable quad-outlet exhausts like what are featured on almost every sporty vehicle these days. Instead, it's a pair of matt black rectangular tips. We're sure the quad setup will be reserved for the X3 M which arrives in the next 12 months or so.

2018 BMW X3 M40i – THE DRIVE
As an everyday car, the X3 M40i is superb. Visibility is excellent, and because it sits in the medium SUV class with the likes of the Jaguar F-PACE, Mercedes GLC and Audi Q5, you don't need a truck licence to keep it in the lane. Parking is also a cinch, and the auto-activating surround-view cameras in forward and reverse provide extra reassurance and clarity.
There is no major sacrifice you need to make for the M40i. All of this practicality is carried over from the regular X3 range. Apart from the ride, actually. Yes, it is an SSUV (sporty sports utility vehicle – not actually a thing) and the handling is bliss, but the ride is a little bit too firm in our opinion. And we usually don't mind a sturdier setup.
It's over mid-corner corrugations and the smaller bumps that seems to be most disturbing. The standard 21-inch wheels are wrapped in 245/45 front and 275/35 rear Pirelli P-Zero tyres, which are fairly low-profile but certainly not the lowest profile around. Fortunately, the M40i does come with adaptive dampers as standard so you can make sure it's in the default Comfort mode on ordinary roads. Although, it still is pretty firm in this setting.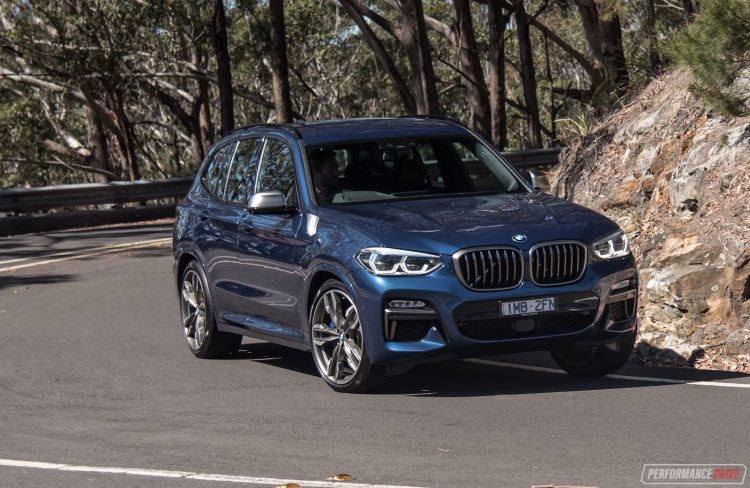 At the end of the day, this is a performance variant. So, what's it like in the corners? For a mid-size SUV, it is outstanding. Even if you categorise it as a sports car, the grip, body control and driver engagement is thoroughly well sorted. You can approach big sweeping bends with huge speed, tip the nose in, and then apply a heap of power and it will confidently punch you out of the corner. It is lots of fun, too. The steering features an electric-assisted variable ratio that feels nimble in the tighter stuff, and then more stable and planted in high-speed sections. It always feels like it wants to play while leaving you in control of the fun.
During our test we struggled to produce understeer when really pushing it into corners. And in fact, you can actually use weight-shift to throw the rear end outward to line up the front end for corner exit. This rally-like driving style is helped by the standard M differential for the rear axle, and the new rear-biased xDrive all-wheel drive system fitted to the G01 X3. It's also helped by the latest BMW CLAR platform which uses coilover-style struts front and rear (check out the cool aero-shaped guards for the rear arms). The overall handling has all the hallmarks of a good track car – it's easy to forget it's an SUV.
What makes the M40i even more entertaining is the engine. What a superb bit of kit this 3.0-litre turbo inline six is. It sounds so good, and it produces awesome acceleration and response. From just 1520rpm you have 500Nm of torque at your disposal. That's similar to V8 levels of torque, right off the mark. This is held all the way to 4800rpm, before peak power comes in to take the baton at 6500rpm. It's not a peaky engine, but nor is it a low-end torque monster; it covers both ranges.
Behind the engine is BMW's fantastic ZF-based eight-speed automatic. This combination is perfect. You wouldn't want it any other way. Gear shifts are smooth and refined when you just want to cruise in comfort. And then over in Sport Plus mode with the gear lever in manual, you can use the paddle shifters for precise control. Using the manual mode also influences the giggle-inducing exhaust pops during upshifts. What a powertrain.
Across the usual sprint tests we clocked 0-100km/h in just 4.96 seconds, which is not far off the official 4.8-second claim. And then the quarter mile in a very impressive 13.28 seconds at 173km/h. As we said, this powertrain offers huge low-end grunt but it also loves to scream, offering exciting top-end power and speed.
Compared with the 30d version, which used to be the flagship as mentioned, we've timed these runs in 5.57 seconds and 14.0 seconds, which isn't that far behind. But with the M40i the sound alone is enough to make you feel weak at the knees.
2018 BMW X3 M40i – THE VIDEO
2018 BMW X3 M40i – THE VERDICT
We love the new X3. It's really stepped up in terms of vehicle dynamics and performance over the outgoing model. But also, perhaps more importantly, it comes in with healthily-evolved practicality. It is such a friendly vehicle to live with. Personally, I like it so much I have just upgraded from a 2015 30d to the new 30d model.
This brings on the question, is the M40i worth the extra $15k or so over the 30d? Well, you're basically paying for that engine and for the discreet yet experienced M pedigree. And it is worth it. About the only thing to consider is the firm ride. It handles like a genuine sports car. So if that's high on your priorities, this won't be a problem. The performance difference – in a straight line – isn't as distant as you might expect. However, around corners the M40i is a lot more thrilling.
The engine and semi-hardcore M Performance components place the M40i into a new level over the 30d, validating its flagship status. And on that note, the M40i moves the X3 into the benchmark position for this market segment.
PROS:
– Faultless engine and transmission combo
– Sounds so good
– Really impressive point-to-point performance (and not just for an SUV)
– Interior practicality and thoughtful technology
– Build quality

CONS:
– Firm ride – a sacrifice of the exceptional handling
– Smaller rear windscreen compared with old X3
– Might come across as too subtle for some, visually
As always, if you're thinking about buying a new car don't forget to click here to speak with our car buying specialists.