Brochure scans of the 2015 Mazda CX-5 facelift have been revealed online, showing the new look for the very first time. It's not set to debut until the LA auto show in a couple of weeks.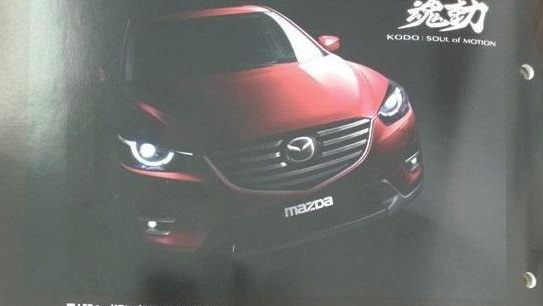 The Mazda CX-5 has been a sales sensation in Australia, easily clocking the most sales out of any other vehicle in its class. For the first facelift the nameplate has ever received, it looks like Mazda is giving it the company's latest styling language.
Examples of the design theme – called 'KODO-soul of emotion' – include the drooping front grille which is more defined via a chrome underscore, chunkier front grille slats, and slightly peeled back headlights for a more assertive and energetic face.
Those who know their Mazdas will recognise the front end as a replica of the one seen on the larger CX-9 crossover. The fog light clusters are new though as well as the lower front air intake which is trimmed in scratch-resistant black plastic.
Inside, the new model is expected to come with an updated dash with Mazda's latest multimedia interface screen which sits atop the dash. The latest screen layout, seen in the Mazda3 and upcoming Mazda6, incorporates a remote screen which sits separately from the dash fascia, as opposed to the current setup which is embedded in the middle.
Interior space and major dimensions are unchanged from the existing lineup, which means it will continue to be quite spacious for its class. Engine hardware is also set to carry over from the existing range, including a 114kW 2.0-litre petrol, a 138kW 2.5-litre petrol, and a 129kW 2.2-litre turbo-diesel.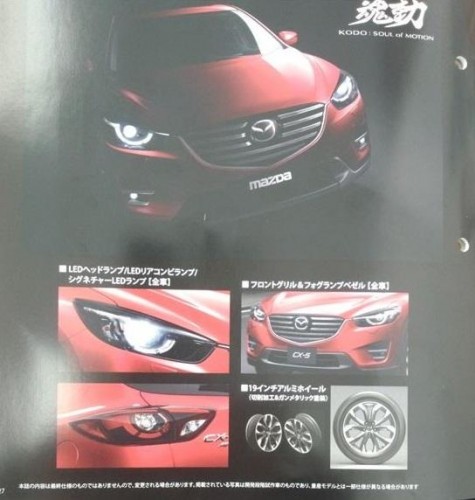 So far this year Mazda Australia has sold a whopping 18,237 examples of the CX-5. This gives it a 19.9 per cent market share, making it the best-seller by a long margin. The only other vehicle that comes close is the Toyota RAV4 (14,917).
Mazda will officially unveil the facelifted CX-5, along with the updated Mazda6, at the Los Angeles Auto Show which starts on November 18 (press day – November 21 for the public). Stay tuned.