You might remember a couple of weeks ago Honda confirmed it will be unveiling a prototype version of the cool little Urban EV Concept at the upcoming Geneva motor show. Now the company has sent out a teaser showing its interior.
It looks like the prototype will showcase a very similar interior design to the original concept car. And this is a great thing as the interior in the concept was very cool. This image shows a flat and fuss-free dash with three super wide screens nestled across the top.
Although it's not quite the same as the huge single screen featured in the concept, the sheer screen real estate is about the same, just split up into three units. It looks like the screens provide displays for the instrument cluster, and two for the on-board media and vehicle settings.
Honda hasn't revealed much more about the car. However, it has previously confirmed it is planning to introduce a production version of the Urban EV concept late in 2019. In fact, the order books are set to open during the first half of this year.
The Urban EV will be Honda's first mass-production battery electric vehicle for Europe. It's inspired by the first generation Honda Civic, and is set to borrow plenty of design elements from the concept. Details regarding the power source are yet to be confirmed.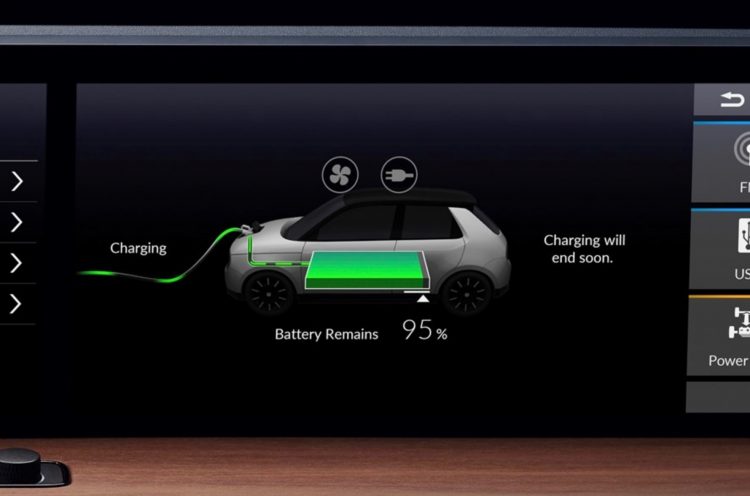 In concept form the Urban EV is around 100mm shorter than the Honda Jazz, giving you some idea of its projected proportions. There's actually a sneak peek of the design featured in one of the display screens, potentially confirming a five-door hatch layout, unlike the three-door layout seen in the concept version.
We won't have to wait long before all the beans are spilled. We suspect Honda will show the exterior in the lead up to the Geneva show, which starts on March 5.