Images of what is believed to be the new 2020 Ford Bronco or the 'baby Bronco' have surfaced online, potentially showing the new off-roader for the first time.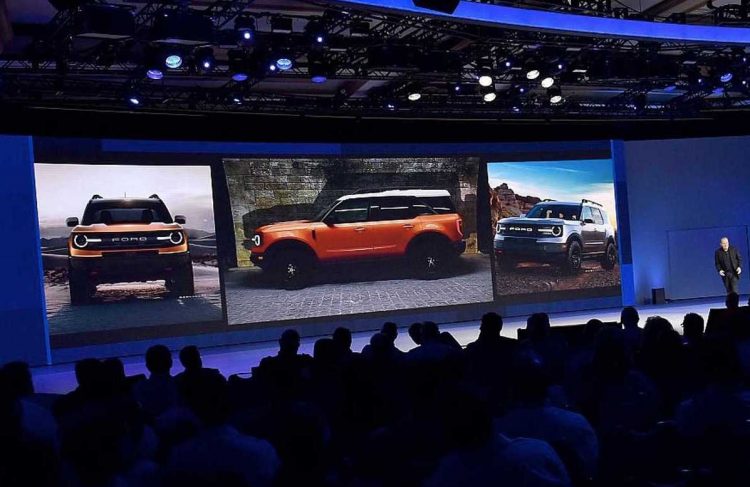 The images apparently appeared on a Ford website and were taken at a recent Ford dealer meeting, with images of a new SUV up on big screens behind the stage. What the vehicle is exactly is yet to be confirmed, but either way it is likely to be the new Bronco or the baby Bronco that Ford is known to be developing.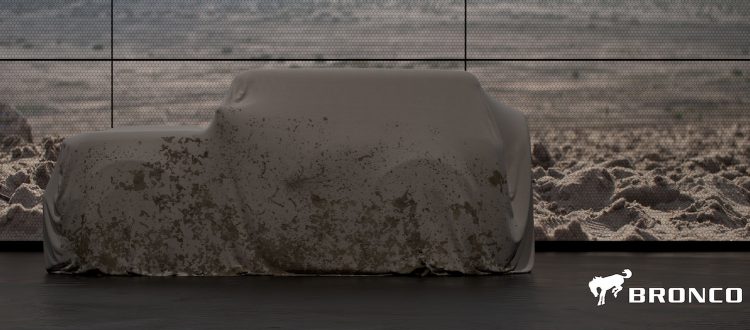 After reading a number of reports on the matter, our guess is that it could be the new baby Bronco. We say this because Ford has handed out a teaser image of both models, and the Bronco teaser (above) seemed to take a boxier shape and featured a tailgate-mounted spare wheel.
Interestingly, the baby Bronco teaser (below) doesn't quite match up either. The teaser shows a clear view of black plastic mouldings around the wheel arch at the front. The open front grille and headlight area also looks very similar, but the angle near the headlight looks a bit different.
However, there are a number of telltale signs that do ring true to the teaser. The twin bonnet bulges definitely appear to be in the same position as the vehicle pictured at the top of the page, and the large Ford badge at the front looks pretty much identical. There's also similar roof rails up on top.
The idea behind the baby Bronco is come into the market as a rugged, off-road-capable proposition for the small SUV segment. It's understood the model will share some components with the Ford Escape and the latest Focus, potentially borrowing the platform from the latter.
We'll have to wait and see to know for sure. There is a chance the vehicle pictured is simply a concept car, giving clues of things to come. Whatever it ends up being, we're sure there will be a public reveal very soon given the images look very much like your typical press shots.