The Australian new vehicle registration VFACTS figures for February 2015 have been released, and straight away we see a number interesting trends kicking off for the year including a rise in popularity for SUVs.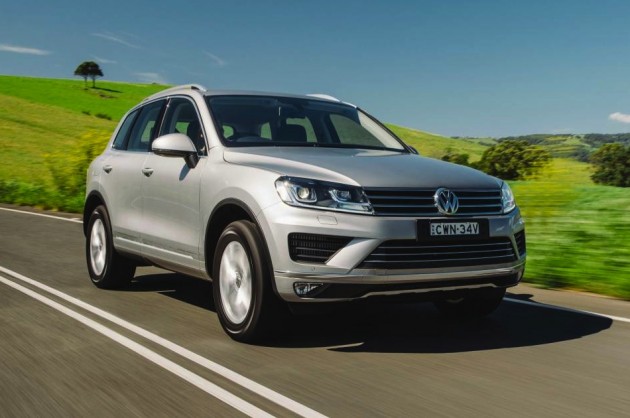 It's good news for Ford fans. The local company somewhat redeemed itself from the previous month's dismal effort, at least posting sales more in line with last year's effort. Meanwhile over in the red corner, Holden recorded decent sales of the Commodore.
In terms of car brands, Hyundai has overtaken Holden for third place for the second time in recent months. Nissan also overtook Ford, while Mitsubishi overtook them both for fifth place. This left Ford way down in seventh place. Sales for Hyundai, Nissan and Mitsubishi were particularly impressive compared with the previous month while Ford sales were stable. Interestingly, the two Australian brands were the only ones to report drops in sales compared with January. The top ten brands for February 2015 were as follows:
Toyota – 16,243 (up from 13,661 of January 2015)
Mazda – 9057 (up from 9006)
Hyundai – 8003 (up from 6901)
Holden – 7809 (down from 8401)
Mitsubishi – 6242 (up from 4080)
Nissan – 5984 (up from 4537)
Ford – 5022 (down from 5357)
Volkswagen – 4889 (up from 4397)
Subaru – 3223 (up from 3104)
Honda – 2901 (up from 2703)
So, what was the most popular vehicle model overall for February? You know it's going to be either the Toyota Corolla or the Mazda3, but it's the Toyota that outshines the Mazda this time. It's almost a complete opposite of the previous month for the two. The Commodore comes back into the top five after a fairly poor effort in January. The top five models in terms of outright sales for February 2015 were as follows:
Toyota Corolla – 3939 (up from 3472)
Mazda3 – 3598 (down from 3903)
Toyota HiLux – 2861 (up from 2331)
Holden Commodore – 2517 (up from 1784)
Hyundai i30– 2126 (up from 2092)
In the Medium Cars under $60,000 segment, the Toyota Camry is bowling along at a commanding rate and leading all rivals. The Japanese brand sold 1767 examples (up from 1133 in January). This was easily enough to fend off its nearest competitor, the Mazda6, which went out to 458 buyers. Rounding out the top three was the Subaru Liberty with 421 sales.
Moving into the higher end Medium Cars over $60,000 category, the Mercedes-Benz captilised on relatively poor BMW 3 Series sales, meanwhile the Audi A4 and Mercedes CLA were neck and neck. The top five in this segment were as follows:
Mercedes-Benz C-Class – 842 (up from 823 of January)
BMW 3 Series – 199 (down from 327)
Audi A4 – 178 (up from 128)
Mercedes-Benz CLA-Class – 176 (down from 254)
Lexus IS – 118 (down from 208)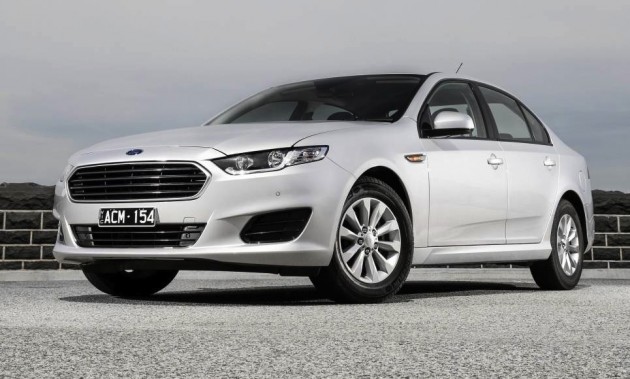 In the most concerning segment, the Large Cars under $70,000 class, Holden is showing good promise and returning to decent figures after a dwindling first month. The same can be said for the Ford Falcon, however, sales are still not anywhere near what we all expected with the release of the new FG X Falcon. Ford sold 501 Falcons, which is only about 20 per cent of the amount of Commodores that were sold (2517). Toyota remains in third place with 206 sales of the Aurion, down from 241 in January.
Mercedes-Benz dominates the rivals in the premium Large Cars over $70,000 class, reporting very impressive numbers of the E-Class. The Jaguar XF maintained its second place from January, due to slow 5 Series sales. Maserati crept into the top five with the Ghibli. The top five in this segment were as follows:
Mercedes-Benz E-Class – 111 (up from 59)
Jaguar XF – 58 (down from 64)
Mercedes-Benz CLS-Class – 42 (down from 43)
BMW 5 Series – 29 (down from 102)
Maserati Ghibli – 25 (not previously listed here)
Where we all want to be on the weekend, in the Sports Car under $80,000 class, the Hyundai Veloster overtook the unstoppable Toyota 86 for the first time in a while. BMW made some good progress with the new 2 Series, moving up from 5th place to third, while the Subaru BRZ drops down to fifth. The top five models in the category were as follows:
Hyundai Veloster – 267 (up from 222)
Toyota 86 – 248 (up from 233)
BMW 2 Series Coupe/Convertible – 132 (up from 81)
Audi A3 Convertible – 77 (down from 98)
Subaru BRZ – 57 (down from 90)
(Subaru WRX – 244 [down from 273] – not officially in this segment)
In the more desirable Sport Cars over $80,000 segment, it's the BMW 4 Series leading the way once again. It only just outshone the Mercedes C-Class Coupe during February though. The new Lexus RC is gaining popularity too, moving up to fourth position. The top five in this category were as follows:
BMW 4 Series Coupe/Convertible – 137 (down from 150)
Mercedes-Benz C-Class Coupe – 124 (up from 48)
Audi A5 – 70 (up from 48)
Lexus RC – 47 (up from 34)
Mercedes-Benz E-Class Coupe/Cabrio – 39 (down from 41)
There were a few tiebreaks in the Sport Cars over $200,000 segment last month, with buyers divided between high-end models from Ferrari and Aston Martin. Sales of the king, the Porsche 911, were down a bit compared with January, while Maserati jumped up into equal second place. The top five in the category during February 2015 were as follows:
Porsche 911 – 27 (down from 41)
BMW 6 Series – 15 (down from 18)/Maserati (models not specified) – 15 (up from 10)
Ferrari (models not specified) – 14 (down from 16)/Aston Martin (models not specified) – 14 (up from 10)
Mercedes-Benz S-Class Coupe – 11 (up from 4)
Lamborghini (models not specified) – 6 (down from 7)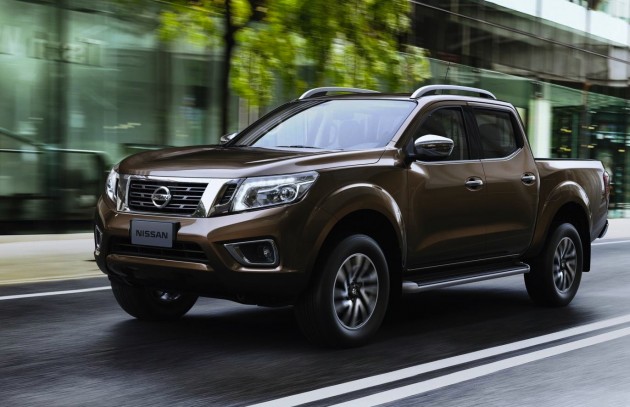 As for one of Australia's most popular segments, the 4×4 utes, the Toyota HiLux is showing no sign of slowing down. It was sold to 2068 buyers last month, followed by 1688 sales of the Mitsubishi Triton, and the Nissan Navara making a return into the top three with 1128 sales.
In terms of Combined 4×2 and 4×4 ute sales, the Nissan Navara would have been higher up in the top 10 if it weren't for very poor 4×2 sales (just 15). Not much changed in terms of the top standings, except the Great Wall V240 overtook the SsangYong Actyon Sports for 9th place. The top ten 4×2 and 4×4 combined figures for February 2015 looked like this:
Toyota HiLux – 2861 (up from 2331)
Mitsubishi Triton – 1988 (up from 1034)
Ford Ranger – 1953 (up from 1784)
Holden Colorado – 1337 (down from 1543)
Mazda BT-50 – 1253 (up from 1193)
Nissan Navara – 1143 (up from 1040)
Isuzu D-Max – 1009 (up from 644)
Volkswagen Amarok – 728 (up from 512)
Great Wall V240 – 13 (down from 14)
Ssangyong Actyon Sports – 11 (down from 18)
Lastly, the popular SUV segments saw some interesting changes and plenty of increases in sales across the board. There's also a bunch of new favourites showing promise, including the Lexus NX and the recently updated Volkswagen Touareg.
The entry level class remains unchanged in terms of standings, although sales are up for all, while the Lexus NX has bumped out the BMW X1 in the premium class. In the medium segments, the Nissan X-Trail jumped ahead of the Toyota RAV4, compared with January, and the BMW X3 moved into second place, pushing out the Porsche Macan from the top three.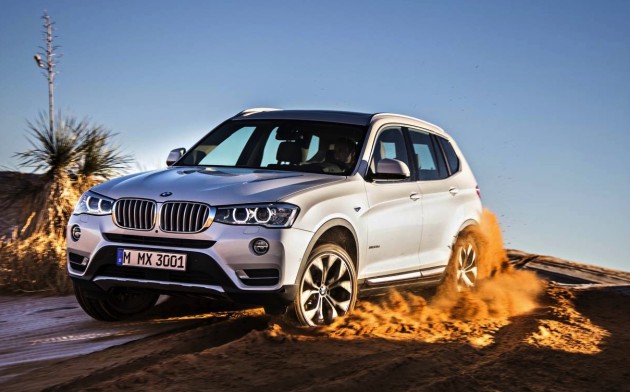 Moving up into the large categories, we see the Toyota Kluger is back into second place, which pushes out the Holden Captiva, while the Volkswagen Touareg posted impressive figures. VW sales were probably helped by the excitement of the updated model. In all SUV segments the top-sellers for February 2015 were as follows:
SUV Small under $40,000:
Hyundai ix35 – 1856 (up from 1636)
Mitsubishi ASX – 1451 (up from 869)
Nissan QASHQAI – 1126 (up from 784)
SUV Medium under $60,000:
Mazda CX-5 – 2085 (up from 1699)
Nissan X-Trail – 1742 (up from 1171)
Toyota RAV4 – 1453 (up from 1401)
SUV Medium above $60,000:
Audi Q5 – 340 (down from 479)
BMW X3 – 266 (up from 149)
Range Rover Evoque – 257 (up from 230)
SUV Large above $70,000:
BMW X5 – 523 (up from 273)
Land Rover Discovery – 281 (up from 226)
Volkswagen Touareg – 261 (up from 134)
SUV Upper Large under $100,000:
Toyota LandCruiser – 678 (up from 530)
Nissan Patrol – 169 (down from 200)
Total new vehicle sales in Australia in February were up January's efforts. In February Australia bought 90,424 vehicles, compared with 82,116 in January. Sales for the month were also up by 4.2 per cent on 2014 figures.
As for what fuel types buyers went for in February,
diesel numbers dropped while petrol remained steady. The figures for private buyers in terms of vehicle fuel were as follows (passenger, SUV, and light commercial combined):
Petrol – 35,741 (up from 37,744 of January)
Diesel – 11,586 (down from 10,633)
Hybrid – 254 (down from 228)
LPG – 28 (down from 8)
Electric – 16 (down from 29)