It's the first major facelift for the Macan since the popular SUV first hit the scene back in 2014. Some technology and styling updates have been brought in for the 2019 model to help keep it fresh before the all-new model arrives in a couple of years.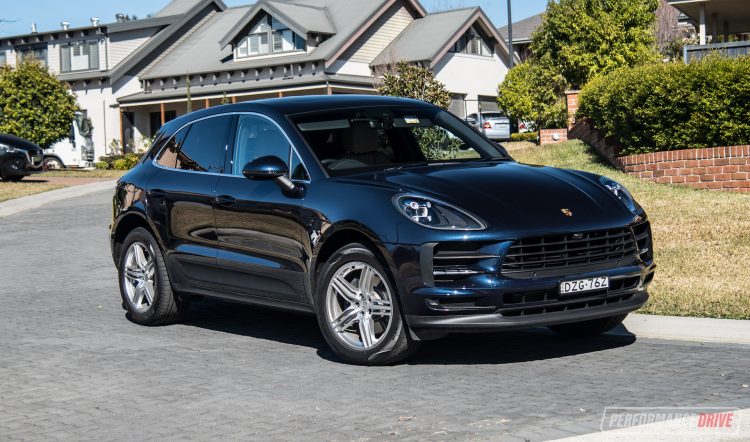 As you might remember, Porsche has confirmed the next-gen Macan will be a fully-electric vehicle. And not just an SUV with an optional electric powertrain, but a dedicated electric-only model. With that, it will jump to a brand-new "Premium Platform Electric" layout which is currently being developed by Porsche and Audi. Until then the 2019 model will be the last chance for buyers to purchase a Macan with petrol-reliant propulsion.
Here we're testing the entry model, which comes with a 185kW/370Nm 2.0-litre turbo four-cylinder. There is also the Macan S available, which packs a more powerful 260kW/480Nm 3.0-litre turbo V6. In either case, the engine is nestled into the front end of the Volkswagen Group MLB-based platform, shared closely with Audi Q5. We'll try not to make this a comparison but we are very interested to see just how different the Porsche and Audi are. Let's take a look.
Prices start at $82,200 for the base model Macan, and jump to $97,500 for the S (excluding on-road costs). The new Macan Turbo is yet to arrive, however, prototypes have been spotted doing the rounds at the Nurburgring. We're guessing a debut will take place before the end of the year.
2019 Porsche Macan 2.0T – THE SPECS
Engine: 2.0-litre turbo four-cylinder
Output: 185kW@6750rpm / 370Nm@1600-4500rpm
Transmission: Seven-speed dual-clutch auto
Drive type: All-wheel drive
Wheels: F: 19×8.5, 235/55  R: 19×9.0, 255/50
ANCAP: Not tested
Tare weight: 1755kg
Power-to-weight: 9.48:1 (kg:kW)
Official fuel economy: 8.9L/100km
Economy during test: 10.2L/100km
Fuel capacity/Type: 75L/98 RON
Power efficiency: 20.78kW:L/100km
0-60km/h: 2.82 seconds*
0-100km/h: 6.21 seconds*
60-110km/h: 4.56 seconds*
1/8 mile: 9.39 seconds at 126.0km/h*
1/4 mile: 14.52 seconds at 155.3km/h*
Max acceleration: 1.015g
100-0km/h braking: 2.93 seconds at 36.12 metres*
Max deceleration: -1.303g
Decibel at idle: 43*
Peak decibel at 60-100km/h: 81*
Priced from: $82,200
* Figures as tested by PerformanceDrive on the day. Factory claims may be different

2019 Porsche Macan 2.0T – THE PACKAGE
Firstly, this interior is all very, very Porsche. Take a look at the passenger-side of the dashboard; the way it's squared off with a little lip running along the top edge. This is directly inspired by the Porsche 911 dashboard, which has carried through this trademark design for decades. The dash sits quite well forward, too. So instead of being submerged behind a chunky window sill, the windscreen is presented right there in front of you for a clear vista ahead.
Down on the centre console you'll find a cascading flow of spaceship-like controls. It is fascinating, and being a Porsche, the build quality of each and every button and knob is sublime. We are a bit surprised to see so many button-blanks at the bottom, although, this is the base model. We love the small digital screens that display the climate control temp at the top. Even the gear shifter feels like it is reinforced with thick steel. Up on the dash is Porsche's latest 11-inch wide-screen media touch-screen, equipped with Android Auto and Apple CarPlay. The graphics are crisp and the colour palette is mostly black and white. Like a tuxedo. In that sense, the screen isn't the most exciting in this class, although very neat and tidy.
You can configure the layout of the home screen in a number of ways, arranging certain apps into clusters that you'd like. We're not a huge fan of the menu layout as there seems to be a few dead-end branches that don't really go anywhere, and some menus that kind of sprout out from the middle. But in saying that it is very clean and clutter-free, helping to reduce distraction and encourage a stronger focus on the road ahead.
For the driver there's an awesome three-spoke sports steering wheel that sits perfectly at your chest. It's almost upright, and the seating position is adjustable enough to allow you to get really comfortable with the car. Another little attention to detail piece that we love are the volume and menu wheels embedded into the spokes of the steering wheel. They're metal, of course, and spin with such refinement, like a precision instrument used by an architect.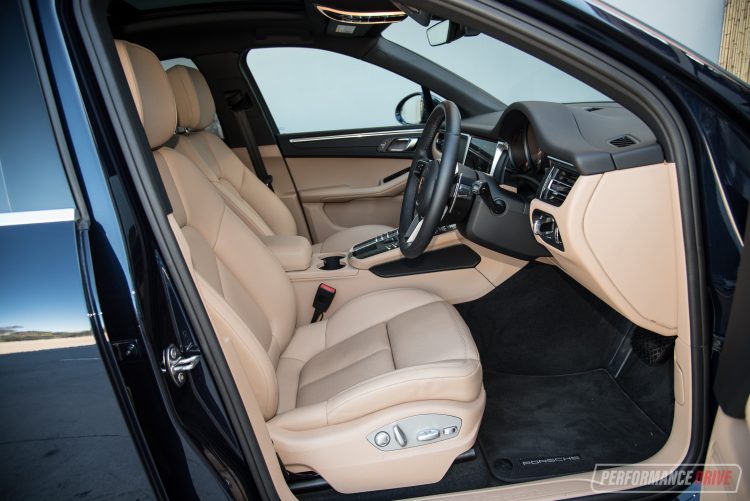 The amount of leather or soft-touch material in here sets new benchmarks, too. Even compared with BMW and Mercedes-Benz products competing in this space. Take the door trim, for example. The lower half is usually hard scratchy plastic (as with the X3 and GLC). But not here. Porsche extends the leather right down, and then even the last section of the door card is covered in a soft rubbery-like surface. In fact the only hard plastic we can find is a small trim piece on the inside of the B-pillar.
As for seating space, it is somewhat confined, compared with the Audi Q5, for example. And in comparison to the rivals in this specific 'mid-size premium SUV' segment, the cabin is one of the more intimate settings. There is room for adults in the front, but really only two in the back. The chunkiness of the centre console and the relatively low roof mean the overall environment is not as airy or open as others. This is perhaps due to the almost coupe-like profile. Being a Porsche, it can probably be excused of any minor practicality concerns as it is the sportiest SUV nameplate in the class.
Boot space in rated at 500L, or 1500L with the rear seats down. Again, lined up against the rivals, the volume is overshadowed. For example the Audi Q5, BMW X3, and Mercedes-Benz GLC all offer 550L (and at least 1550L). It's only a small difference but if space is important to you then you will need to take it into consideration.
During our test we managed to get our rather big and bulky pram into the boot, but it left minimal room for anything else. In the rivals the same pram seems to have room to move. Again, Porsche can probably get away with it and may have purposely designed the Macan to be sportier and more exclusive than the rest.

2019 Porsche Macan 2.0T – THE DRIVE
Under the bonnet is a 2.0-litre turbo four-cylinder. It is a redeveloped version of Volkswagen Group's EA888 engine, found in the Golf GTI and Audi Q5 45 TFSI. The compression ratio of 9.6:1 is the same as the Golf GTI, with the same 1984cc capacity. Unlike the Q5 and Golf, though, Porsche recommends a minimum fuel rating of 98 RON as opposed to 95.
Peak power (185kW) is reached at 6750rpm, which is higher than the Golf GTI's 180kW that peaks at 6200rpm, and unique to the Audi Q5's 185kW at 6000rpm. Meanwhile peak torque (370Nm) is spread from 1600-4500rpm. Why are we comparing it to the Golf and Audi? Well, as mentioned, we're interested to find out how much Porsche has done to differentiate the Macan. And in the engine compartment, it turns out, quite a lot has been done.
We don't know how but this four-cylinder actually has a bit of six-cylinder rasp and roar to it. Prodding the throttle in park or neutral produces extremely quick spikes in revs. It roars and groans, not like a regular four-cylinder. The engine is really responsive, in true sports car fashion. And it's the same story when you hit the road. Nail the throttle from about 40-50km/h, even in D, and the dual-clutch gearbox swiftly drops down two gears and hurls you back into your seat.
How quick is it? Porsche says it'll do 0-100km/h in 6.7 seconds. However, using our Vbox, testing confirmed it can actually do the sprint much quicker than that. Our best was just 6.21 seconds, with the quarter mile coming up in 14.52 seconds. These are some very quick numbers, let alone for an entry level – albeit premium – SUV. In that sense the Macan convincingly leads the way for straight-line speed in the opening variant league.
Straight-line speed isn't everything, though. As we all know. In order to be a great performance car cornering talent is also very important. And we're seriously surprised in this area too. Driving the Macan around in totally normal, day-to-day conditions, you immediately get the sense there is something extra sensory about the steering. It sounds silly to describe it in this way, but you get this fundamental feeling that the steering wheel is directly and mechanically connected, via bars and rods, to the front wheels. Obviously all (or most) cars share this feat in reality. But it's very hard to explain, there is a noticeably heightened sense of connection to the road compared with other cars.
You probably think we're just talking the usual Porsche language, saying that it has telepathic steering that's 'unlike any other car' on the market. But it really does. It's difficult to explain. Maybe it's the consistent weighted feel, or how solidly mounted the steering column is to the dash and firewall. We don't know. But there is definitely something very unique and connected about the way this thing steers.
The steering is undoubtedly pure and splendid, but the chassis? Not as much. We gave the Macan a good thrashing down our usual mountain route to see if it really does out-handle the rest. In short, it does. But the execution is quite formal rather than playful, and, dare we say it, a bit Volkswagen. The rather underwhelming Nexen tyres fitted to this variant probably don't help. In saying that, you will need to press hard to find any understeer, and, being all-wheel drive, oversteer is only available via momentum and weight shift. However, our underlying feeling is that the steering seems to be more inviting than the chassis.
Porsche has developed its own suspension for the MLB platform, including developing bespoke swings arms and mounts and so on, especially compared with the Audi Q5. The wheelbase is also shorter on the Macan, 2807mm versus 2819mm on the Q5, so, mechanically, the agility is automatically given a head-start.
Out on the road it is extremely sure-footed, at all speeds, and the suspension absorbs impacts like a rugby player heading for the try line. With a tare weight of 1755kg, it is significantly lighter than the Q5 45 TFSI as well (1945kg). But it's not the lightest in the class. The Alfa Romeo Stelvio Ti 2.0T AWD (1619kg tare), BMW X3 xDrive30i 2.0T (1673kg tare), and Jaguar F-Pace 2.0T AWD (1713kg tare), are all a bit lighter, featuring similar powertrains.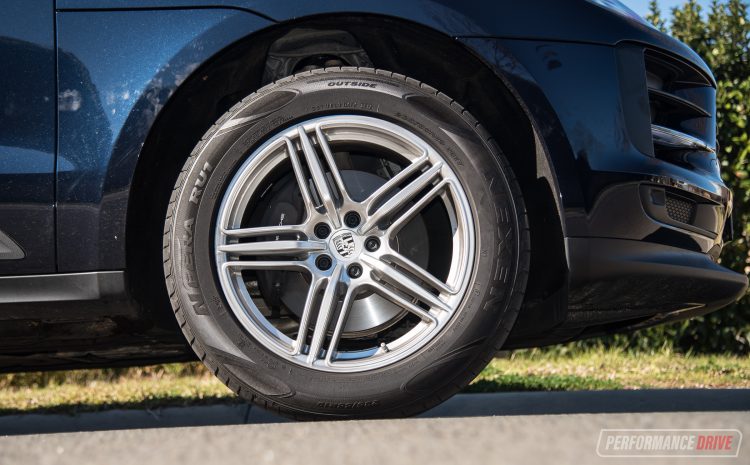 Without question, the Macan is the best-handling SUV in the segment. Everything works together seamlessly and with immediate response and Germanic precision. It will be interesting to see how the S or GTS handles with adaptive suspension actually, as the standard non-adaptive system here seems to offer a great balance between comfort and body stability.
As for the brakes. With four-piston calipers on the front as standard, they provide excellent resistance to fade and enormous stopping power. During our tests, 100-0km/h was achieved in just 36 metres. We love the unbelievable stability these provide as well thanks to ultra fine-tuned electronic brake force distribution between all four wheels.
The Macan is one of the only SUVs in this space that comes with a dual-clutch auto transmission, which isn't as smooth as a conventional auto. But the Macan is a pleasant daily driver. It is very comfortable and quiet, with no creaks or rattles at all from the cabin fixtures. Visibility is also great, and the petite proportions (for this class) mean parking is a breeze. Fuel economy is also respectable, rated at 8.9L/100km on the official combined cycle – we averaged 10.2L/100km during our week.
2019 Porsche Macan 2.0T – THE VIDEO
2019 Porsche Macan 2.0T – THE VERDICT
Porsche has ensured its best-selling model stands at the forefront of the mid-size premium SUV market in terms of build quality, attention to detail, and performance for the rest of this generation – even this entry model is one of the quickest SUVs on the market. For those that want pure and undiluted luxury with a great driving experience, and without the drawbacks sometimes associated with hardcore sports-focused variants (firm ride, for example), the entry Macan 2.0T is a thoroughly engineered machine.
PROS:
– The steering
– Build quality
– Attention to detail
– Surefooted handling with excellent ride
– Performance from 2.0T engine

CONS:
– The steering is almost too good for the chassis
– Media interface lacks the size and pizazz of some rivals
– Smaller cabin and boot than key rivals
As always, if you're thinking about buying a new car don't forget to click here to speak with our car buying specialists.