Audi's latest Q5 range is topped by the confusingly-named 50 TDI, replacing the 3.0 TDI. It is the most powerful diesel in the lineup until the new SQ5 diesel arrives.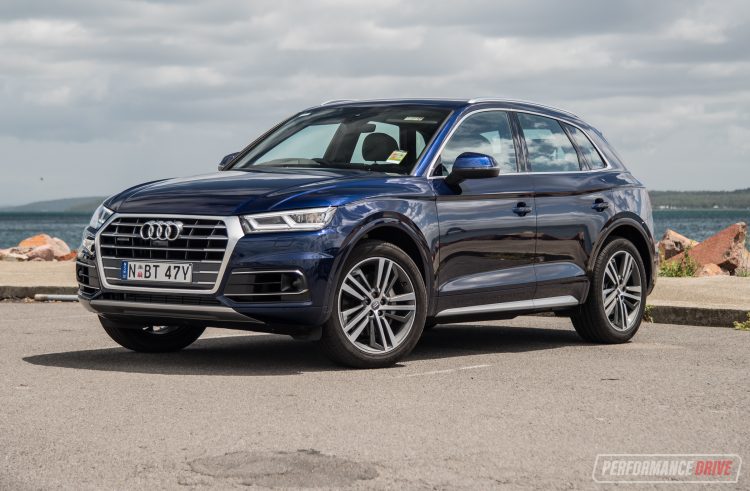 The 3.0 turbo-diesel premium mid-size SUV range is pretty competitive at the moment, with BMW, Jaguar and Mercedes all offering potent yet surprisingly fuel efficient options. However, diesel are being phased in some European markets, which suggests they might not be around for much longer.
On paper there is still very strong appeal to all models. For the Q5 50 TDI, it offers one of the highest power outputs of the non-performance-specific class, while offering a decent official fuel economy average of 6.3L/100km. Prices start at $84,700 (excluding on-roads).
2019 Audi Q5 50 TDI – THE SPECS
Engine: 3.0-litre turbo-diesel V6
Output: 210kW@4000rpm / 620Nm@1500-3000rpm
Transmission: Eight-speed auto
Drive type: All-wheel drive
Wheels: F & R: 20×8.0, 255/45
ANCAP: Five stars
Tare weight: 2120kg
Power-to-weight: 10.09:1 (kg:kW)
Official fuel economy: 6.3L/100km
Economy during test: 7.2L/100km
Fuel capacity/Type: 65L/Diesel
Power efficiency: 33.33kW:L/100km
0-60km/h: 2.83 seconds*
0-100km/h: 6.31 seconds*
60-110km/h: 4.67 seconds*
1/8 mile: 9.41 seconds at 125.8km/h*
1/4 mile: 14.54 seconds at 154.7km/h*
Max acceleration: 1.078g
100-0km/h braking: 3.00 seconds at 39.29 metres*
Max deceleration: -1.285g
Decibel at idle: 50*
Peak decibel at 60-100km/h: 83*
Priced from: $84,700
* Figures as tested by PerformanceDrive on the day. Factory claims may be different

2019 Audi Q5 50 TDI – THE PACKAGE
If you're looking for a quality interior design, Audi is usually a good place to start these days. The Q5 is decorated in leather over all of the main bits of furniture, with very little cheap and nasty material applied except in the very lower sections of the door trims.
We particularly like this colour scheme too, with the dark blue contrasted nicely with light grey, or 'bone' leather upholstery. Some brushed aluminium trimmings provide further contrast. In fact, Audi seems to have most of the colour combinations right and applied them in the right areas. However, the door grab handles in the front feature light grey trim which we presume will start to show dirt pretty quickly.
Being the flagship model, aside from the performance-focused SQ5, the 50 TDI comes extensively equipped as standard. Up on the dash is a crisp 8.3-inch multimedia screen packed with Audi's apps, including a configurable drive mode menu and various phone connectivity services, including Apple CarPlay and Android Auto.
This is all operated via a touch-pad system in front of the gear shifter, with a dial wheel to make selections. We feel the touch pad is positioned perhaps too far forward for sheer ergonomics, but you can rest your wrist on the gear shifter for comfort. We suppose it would be nice if the whole unit, including the shifter, were mounted a bit further back. There is ample storage around the console though with cup holders and a phone holder, and a wireless phone charger under the arm rest/on top of the storage box..
Audi is one of the pioneers of the digital instrument cluster, so it's no surprise the latest 12.3-inch 'virtual cockpit' screen is one of the most impressive in the business. It can be a little overwhelming at first, especially if you're used to older analogue dials, but the graphics are sensational. You also have a number of configurations for the screen to toggle through, including showing the entire GPS map and directions with the speedo dial on the side.
Passenger space is more than adequate in the front, with good knee room and a general sense of airiness. The clean-cut centre console and dash also makes it feel spacious and luxurious. In our opinion the driving position is perfect, with an electric-adjustable steering column and a wide-ranging seat height movement making it easy to find. We're not huge fan of the steering wheel though, with its basic four-spoke design lacking driver encouragement.
As for the rear seat, it too offers an open and free-moving environment. Headroom and legroom are at or near the front of the class, and there is a separate climate control module with fan and temp control in the back of the centre console as standard. There's also a power socket for recharging those all-important devices. Legroom can be extended via an optional sliding beach seat too. Middle seat room is hampered quite a lot by a big, chunky driveline tunnel, forcing the unlucky passenger to share foot space with the outer passengers.
Cargo space is rated at 550 litres, or up to 610L with the optional sliding bench in its forward-most position. This space can be expanded to 1550 litres with the rear seats folded down. Overall the boot capacity is at the class average, offering about the same space as the BMW X3 (550L/1600L) and the Mercedes-Benz GLC (550L/1600), but not as much as the Land Rover Discovery Sport (981L/1698L).
For added convenience there is a power socket in the boot area, as well as tabs to flip down the rear seats in the boot wall. There's also a space-saver spare wheel under the floor.

2019 Audi Q5 50 TDI – THE DRIVE
You'd be forgiven for thinking the 50 TDI comprises of a petrol engine, especially when you first drive it. It is just so quiet and refined. There's none of that diesel clatter that is traditionally heard in this engine style, and even during higher revs the V6 smoothly wafts along.
So, what is the engine, specifically? It's a 3.0-litre single turbo V6 unit that produces 210kW at 4000rpm, and a monster 620Nm between 1500-3000rpm. The torque figure is impressive but the torque band stands out in this class. For example, the Jaguar F-PACE 30d's twin-turbo V6 diesel develops 700Nm, but right on 2000rpm. Meanwhile the BMW X3 xDrive30d's 3.0-litre turbo-diesel inline six produces the same 620Nm, but spreads only between 2000-2500rpm.
Out on the road these figures translate to a confident and relentless driving force. There is virtually no turbo-lag to be felt once you're up and running, with excellent kick-down performance making overtaking a walk in the park. In saying that, we did notice a very minor delay initially getting off the line. This might be down the eight-speed automatic transmission, however, and not necessarily the response of the engine and turbocharger.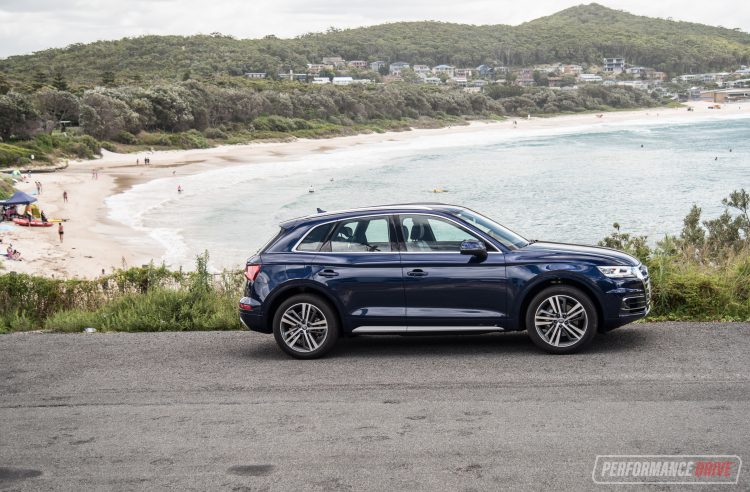 With these figures we were expecting some pretty exciting acceleration numbers. However, our Vbox results revealed one of the Q5's main drawbacks, in terms of the driving experience. The weight. This thing is obese, tipping the scales at 2120kg (tare). A quick glance at the key rivals confirms it is one of the heaviest in the class.
Getting off the line as quickly as physically possible is helped by first building the revs while resting on the brake pedal, and then releasing the brake. Doing this results is heaving forward thrust that really pushes you back into your seat. But the sheer weight becomes a battle from around 40km/h and onward. After multiple runs the best 0-100km/h time we could get was 6.31 seconds, which is far from Audi's claim of 5.8 seconds.
Obviously the majority of the target market isn't going to be concerned about absolute acceleration off the mark. But they could be interested in swift overtaking and effortless speed on the highway. And that's where the engine really shines.
Grand touring ability is brilliant, in that sense, as the Q5 50 TDI has no trouble maintaining strong pace in and around bends and along country roads. You can use the paddle shifters for a more spirited and more interactive drive, although with so much torque on hand you get the sense the engine could pull through just about any gear at any speed anyway.
Handling and body control is lovely, especially if you opt for the air suspension ($3990), as tested here. The nose pitches in with confidence and the rest of the outfit maintains the desired cornering line with Germanic precision. Push it hard though and that heavy weight does start to reveal its detriments, compared with some of the rivals. In our opinion the steering feel is more formal than inviting, but it seems to match the personality of the overall driving character; it's professional and punctual, but can lack character.
There are no staggered wheel sizes here but thanks to the very clever quattro all-wheel drive system, traction is never an issue. You can really depend on it in wet conditions too, even just cruising along the highway. Forget about sudden aqua-planning, the stability on offer here is outstanding. This gives you a very high sense of reassurance and safety behind the wheel.
As for fuel consumption, there is no doubt this is a very efficient motor. Despite the impressive power output, the average consumption of 6.3L/100km is pretty remarkable. This figure is also seen in the 190kW/620Nm Mercedes GLC 350d, but it's not quite as good as the X3 30d's 6.0L/100km official average. Again, we think the weight is the main hurdle restricting its full efficiency potential. During our test we averaged 7.2L/100km.
2019 Audi Q5 50 TDI – THE VIDEO
2019 Audi Q5 50 TDI – THE VERDICT
This is one of the cleanest and most sensible vehicles in the segment in our opinion. It's not a showboat like some, and it doesn't particularly set records in the performance or handling department, and nor is it intending to. Instead, the Q5 forges its own path, focusing on design, quality and technology.
In terms of the drive experience, the Q5 should be recognised and appreciated mostly for its refinement. It is an excellent city-to-city tourer, with an engine that's so smooth and effortless, it almost feels like an electric car. And with the optional air suspension you won't find a better ride in this class.
PROS:
– Exceptional interior quality and design
– Stunning configurable digital instrument cluster
– Silky smooth 50 TDI engine, wall of torque
– Nice ride with optional air suspension
– Packed with technology
CONS:
– Very heavy
– Handling not as sharp as some rivals (see point above)
– Thick transmission tunnel saps middle-seat room
As always, if you're thinking about buying a new car don't forget to click here to speak with our car buying specialists.