Fresh images of the new 2014-2015 Subaru WRX have surfaced online, revealing the full exterior for the first time. Some will be disappointed to see very little resemblance to the striking concept car from which it has apparently drawn inspiration from.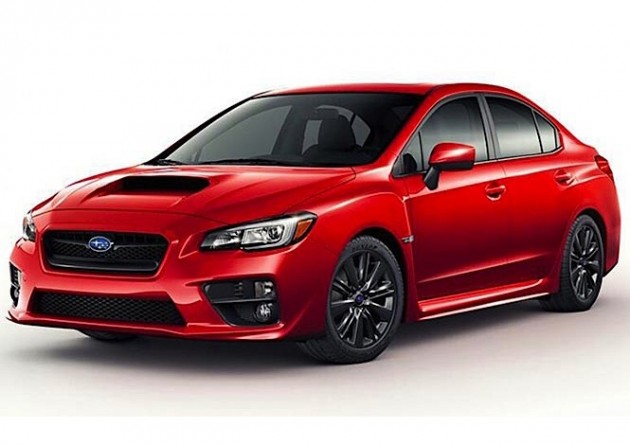 The new WRX is meant to be a more separate model from the regular Impreza, however, we can't help but notice that it looks remarkably similar to the latest Impreza sedan.
To give it credit, the front end does seem to bring some of the deeper, aggressive elements taken from the concept, with darkened headlight outlining, a big black grille and lower grille, and twin driving light clusters.
At the back, it pretty much looks like the Impreza sedan. The taillights are a little different with more red, the arches are squared off and slightly pumped, while underneath is a chunky diffuser and quad-outlet exhaust system. There's also a lip spoiler on the boot. Other than that, overall proportions are the same including the C-pillars.
Design aside, the new model will be the fastest and most advanced version ever. We should expect vast mechanical enhancements underneath compared with the Impreza, including a completely different all-wheel drive system and suspension setup.
Engine specifics are still yet to be revealed. It's understood the new model will come with a 2.0-litre turbocharged boxer four-cylinder, using all of the company's latest technologies such as direct injection. The engine is set to be based on the one used in the Subaru BRZ/Toyota 86, with output likely boosted beyond 195kW.
All of the details will be revealed on November 21 as indicated in the official teaser earlier today.