BMW has been spotted testing a prototype version of the next-gen, 'G30' BMW 5 Series at the Nurburgring. And by the looks of it, engineers are pushing the new sedan to the outer limits.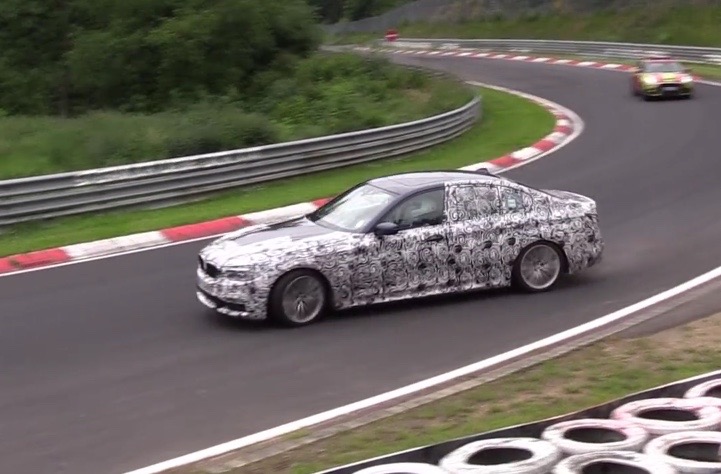 The prototype was recently spotted at the notoriously unforgiving Nurburgring in Germany, where there are over 100 corners, high-compression bumps and dips, and high g-force banked turns to really strain cars to their limits.
BMW seems to be testing one of the higher-spec variants, with this prototype emitting a distinct turbocharged V8 soundtrack. It's understood, from the licence plate, the car is registered as a 550i, using a 4.4-litre twin-turbo V8 generating around 330kW.
Although 330kW might not seem like much for a flagship German sedan, this side of the M5, the next-gen G30 5 Series is set to come with a new platform that could see weight drop by as much as 100kg. This alone would introduce big performance benefits.
As far as we know the G30 will adopt BMW's latest CLAR carbon-fibre-infused platform that first debuted on the new 7 Series. This is stronger, lighter, and will likely bring slightly larger dimensions to the popular sedan.
In terms of the design, we can turn back to the 7 Series for some pretty concrete clues as well. Expect a more perched up set of front grilles, a pronounced eyebrow line, and a higher waistline overall. Horizontal orientation is expected to be applied to most details, including the taillights, lower rear bumper/diffuser, and the low front lip.
According to reports, BMW will give the new 5 Series an official debut at the upcoming Paris Motor Show in September. Click play below for a preview, and check out the drifting action by the test driver.