When Tata introduced the Nano in 2008, it was intended to be the world's cheapest car, with a starting price of 100,000 (1 lakh) rupees (about AU$2000) targeted during development. It turns out the market was more aspirational than the Indian giant had anticipated, and as such it has since had to add features to the two-cylinder microcar, blowing its starting price out to 1.99lakh, or about AU$4000.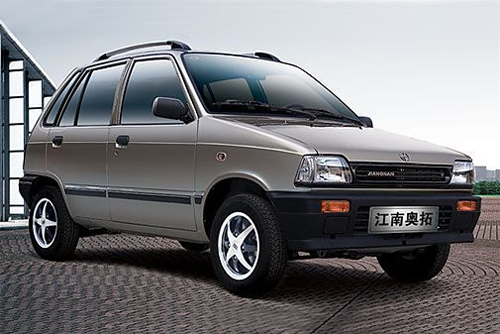 A franken-car in China, based on a 1980s Suzuki, has beaten it as the world's cheapest car. The new Jiagnan TT lists for 15,800 yuan (around AU$3336). For that, you get an 800cc three-cylinder engine, with 26kW and 60Nm, good for a 120km/h top speed. Compare that with the Nano's superior 28kW and 51Nm 600cc twin-banger which 'propels' it to 105km/h. The Jiangnan TT features a four-speed manual and returns 5.2L/100km.
Two vastly different approaches for two of the world's most populous countries. One is a rear-engine, rear-drive blank sheet design, while the other is a front-wheel drive legacy from a bygone era.
What a peculiar phenomenon to be able to buy a car identical to a 1980s Alto, with a new car smell. What we must remember, though, is that China has a population of 1.35 billion, which is extremely stratified so a huge number of people live below the poverty line; there is quite a sizeable demographic for this little number.