Audi's all-new 2013 Audi S3 will be built on Volkswagen Group's new MQB platform. It's set to be faster and lighter than the current model, ready to take on the upcoming Mercedes-Benz A25 AMG and the BMW M135i hatch.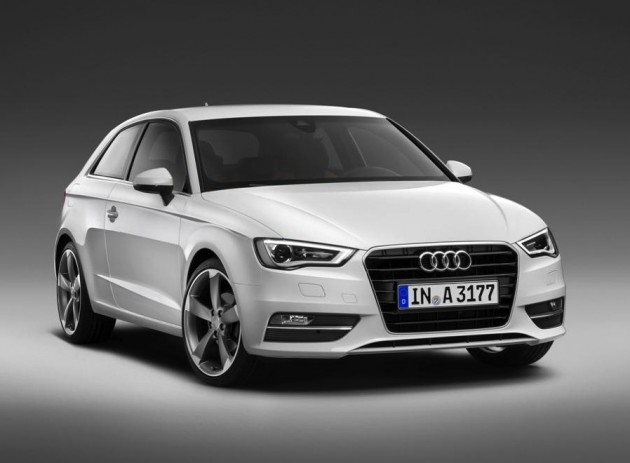 (Regular 2013 A3 pictured)
According to an Autocar report in the UK, the new S3 will adopt a new 'EA888' 2.0-litre turbocharged four-cylinder engine. The unit will replace the current 2.0-litre turbo, which, in one form or another, has been around for almost 10 years.
The engine is expected to feature the new Audi Valve Lift system. The system is able to continuously control the amount of valve lift for optimum torque and performance at any given part of the rev range. The report says that internal sources have indicated an output of 206kW (276bhp) and 379Nm.
Matched up to the engine will be a six-speed manual, or an optional new seven-speed S tronic dual-clutch automatic – replacing the current six-speed arrangement – feeding power into a Volkswagen Group multi-plate clutch-type all-wheel drive system.
As a result, acceleration will be improved, with a o-100km/h time pitched to be around the 5.5 seconds mark. Top speed will remain limited to 250km/h.
The new engine will not be the only key to improved acceleration, the 2013 Audi S3 is set to lose around 80kg in weight over the current model as well. This will help out in improving overall performance and handling.
Like the current model, the new S3 will be dressed in subtle styling enhancements, with a sporty interior theme. The exterior will get 18-inch alloy wheels, a neat bodykit and rear spoiler, and an aggressive front bumper bar with brake ducts and a deep lower chin, while inside will feature hip-hugging bucket seats, and 'S' dials and accessories.
The new model will debut at the 2012 Paris Motor Show in September, before hitting international showrooms early next year. It will come in three-door hatch, and five-door Sportback guise, while a sedan version is also expected later down the track.
What variants Australia will get is still to be announced.