This is not a sight anybody wants to see, especially the owner. Yep, it's another exquisite supercar crash, this time involving a Ferrari F50 in the UK.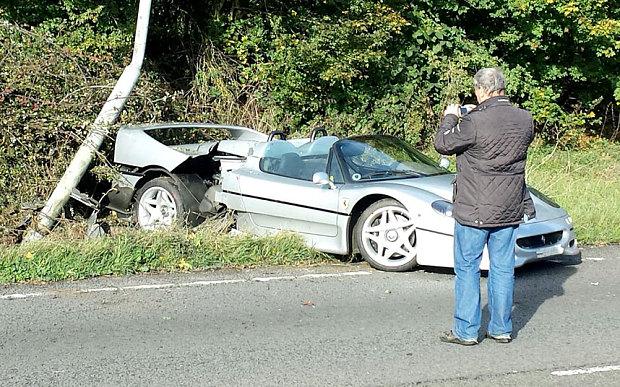 According to a Telegraph report, the poor Ferrari F50 was being driven near the Silverstone racing circuit earlier in the week when the driver lost control near a highway entry. It ended with the F50 parked in a ditch after colliding with a street light pole.
The official cause of the accident is not known at this stage, but it's understood it did occur without the involvement of any other vehicle. As you can see, the F50 took a nasty hit to the rear section of the car, just in front of the rear wheel.
Considering the extensive damage is on the same side as the pole, the Ferrari must have come from the left in the image, hitting the pole and then spinning around to end up where it is. All of the cabin structure looks mostly intact with no major injuries reported.
As for the owner's insurance bill, that's probably going to be pretty high. We feel sorry for the insurer though as this is going to cost a mint to repair. Some experts are suggesting it to be one of the most expensive single-car crashes ever recorded in the UK.
Just 349 examples of the F50 were ever made. Each come with a 4.7-litre naturally aspirated V12 producing 382kW of power at 8000rpm and 470Nm of torque at 6500rpm. Acceleration from 0-60mph (97km/h) takes just 3.7 seconds with the quarter mile coming up in 12.1 seconds.