As a way of increasing its global market presence Alfa Romeo will implement an aggressive new product plan over the next five years. The plan is set to include a fresh rear-wheel drive architecture and various new sports car models and SUVs.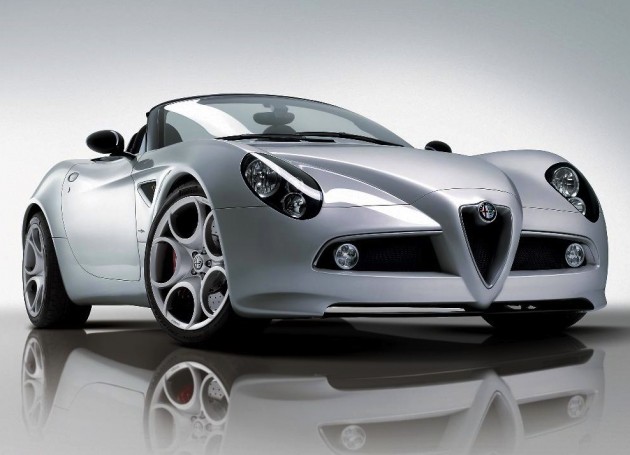 According to a recent Automotive News Europe report, Alfa Romeo has a top-secret five-year mission in place which will see various all-new models being launched. The company's Euro boss Louis-Carl Vignon told the publication that he wants the brand to compete in 32 per cent of the global market by 2016, up from the current 5 per cent.
To do this, a range of all-new models are believed to be in the works. The first of which has been known for a while now will be the Giulia, also known as the replacement of the 159 mid-size sedan.
It will apparently use an all-new rear-wheel drive platform as opposed to the previously thought Chrysler 200 platform. It's believed the platform will cater for all-wheel drive running gear, opening the doors for other models to be based on the same layout. The sedan has been earmarked for a 2015 debut.
As we already know, Alfa Romeo is working on a small drop-top sports car – spider – which is being developed in conjunction with the next-gen Mazda MX-5. Although the platform and fundamentals will be shared between the two, the Alfa will receive styling and character distinctions in line with the brand's philosophy. It's scheduled to arrive by around 2015 as well.
Stepping up a few model rankings, the company is also set to introduce a large sedan using a revised version of the new platform designed initially for the Giulia. A timeframe on such a model is yet to be uncovered.
To take on the sports car segments, plans for a mid-size and large grand coupe could be in the works too. The models would use an iteration of the same new platform as above, giving Alfa a competitive tool to rival the likes of the BMW Z4 and 6 Series. Market entry could take place in 2016.
Lastly, Afla Romeo will soon delve into the SUV market for the first time, according to the plans. There's reports of a compact crossover, a mid-sizer using the same platform as the Giulia, and a large SUV sharing components with the Maserati Levante, all yet to be officially confirmed. The SUVs aren't expected to appear until at least a few years.
At the moment, Alfa Romeo sells just two models in Australia; the MiTo and the Giulietta. The 4C sports coupe will arrive next year.