The interior of Skoda's upcoming Kodiaq SUV has been revealed ahead of its September 1 debut. The brand has also released some key information about the interior with these pictures, and from what we can see, it will be a very spacious place to be.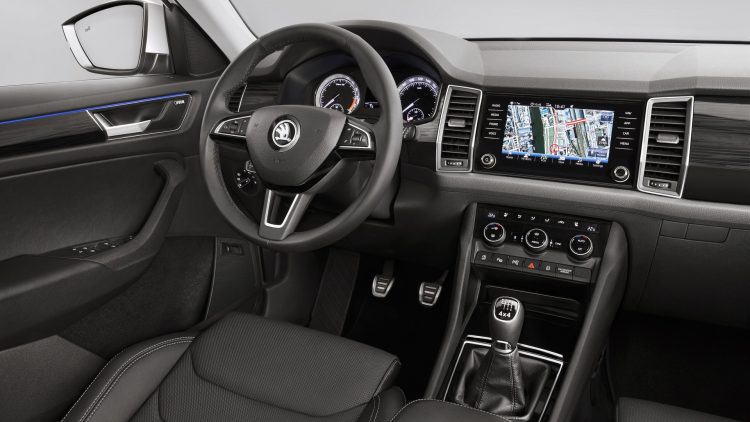 Available in five- and seven-seat guise, the five-seater's cargo capacity is an impressive 720 litres when the rear pews are standing and 2065L when they are stowed into the floor. Skoda claims this puts it at the top of the class.
The brand promises 30 'Simply Clever' (that's Skoda's mantra) features, from headrests that allow occupants to sleep, door edge protection from jarring, and umbrellas like a Rolls-Royce Phantom – the Skoda Fabia and Superb feature lined rubbish bins and basket holders in the rear so these might also be available.
The interior layout itself is conventional in clean-cut, in a Volkswagen kind of way, but there are a few details worth dissecting. The touch-screen appears to be higher resolution than current Skodas and replaces the surrounding buttons with capacitive touch for menu functions.
It is book-ended either side by large vertical vents. A blue LED strip runs across the upper edge of the door handles, with the dials and steering wheel appearing to be standard Skoda fare. Comfortable leather seats look ready to give passengers a Kodiak bear hug at any given time.
Whether or not the manual transmission pictured is relevant for the Australian market remains to be seen, but probably not.
Being based on VW's MQB platform, expect a suite of petrol and diesel, potentially producing between 110kW and up to 206kW. All-wheel drive is likely on the more powerful variants.
The big ol' bear starts production late this year and should migrate to Australia in the first half of 2017. Check out the preview video below for more.