Lotus has sent out another little teaser image of its upcoming Type 130 hypercar, and has confirmed all will be unveiled on July 16 at a special event in London.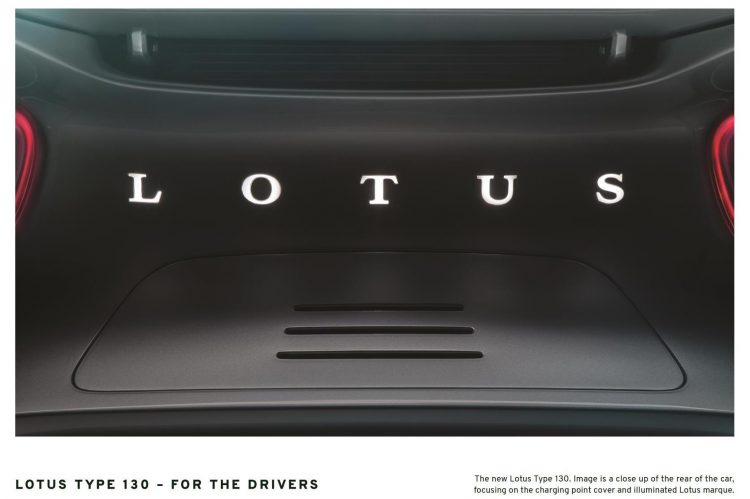 The Lotus Type 130 will be the company's first fully electric car and first proper hypercar – think along the lines of the McLaren P1 and the like. Specifications are still under very tight wraps but Lotus says the Type 130 will be its "most accomplished road car" it has ever made.
Lotus has today unveiled a teaser video of the new model, and a teaser image. The video doesn't show much (below), except a carbon fibre build plaque confirming the car's hand-built status. And we get a sneak peek of the charging port which appears to be a conventional Type 2 socket.
As for the latest image (top), well, it's just as obscure. It shows the charging port cover, which looks like it sits in between the taillights. There's also evidence of a pretty serious rear wing with two struts visible. The wing likely uses hydraulics to pop up and down.
Also confirmed today is a production number of just 130 units. It represents the number of Lotus 'Types' that have been launched during the brand's 71-year history. Each example will be made at Lotus headquarters in Hethel, Norfolk, UK.
Even though we don't have many details to stem from, the Lotus Type 130 is expected to come in as an extremely quick yet road-legal hypercar. It's set to showcase a very low slung body style with a small cabin glasshouse, and the typical supercar silhouette with a short bonnet and long tail (as shown in the initial teaser above).
We'll be sure to bring you more updates as they come. In the meantime, check out the quick teaser video below for more.