Lotus is planning to introduce an all-new, all-electric hypercar later this year, called the Type 130. It'll come in as the first full electric hypercar from a British carmaker, the company aims.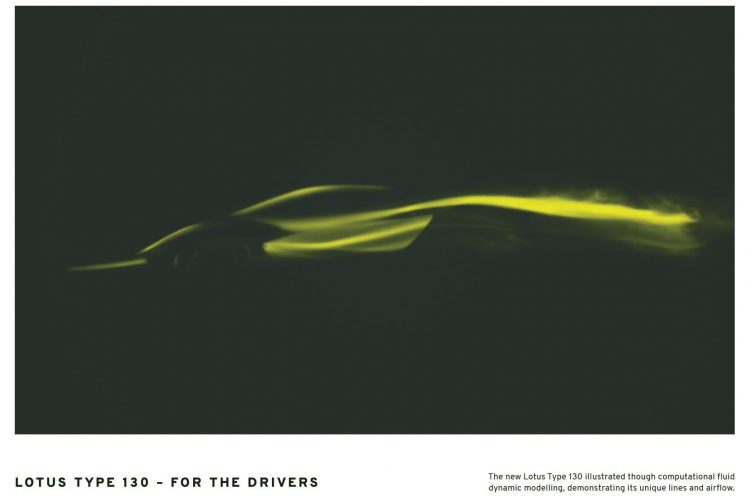 A teaser images has been handed out showing a typical low-profile silhouette. It's difficult to make out the full detail, but you can clearly see it will possess a very pointed front end which slopes seamlessly upward along the windscreen.
No hard facts accompany the teaser image, but Lotus does say it will feature a fully-electric powertrain, and confirms it will be its first all-new product in more than a decade. The company aims for it to be the first all-electric hypercar from a British manufacturer as well.
As for the name, Type 130, it continues on a legacy of similar names which started with the Type 14 (Elite). In 1957, the Type 14 come out as the world's first production road car to feature a composite monocoque chassis. And then in 1963, it used this experience to bring in the world's first fully-stressed monocoque F1 car with the Type 25. It went on to give Lotus its first F1 world championship title.
The last model to continue the lineage was the Type 111. This was the world's first aluminium and bonded extrusion construction production car; the Elise. So, with all of these construction world firsts, we're expecting the new Type 130 to feature something special as well. CEO Phil Popham said:
"Type 130 will be the most dynamically accomplished Lotus in our history. It marks a turning point for our brand and is a showcase of what we are capable of and what is to come from Lotus."
All will be revealed, including full specifications, in London later this year. Details on build numbers and pricing are still under wraps.