BMW is planning to unveil this stunning BMW M4 GTS concept at the prestigious Concours d'Elegance at Pebble Beach this weekend. It previews a special edition of the near future.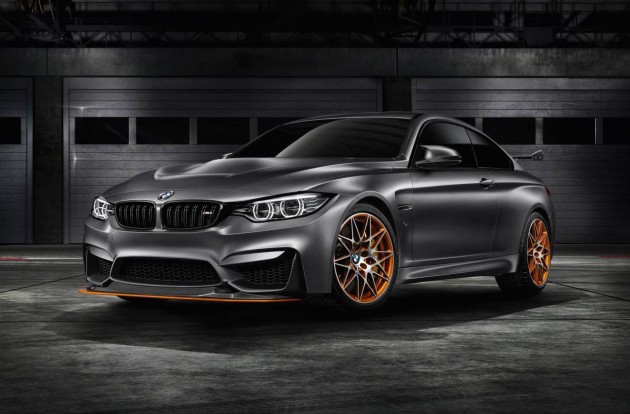 The M4 GTS, as seen in prototype form, will be a special edition based on the new M4. It continues the tradition of the original M3 Evolution (1988), M3 Sport Evolution (1990), the M3 GT (1995), the M3 CSL (2003), and the M3 GTS (2010), by bringing a stripped out and more focused setup.
In concept form, the M4 GTS gets a unique body with an adjustable front splitter and big rear wing, in exposed carbon fibre, and a carbon fibre bonnet for pure lightness. There's also a wider lower front air intake for maximised airflow and to minimise front axle lift at speed.
Also contributing to the visual feast is a Frozen Dark Grey Metallic exterior colour, with Acid Orange highlights. A set of bespoke 666 M forged lightweight alloy wheels set to look, featuring Acid Orange accents. The wheels measure 9.5×19 inches on the front and 10.5×20 inches on the back, wearing 265/35 and 285/30 Michelin Sport Cup 2 tyres.
It's not all about lightweight racy performance though. The M4 GTS concept shows off OLED (orange light-emitting diode) taillights. These have the ability to actuate individual light modules separately providing full-surface and homogenous illumination.
As for the engine, specific details are yet to be revealed. BMW says the 3.0-litre turbocharged unit does adopt the same water injection system as the BMW M4 MotoGP safety car though. The water is injected into the plenums of the intake manifold as a fine mist. When this vaporises, the intake temp drops significantly. This allows for higher boost pressure and earlier injection timing, resulting in a "noticeable increase in output and torque". The standard M4 produces 317kW and 550Nm.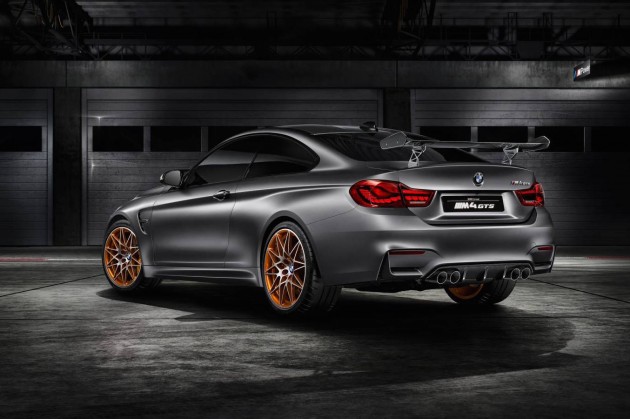 The concept will make its public debut at Pebble Beach this weekend. A production version will hit the showrooms soon. BMW says,
"BMW M Division is presenting an initial preview of a high-performance model for use on the road and, above all, on the race track: the BMW Concept M4 GTS."