Volkswagen has pulled the wraps of the 2013 Volkswagen Golf GTD Mk7; the diesel iteration of the hot GTI. The new model is more powerful, quicker, lighter in weight, and more fuel efficient than the outgoing Mk6 version.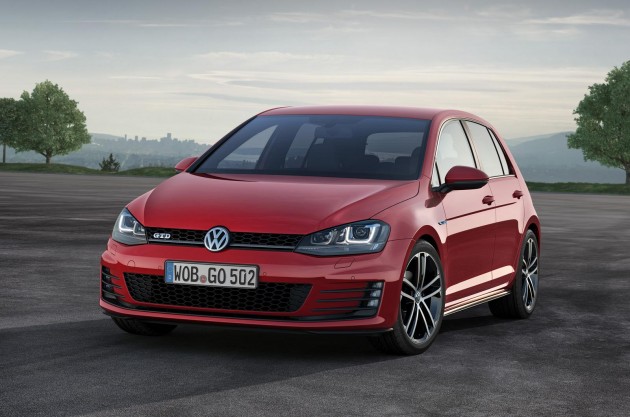 Sporting the same sort of performance theme as the current Golf GTD, the Mk7 will come with a tweaked version of the 2.0-litre turbo-diesel four-cylinder engine, producing 135kW of power (up 10kW) and 380Nm of torque (up 30Nm).
Improving performance and economy, the new model will be lighter in weight compared with the current model which tips the scales at 1360kg (1380kg DSG auto). The Mk7 version will weigh in at 1302kg.
As you would expect, with increased output and a lighter weight, the 2013 Golf GTD will be quicker over the 0-100km/h sprint. We timed the current model – with a manual transmission – in 8.0 seconds. The new model will cover it in 7.5 seconds, which is a very reasonable time for an economical five-door hatch.
Speaking of economy, the 2013 version will also offer an incredibly low average fuel consumption rating of just 4.1L/100km (down from the current 5.3L/100km).
We were amazed by the economy of the current version during our test. When the new Golf launches later this year, superior fuel economy is likely to be one of its major trump cards.
In other areas, the 2013 Volkswagen Golf GTD Mk7 gets a number of discreet styling enhancements over the normal Golf, including a neat bodykit with a slightly more aggressive front bumper bar, a mild diffuser-section at the back, and a set of 17-inch alloy wheels.
It also gets sports suspension to support active driving, a tastefully dressed up interior with bucket-style seats in the traditional tartan fashion, a flat-bottom sports steering wheel, and a smattering of sporty highlights throughout the cabin.
The new model is expected to go on sale later this year after making its official debut at the 2013 Geneva Motor Show, starting March 5.
UPDATE: PerformanceDrive spoke with Karl Gehling, Volkswagen Australia general manager communications, about the local launch of the new Golf. He said the regular variants of the Mk7 will arrive during the second quarter, from April, while other variants like the GTI will follow down the track.
When asked if Australia would receive the GTD and its power boost of 10kW, Gehling said the local lineup of variants hadn't been locked in yet and that he couldn't comment on whether or not Australia would receive the power boost.