Say hello to the quickest production SUV to ever lap the Nurburgring. Having previewed the Audi RS Q8 with a record-setting lap at the famous circuit, Audi has now unveiled the new performance machine at the Los Angeles auto show.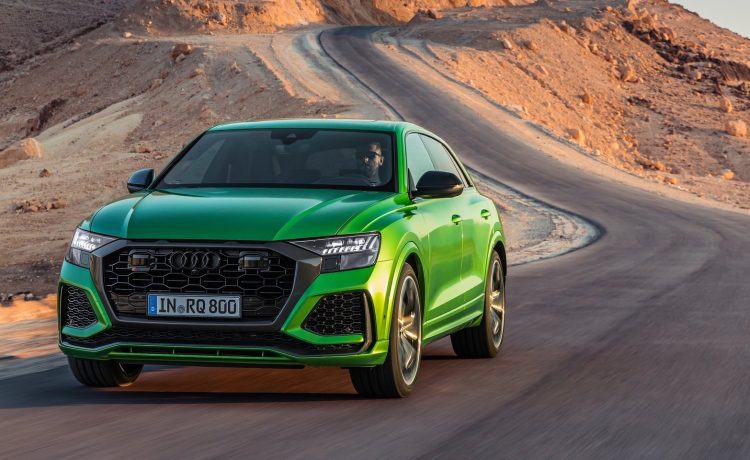 This is the last RS model in Audi's performance onslaught, following plans to unveil six new RS models before the end of the year. Based on the new Q8 large luxury coupe-style SUV, the RS Q8 comes in as the new flagship. It also comes in as one of the quickest SUVs on the market.
Power comes from a 4.0-litre twin-turbo V8 that's paired with a mild-hybrid system running on a 48V main electrical system. Flat out, the beast develops an impressive 442kW (600PS) and a whopping 800Nm. This is enough grunt to send the SUV off from 0-100km/h in a claimed 3.8 seconds, with a top speed limited to 250km/h. It'll also conquer 0-200km/h in 13.7 seconds.
To help with overall performance the RS Q8 features a tuned quattro all-wheel drive system with an eight-speed tiptronic auto transmission, along with a sport differential for the rear axle. A mechanical centre differential "typically" distributes the power 40:60 between the front and rear axles, Audi says. However, up to 70 per cent can be directed to the front wheels or 85 per cent to the rear wheels, depending on the conditions and demands.
As standard the RS Q8 comes with gob-smacking 22-inch alloy wheels, or optional 23-inch units. These hide RS composite disc brakes measuring 420mm on the front and 370mm on the rear, with 10-piston calipers. Speaking of braking, the mild hybrid system is capable of generating up to 12kW of power during deceleration, storing it in a lithium-ion battery.
Around corners, the RS Q8 can obviously carve around like a super sports car, given it holds the Nurburgring record (7:24 lap). That's thanks to an adaptive air suspension setup with controlled damping. A five-link configuration at the front and back handles longitudinal and lateral forces separately, and most of the components are made from aluminium for lightness. There's also rear-wheel steering to increase agility at low speeds and improve stability at high speeds.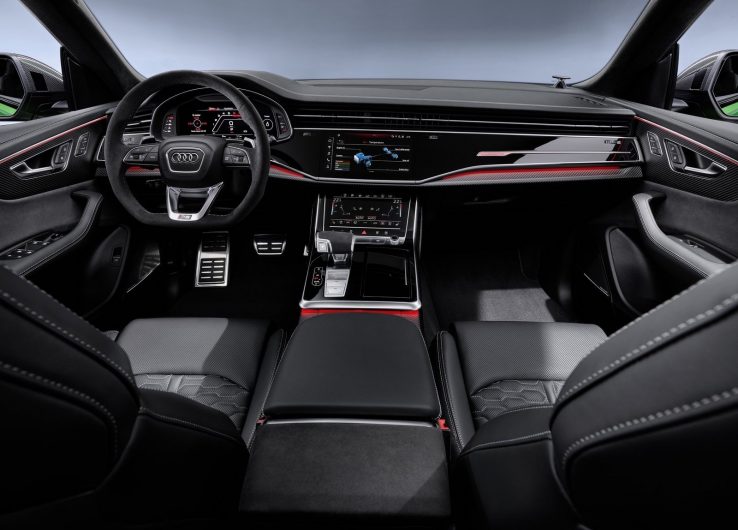 Being an RS product means there are a range of performance highlights for the bodywork, including a bespoke front bumper bar and integrated spoiler, deep air intakes, with a chunky rear bumper bar and diffuser area, along with the trademark quad-outlet exhausts. The interior is also enhanced to match, with special sports seats, RS steering wheel and pedals, and splashes of carbon fibre and Alcantara for that racy touch.
Audi Australia says the RS Q8 is expected to arrive locally during the third quarter of 2020. Prices and finer local specs will be confirmed closer to its arrival.