Following its initial debut in March this year, Mazda Australia has confirmed the sub-medium CX-30 SUV will arrive locally early next year. It's also confirmed an expansive 13 different variant levels for Aussie showrooms.
The CX-30 slots in between the CX-3 and the CX-5, coming in as a slightly sleeker and lower profile option for buyers. It stretches 120mm longer than the CX-3, 30mm wider, while sharing the same 1540mm roof height. And straight away these figures give you some indication of its suaver character.
Mazda Australia will be offering the familiar trim levels, spanning from the G20 Pure, Evolve and Touring, up to G25 Touring and Astina, with front and all-wheel drive options thrown into the mix. Buyers certainly have a big variety of options, ensuring it suits everyone's needs.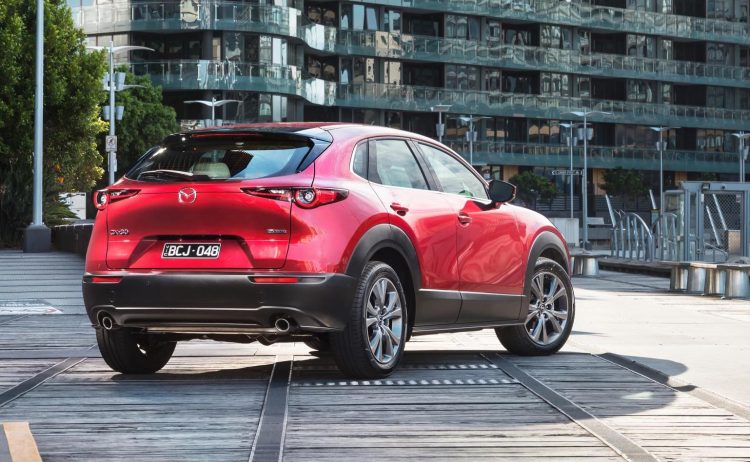 Power comes from either the G20 2.0-litre petrol four-cylinder, as seen in the latest Mazda3, where it produces 114kW and 200Nm. There's also the G25 2.5-litre four-cylinder for those wanting a bit more oomph, developing 139kW and 252Nm. All versions come with a six-speed auto.
Inside, feature Mazda's latest 8.8-inch touch-screen media interface packed with Android Auto and Apple CarPlay, along with sat-nav and a parking camera. Safety is kept in check with the standard fitment of advanced systems such as blind-spot monitoring, autonomous emergency braking, traffic sign recognition, and adaptive cruise control.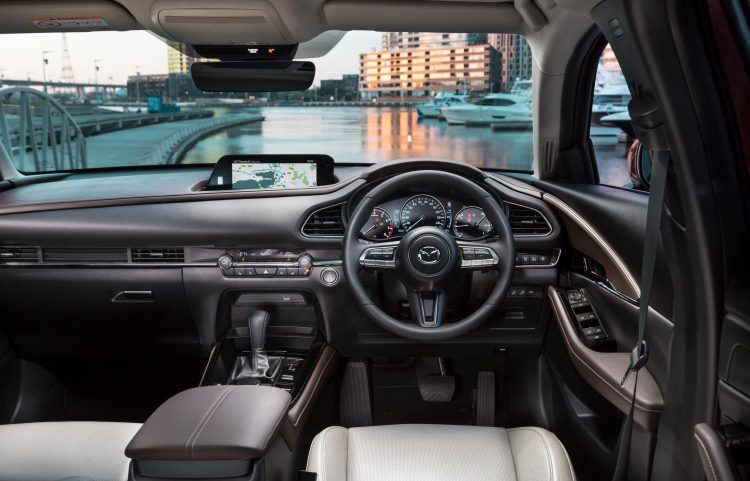 If Mazda's CX-3 and CX-5 are anything to go by, the CX-30 looks set to become a very popular SUV for Australia. Speaking about the new addition to the showroom, Mazda Australia managing director, Vinesh Bhindi, said:
"All-new Mazda CX-30 is the perfect middle ground between small and medium SUV, giving customers a really sensible alternative that is equally stylish and innovative. Mazda has used ergonomic driver research to deliver Mazda CX-30's human-centric cabin design, with premium materials and advanced technology adding to its comfort and safety package."
The new model is scheduled to go on sale during "early 2020", with prices starting from the following (excluding on-road costs):
2020 Mazda CX-30 G20 Pure FWD: $29,990
2020 Mazda CX-30 G20 Pure FWD with Vision Tech: $31,490
2020 Mazda CX-30 G20 Evolve FWD: $31,490
2020 Mazda CX-30 G20 Evolve FWD with Vision Tech: $32,990
2020 Mazda CX-30 G20 Touring FWD: $34,990
2020 Mazda CX-30 G20 Touring FWD with Vision Tech: $36,290
2020 Mazda CX-30 G25 Touring FWD: $36,490
2020 Mazda CX-30 G25 Touring FWD with Vision Tech: $37,790
2020 Mazda CX-30 G25 Touring AWD: $38,490
2020 Mazda CX-30 G20 Touring AWD with Vision Tech: $39,790
2020 Mazda CX-30 G20 Astina FWD: $38,990
2020 Mazda CX-30 G25 Astina FWD: $41,490
2020 Mazda CX-30 G25 Astina AWD: $43,490