It's yet to arrive in Australia, the new Tesla Model X crossover, but in its home country in the US it has been an instant hit with customers. The company has now announced two new entry-level variants which are sure to boost popularity even more.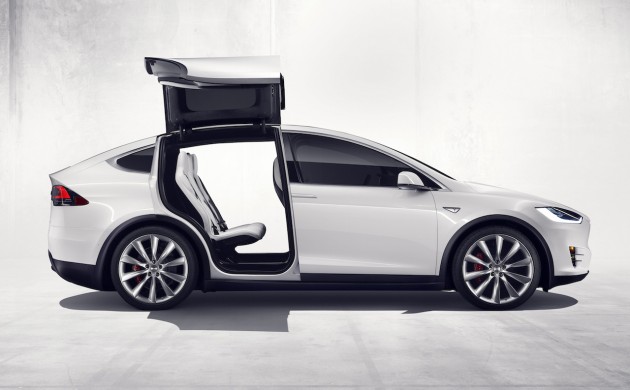 The Model X was only unveiled a couple of months ago. It was launched in top P90D form only. This is the most powerful and quickest SUV/crossover on the new-car market. However, prices start at a steep US$132,000.
Tesla is now introducing 90D and 70D versions, priced from US$80,000. As the names suggest, the 90D comes with a 90kWh battery while the 70D gets a less-powerful 70kWh system. Full-charge ranges are 413km for the 90D and 354km for the 70D.
Acceleration times for the 0-60mph (97km/h) sprint are still quite incredible for a large, fully-electric crossover, with the 70D achieving it in 6.0 seconds and the 90D smashing it in just 4.8 seconds.
Customers will be able to select between a range of personlisation options, including a six-seat option for around US$3000, and a seven-seat option for $4000. There's also a towing package for about $750, adjustable air suspension for around $2500, and the famous Autopilot technology for $2500.
It's understood the model is so popular at the moment that Tesla can't keep up with the demand in terms of production, so it is prioritising deliveries of the top P90D variant (0-60mph in 3.2 seconds). Deliveries are set to begin in the US early in 2016 for the P90D, with the 90D coming about halfway through the year, and 70D deliveries taking place later in the year.
On the Australian Tesla website it simply says local customers can place their order now, requiring a AU$6000 deposit. Deliveries aren't expected until late 2016.