The Mazda CX-8 has been confirmed for to go on sale in Australia later this year, slotting in between the existing CX-5 medium SUV and the CX-9 large SUV.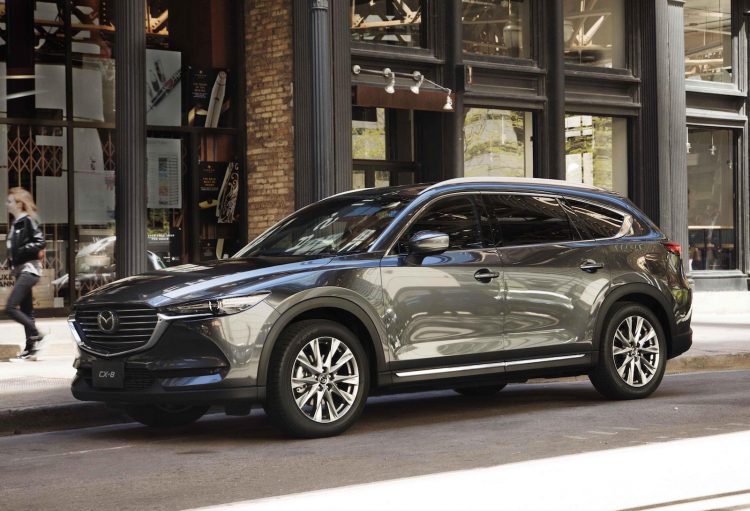 As revealed in 2017, the CX-8 is a swooping roof version of the CX-9, although it is narrower and shorter. Since Mazda doesn't offer a seven-seat version of the CX-5 despite more and more of the competition offering such an option, the CX-8 fills the gap thanks to its seven-seat layout.
At this stage Mazda Australia has locked in the diesel version only. It comprises of a 2.2-litre turbo-diesel four-cylinder, which, in the CX-5, develops 129kW and a meaty 420Nm. Mazda hasn't confirmed fuel economy figures but in the CX-5 this unit offers an average fuel consumption of 6.0L/100km.
The local arm has confirmed the new model will come packed with i-ActivSense safety technologies as standard, across all variant levels. This means autonomous emergency braking, lane warning systems, and parking assistant features are likely to be included.
As for the design, it incorporates Mazda's latest Kodo styling philosophy, with a sophisticated front end using sculpted headlight housings and a big premium grille, with a similar rear end to the CX-9 only with a sportier tailgate and a pointed rear quarter window like on the CX-5. The taillights are more closely related to those on the CX-9, with a blade that strikes through and connects the left and right units.
This is expected to come in as a very popular model in Australia, given the CX-5 was the best-selling SUV of the year in 2017. Now with a sporty seven-seat model, Mazda sales should continue to rise. Managing director of Mazda Australia Vinesh Bhindi said:
"More and more, Australians are opting for larger SUVs to suit the demands of their busy lives; the Brand-New Mazda CX-8 Diesel is the perfect fit for those who need the versatility of seven seats and the economy that diesel affords."
The CX-8 diesel will go on sale during the second half of this year. Prices are yet to be confirmed, and the lineup is expected to include a variety of trim levels.