Kia doesn't currently offer a full-cream hot hatch. But this new Cerato GT gets mightily close, packing turbo power, stiff suspension, and all of the spicy garnishes you'd expect from one.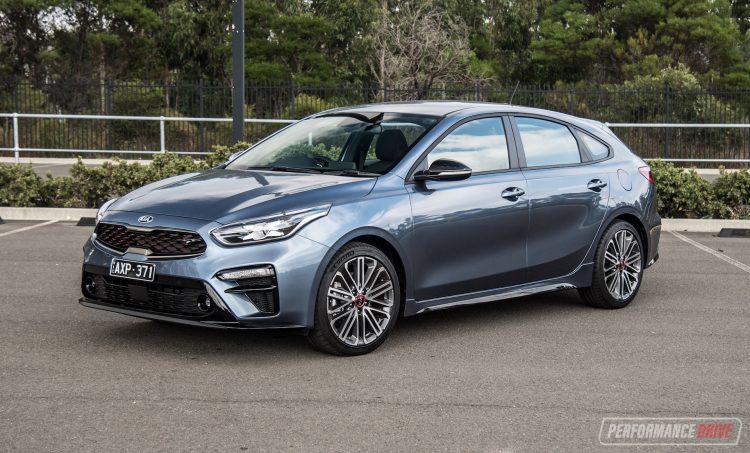 The GT is the flagship of the all-new Cerato range, and rounds out Kia's latest sport-inspired portfolio which recently welcomed Picanto GT and Rio GT-Line. The Cerato GT is the only variant that comes with a 1.6-litre turbo engine, and the only variant that features a dual-clutch auto transmission as standard.
Buyers are offered both sedan or hatch form, with prices starting from $31,990 for either (excluding on-road costs). At this price point it is more affordable than its powertrain-sharing brother, the Hyundai i30 N Line (starts from $34,990, auto), and quite a bit more affordable than the top-spec new Mazda3 Astina hatch (from $37,990, auto).
2019 Kia Cerato GT – THE SPECS
Engine: 1.6-litre turbo four-cylinder
Output: 150kW@6000rpm / 265Nm@1500-4500rpm
Transmission: Seven-speed dual-clutch auto
Drive type: Front-wheel drive
Wheels: F & R: 18×7.5, 225/40
ANCAP: Five stars
Tare weight: 1395kg
Power-to-weight: 9.3:1 (kg:kW)
Official fuel economy: 6.8L/100km
Economy during test: 6.8L/100km
Fuel capacity/Type: 50L/91 RON
Power efficiency: 22.05kW:L/100km
0-60km/h: 3.69 seconds*
0-100km/h: 6.95 seconds*
60-110km/h: 4.32 seconds*
1/8 mile: 10.03 seconds at 125.1km/h*
1/4 mile: 15.13 seconds at 157.7km/h*
Max acceleration: 0.780g
100-0km/h braking: 3.01 seconds at 37.21 metres*
Max deceleration: -1.158g
Decibel at idle: 40*
Peak decibel at 60-100km/h: 88*
Priced from: $31,990
* Figures as tested by PerformanceDrive on the day. Factory claims may be different

2019 Kia Cerato GT – THE PACKAGE
Let's start by talking about that exterior design. It's nice, isn't it? Even the standard new Cerato looks good. Actually, most new Kias look good these days. For the GT you get some fashionable black and darkened highlights. The front grilles, side mirrors and rear diffuser section are black, while some tinted chrome trim around the front end steps it up to a prestige-like level.
We love the wheels, too. They measure 18 inches and present a tasteful, motorsport-themed spoke pattern, amplified by a centre-lock-style hub cap piece highlighted in red in the middle. These go perfectly with the rest of the body and sit nicely in the wheel arches thanks to the lowered sports suspension applied to the GT – it sits 5mm lower to the ground than the regular new hatch.
Some of that undoubtedly sporty exterior theme is carried through to the interior. Front passengers are cosseted in surprisingly well-bolstered leather sports seats, exclusive to the GT. Red stitching and some GT logos further cement this car's energetic and up-beat character.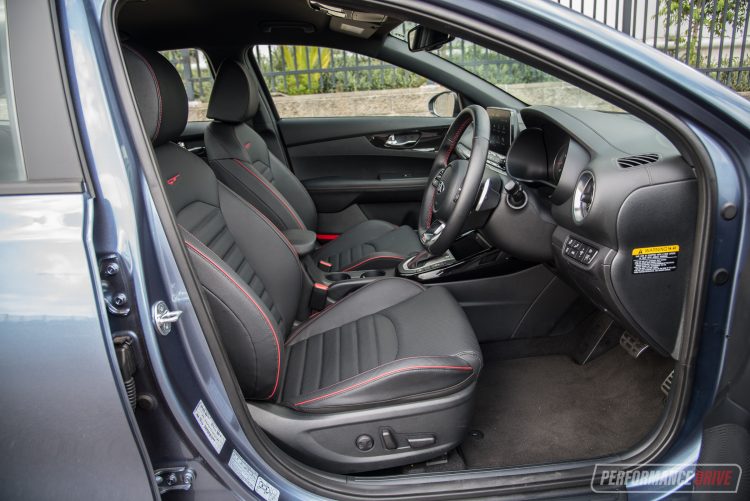 We'd have to say it one of the most practical and sizeable cabins in the class, this new Cerato hatch. It features various shelves and pockets in the front, cup holders and bottle holders, and a handy storage box in the middle that doubles as an arm rest. The GT also adds heating and cooling functions for the front seats, and power adjustment for the driver.
Going for the GT also gets you an 8.0-inch touch-screen media interface with Android Auto and Apple CarPlay. The screen includes in-built sat-nav, live SUNA traffic updates, and a rear-view camera. There's also a thumping JBL eight-speaker sound system.
Seating space is more than acceptable for this class, and in fact near the top of the class in our opinion. There's just so much open room in the front, with none of that cluttered, claustrophobic perception that you get in some small cars. If we had one complaint about the interior it's that some areas do look and feel a bit cheap. Scratchy plastics are evident on the door trims and centre console, but there are some more tasteful trims such as piano black and brushed-metallic elements that help balance this out.
Even in the back, the seating accommodation is expansive and comfortable. The middle seat in particular offers commendable space, with a low driveline step doing little to restrict legroom. There is a flip-down centre armrest complete with cup holders, and some climate vents in the back of the console. But, there are no power or USB sockets in the back.
Behind the rear bench the boot measures 428 litres. This compares very well against some of the leading segment rivals – the average volume is about 350-400L. Of course, you can fold the rear seats down to open up more space if you need it. And doing this is easy thanks to Kia's instantly comprehendible seat and parcel shelf mechanisms.
There is a bit more boot space in the Cerato sedan, with the spec sheet saying it presents 502L. However, as is the case with most cars offered in sedan and hatch format, the hatch is invariably the more practical option. In the sedan you need to bend down and reach right in to make the full use of the space, and objects are limited for height. Whereas in the hatch you basically have wagon-like functionality. For example, the hatch has no issue swallowing a large two-piece pram, with room left over.

2019 Kia Cerato GT – THE DRIVE
On first impressions, you'll immediate take interest in the exhaust note. It produces a noise that's commonly associated to hot hatches, including the little fart/burp during upshifts. We think it's great that Kia has fit a rorty exhaust as it really helps to give the car some attitude, fitting well with the alluring exterior design.
This exhaust is especially pleasing because we've heard this engine before in many Hyundai models, including the old Veloster SR Turbo and the current i30 SR/N Line. And in them it sounds like nothing more than a vacuum cleaner. Kia hasn't really mentioned much about the exhaust in the official press kit it sent out with the car, other than stating that the GT has a dual exhaust system. But there's something pretty serious going on underneath. Check out our video below for more on that.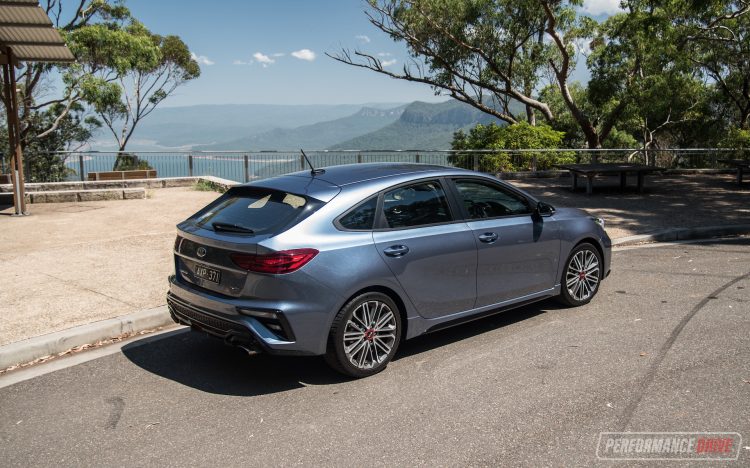 In terms of the engine, specifically, it's the 'G4FJ' 1.6-litre turbo-petrol four-cylinder that's been around in Australia in essentially the same form since 2014. It continues to produce 150kW and 265Nm. However, while peak power remains seen at 6000rpm like before, peak torque is now available between 1500-4500rpm. Back in its early days the peak torque was spread fractionally narrower, between 1750-4500rpm.
Matched up to the seven-speed dual-clutch gearbox, this is a superb little powertrain. And we think the sound alone really helps to create a fun driving experience. Those little pops between upshifts always keep you entertained, and what happens behind these pops matters even more.
Upshifts are extremely quick, shifting from second to third, and third to fourth in virtually zero seconds. Obviously this helps with outright acceleration. During our tests we a saw a best 0-100km/h run of 6.95 seconds with our Vbox, which is surprisingly quick for a car that's not necessarily trying to be a serious hot hatch. We found the quickest take-off method was to simply mash the accelerator, as opposed to trying to build the engine revs on the brake pedal prior to take-off. It's a shame there is no proper launch control as we think this time could be slashed down to around 6.5 seconds.
In the bends the Cerato GT, again, handles surprisingly well for what it is. Local engineers did fine-tune the suspension setup to suit Australian conditions. However, we think it might actually be too firm for what people might be expecting. We love a good taut suspension setting, so this doesn't bother us. But traditional Cerato buyers might be a bit startled by the firmness. At the front is a MacPherson strut setup while the rear end adopts a GT-exclusive multi-link independent arrangement. We couldn't find a detailed explanation on the exact changes made to the GT, other than it rides 5mm lower.
Cornering grip is excellent too, no doubt helped by the awesome Michelin Pilot Sport tyres. It really hangs on well and produces high cornering g-force. However, the steering feel could be more engaging, especially if Kia wants to go down the path of trying to create a more serious hot hatch. You get a decent sense of how the front tyres are coping, most of the time, but the communication isn't all that clear. Instead, the communication is a tad dry. Some sequences of the handling execution are a bit like this as well. Switching swiftly from left to right, for example, doesn't feel as pleasant or as encouraging as it does in some rivals, including the i30 SR/N Line.
Around town though this does exactly what you want as a practical, everyday runaround car. It's easy to see out of and easy to park, and the engine is very economical. We actually averaged the exact same figure as the official average, at 6.8L/100km. This is obviously not as frugal as some of the diesel and hybrid rivals, but then again, those aren't anywhere near as quick or fun to drive as this is.
There are three driving modes to choose from, including Eco which relaxes the throttle sensitivity, and an interesting new 'Smart' mode which tries to sort out the best of both worlds between spirited and economical driving characters. There's also a Sport mode which is accessible by shifting the gear lever to the right. This latter mode is auto shifting. It's not until you make a manual selection that it registers your intentions to manually shift for the rest of the drive, or until you slot it back to D.
2019 Kia Cerato GT – THE VIDEO
2019 Kia Cerato GT – THE VERDICT
We're pretty much convinced this is our new favourite 'warm hatch'. It sounds better than the Hyundai i30 SR (now called N Line), is more engaging (albeit not as dynamic in the corners) than the similar-sized Honda Civic RS hatch mainly because that uses a boring CVT auto, and the interior is roomier than the Toyota Corolla ZR and Mazda3 SP25 Astina.
Kia has definitely found a sweet spot here, blending enjoyable performance and driving personality suitable for all driver skill levels, with a set of standard features and practicality that not many rivals can match. Well done, Kia.
PROS:
– Surprisingly quick with hot-hatch-like handling
– Proper sporty exhaust note
– Huge cabin
– Practical features and very user-friendly
– 7 years warranty
– More affordable than nearest rivals
– Looks great

CONS:
– That hot hatch handling means firm ride
– Not quite as polished as some rivals; interior plastics and driving dynamics
As always, if you're thinking about buying a new car don't forget to click here to speak with our car buying specialists.