Prototypes of the all-new, second-generation Hyundai Veloster have been previewed to media in South Korea, in the lead up to its public debut confirmed for the Detroit motor show in January.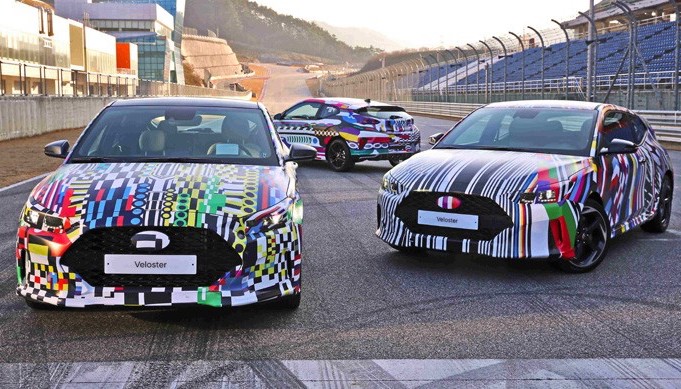 This is the first time we've been given a decent look at the new body design. Even with the psychedelic camouflage on the body, much of the panel contour can be interpreted. And at first glance, the new model will go for a rounder, more curvaceous look.
At the front you can see some squinted headlights which kind of look similar to those on the i30 N hot hatch, with an evolution of the company's cascading grille at the front, going for a three-dimensional theme. There's also some body-sculpted side skirts and a central-mounted exhaust carrying over from today's model.
What's also carried over from the current model is the innovative 1+2 doors, with a single driver's door, and front and rear door for the passenger side.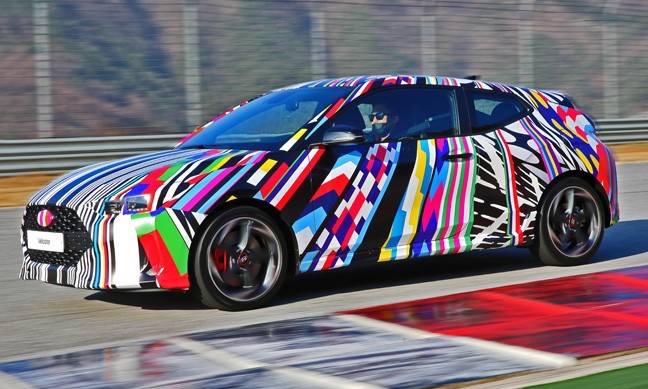 Hyundai confirms the new model will come with a 1.6-litre turbo engine, like the current model, but it will also come with a 1.4-litre turbo 'Kappa'. The 1.4 is set to replace the outgoing 1.6 non-turbo. While the 1.6T has been revised, with peak torque (currently 265Nm) confirmed to come in from just 1500rpm (currently from 1750rpm). Both a six-speed manual and seven-speed dual-clutch auto will continue.
The new model will come with a multi-link rear suspension setup with an improved steering ratio, and improved stiffness in certain areas. Drivers will also be able to select between sport, normal and eco driving modes, with an all-new Smart Shift function that's able to learn the driver's behaviour and adapt the settings in real time.
Other new features confirmed (at least for overseas markets) include head-up display, rear cross-traffic alert, lane departure warning, and high-beam assistance. Changes have been made to the electronic sound enhancer system for the engine note, and passengers will be treated to a nice new dash with Hyundai's latest touch-screen interface.
A performance N version is set to be in the works for the 2019 Veloster as well, borrowing some of the components from the i30 N. More details are expected to be spilled at the regular model's debut in January. Stay tuned.