BMW's next-gen 2019 'M140i' (name not confirmed) has been spotted at the Nurburgring in what is likely to be one of the last testing sessions of the year before winter conditions close in. The biggest news? This is set to be BMW's first-ever front-wheel-drive-based hot hatch.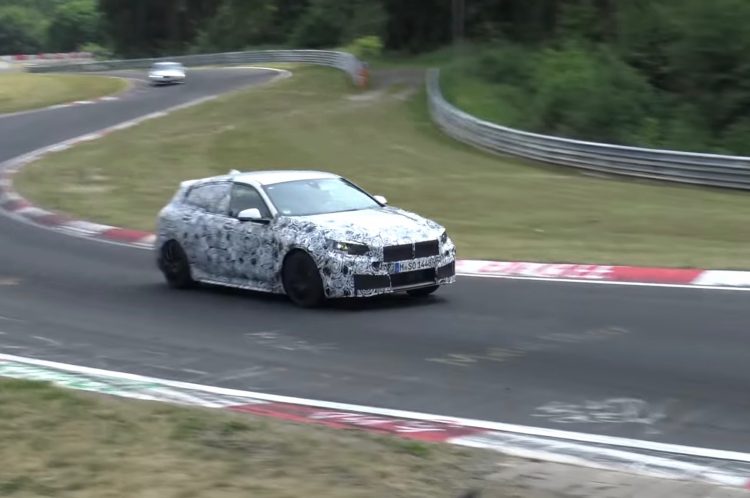 You see, BMW is set to switch to its UKL2 platform for the next-gen 1 Series. This platform, in various forms, is seen under the current X1 and 2 Series Active Tourer, as well as MINI models. Most importantly, the platform uses a front-wheel drive configuration with an 'east-west' mounted engine.
Sadly, this means the current M140i is likely to be the last rear-wheel drive hot hatch on the market. It competes with the likes of the Mercedes-AMG A 45, which is a front-drive-based all-wheel drive hatch using a four-cylinder engine. The current M140i uses a 3.0-litre turbo inline six with rear drive.
The inline six is unlikely to carry over as it would be difficult to fit the engine in east-west layout across the 1 Series's engine bay. Instead, it'll probably adopt a potent four-cylinder engine. According to reports BMW M Performance is working on a tuned version of the current B48 2.0-litre turbo found in cars such as the 230i and 125i.
In the 230i the B48 unit produces 185kW and 350Nm, which is enough to see 0-100km/h done and dusted in 5.6 seconds. Considering the current M140i 3.0-litre turbo produces 250kW, it would be reasonable to expect similar outputs for a new 2.0L model.
Where things might get interesting is with the possibility of all-wheel drive. Even though the UKL platform is front-drive based, it also accommodates xDrive all-wheel drive as demonstrated in some versions of the X1 and MINI models. This could make the new M140i a very quick little machine. As we've seen with the latest M5, BMW's performance division is open to AWD technology.
Click play below for a preview. Unfortunately, you won't see any power-oversteer happening anymore. However, keep in mind testing and development is still ongoing.