Finally, Kia Australia is offering this little gem in local showrooms. It's called the Picanto GT, and while it might not offer the outright neck-jerking performance of a proper hot hatch, it does stand out as an attractive, approachable and affordable option for anyone after a fun city car.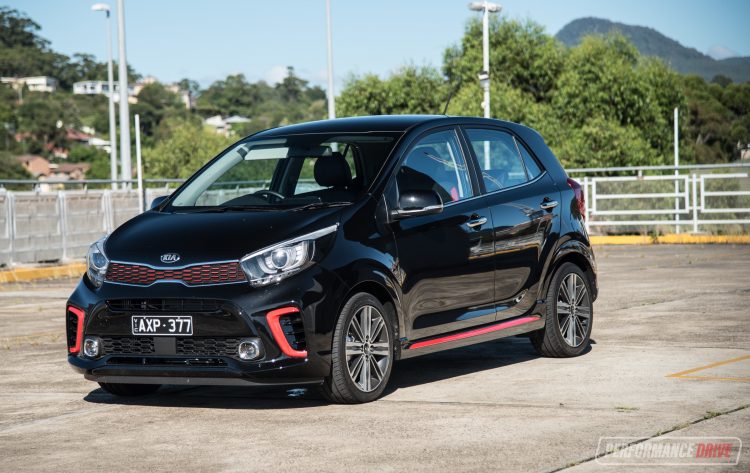 It's all in the name. The Picanto GT is the flagship variant, and like most Kia models with a GT badge, it comes with a bespoke engine that's more powerful than any other in the range. Receiving the GT moniker also means the visuals are boosted, and the in-car ambience is hotter than a sauna in the desert.
Nearing the most affordable end of the new car market, the GT starts from a very reasonable $17,990 (excluding on-road costs). But, a big chunk of the buying public are cornered off due to the fact there is only a five-speed manual available. Well, hey, it's better than only a four-speed auto being offered, isn't it?
2019 Kia Picanto GT – THE SPECS
Engine: 1.0-litre turbo three-cylinder
Output: 74kW@4500rpm / 172Nm@1500-4000rpm
Transmission: Five-speed manual
Drive type: Front-wheel drive
Wheels: F & R: 16×6.5, 195/45
ANCAP: Four stars
Tare weight: 1007kg
Power-to-weight: 13.60:1 (kg:kW)
Official fuel economy: 4.8L/100km
Economy during test: 6.2L/100km
Fuel capacity/Type: 35L/91 RON
Power efficiency: 15.41kW:L/100km
0-60km/h: 4.44 seconds*
0-100km/h: 9.79 seconds*
60-110km/h: 7.20 seconds*
1/8 mile: 11.08 seconds at 107.0km/h*
1/4 mile: 17.07 seconds at 133.2km/h*
Max acceleration: 0.608g
100-0km/h braking: 2.96 seconds at 38.14 metres*
Max deceleration: -1.139g
Decibel at idle: 40*
Peak decibel at 60-100km/h: 76*
Priced from: $17,990
* Figures as tested by PerformanceDrive on the day. Factory claims may be different

2019 Kia Picanto GT – THE PACKAGE
Despite its petite proportions, the latest Picanto is some how quite sizeable inside. For this class, anyway. You get decent headroom and legroom in the front, and a surprisingly airy and free-to-move environment. If we had one complaint in this department it's the narrowness of the cabin. The two front seats leave little room in between, meaning you probably will be touching your passenger unintentionally, a lot.
Speaking of touching passengers, the rear of the cabin is really only designed for two people. Legroom isn't as bad as you might expect, although obviously limited depending on your height, and without a middle passenger the shoulder space is decent. Even without a middle passenger full-size adults will be quite close in proximity, meaning there essentially no space for a third person in the back. It is legal to carry three, but anyone in there will get out in desperate need of deep-tissue physiotherapy.
Kia has done an amazing job of making the cabin feel not only spacious, but also modern and worthy of being compared against some classes above it. There's a full 7.0-inch touch-screen media interface packed with sat-nav, a rear-view camera, and it even comes with Apple CarPlay and Android Auto as standard. This is all awesome for such a cheap and cheerful car like this.
All of the controls are easy to find and operate, with Kia's typically well thought out approach to in-car layouts carrying through from higher models. We love the little twist-around cup holders in the front, and the various storage options around the centre console. It would be nice if some rubber coating were applied on the bottoms of these storage areas though as the scratchy plastic surface doesn't do well to keep your phone from sliding and scuffing about.
The 255L boot is useable for some light shopping, and the rear seats do fold down to present 1010L. However, there is a nasty step left over when you fold the seats down. We wouldn't recommend the Picanto for hauling the weekly shopping for a family, but for a couple living together the space is perfectly fine.

2019 Kia Picanto GT – THE DRIVE
So, that turbo three-piston engine. On start-up you immediately get an understanding of just how small this engine is. You could probably operate the starter motor with a couple of AA batteries. It turns over so gently, to the point where firing into life is almost seamless.
The idle does give you a few (pardon the pun) hints of the inherently out-of-balance character of the three-cylinder engine. In fact, you can almost count each combustion sequence as it goes suck, squeeze, bang, blow for each. It's not until you provide some revs that the engine note and character become more of a spirited thrum.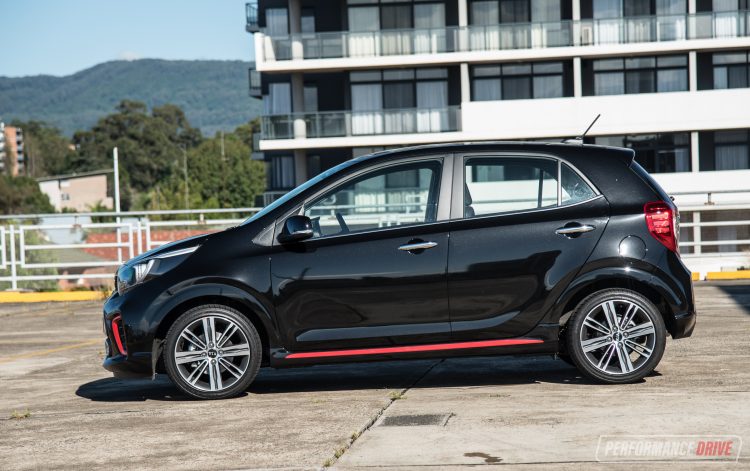 We like that Kia has paired this engine with a manual transmission, even though that does immediately reduce its market reach. But we'd rather the manual than an auto-only situation, like with the non-turbo GT-Line variant. There are only five ratios, but the joy of throwing the gear lever to and fro ensures the ends of your mouth are always pointing up.
After going over all of the specs and reading through the full press kit, we can't find anything about the suspension. Actually, more specifically, we can't find anything that says the suspension (springs and dampers) are any different to those fitted to the standard Picanto. Taking a look underneath, it all looks pretty much the same to us.
Does the GT deserve dedicated sports suspension? Since this is not an outright hot hatch, the answer is probably no. And considering such a setup would no doubt push the starting price northward and potentially negate the car's original intention, the standard setup could be a blessing in disguise.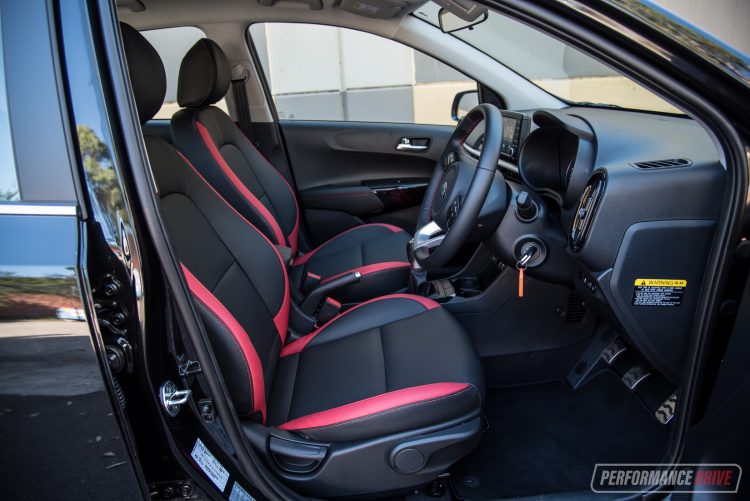 We have no real complaints about the handling. Due to its tiny footprint and wheels that are mounted as far outward as possible, with very little overhang from the body, the Picanto is nimble and fun. It's a joyous and plucky machine to play around with. Steering feedback is adequate, and you can almost see the front wheels through the side window so you can easily place the car exactly where you want it.
Push it even harder and the grip levels don't seem to diminish. Driving confidence is maintained thanks to the 195/45 tyres clinging on, however, mid-corner bumps can upset the balance of the car. More so than what you would experience in a larger car. The torsion-beam rear end isn't sophisticated, and this is the area that tends to bob and bounce around. In saying that, as long as you don't push ridiculously hard, the drive experience is confident enough and very interactive. You might not be breaking speed records but at least you're enjoying yourself.
In between the corners the pint-sized motor works eagerly to get the job done. With a tare weight of just 1007kg, it doesn't take much grunt to get things moving. But, the very low-down response can catch you off-guard. You need to keep those revs up, up beyond 2000rpm to maintain a nice high tempo character. Any lower than that and the engine can bog down quite profoundly. We notice the specs say peak torque is available from 1500 to 4000rpm, but it doesn't seem like this is the case in the real world.
One of our commenters on YouTube actually brought up a good point. The Rio GT uses the same engine (and is offered with a dual-clutch auto) but its outputs are 88kW and 172Nm. It's difficult not to ask why the power output is turned down to 74kW for the Picanto. The extra Watts would come in handy, and perhaps more securely validate its worthiness of the GT badge.
Even so, flat-out acceleration is respectable for this class. We clocked a best 0-100km/h sprint in 9.79 seconds, which is almost identical to the 9.78-second effort we achieved in the 1176kg Rio GT auto. Despite the added weight, the sharp-shifting dual-clutch auto in the Rio is much quicker than what any normal human can achieve in the manual.
2019 Kia Picanto GT – THE VIDEOS
2019 Kia Picanto GT – THE VERDICT
What a fantastic little car this is. It ticks all of the right boxes for a practical, user-friendly and space-efficient city car, but also kicks goals for enthusiasts with its chirpy turbo engine and interactive handling. If you're after a second car to run the errands or if you're simply looking for a compact city car, this is one that deserves your close attention.
PROS:
– Lots of fun to drive
– Fuel-conscious 1.0L turbo
– Sporty GT garnishes look the part
– Surprisingly spacious and accommodating interior (for the class)
– 7 years warranty, servicing and roadside assist

CONS:
– Engine bogs down at low revs
– 4-star ANCAP safety rating
– Scratchy plastic on base of storage trays
As always, if you're thinking about buying a new car don't forget to click here to speak with our car buying specialists.