This could be one to keep an eye on. It's already picked up a bunch of highly acclaimed awards overseas, and now, finally, it has entered the Australian market. Introducing the Genesis G70.
You may not have heard of it and that's because it is the first time this nameplate is being offered here. Some might recognise the Genesis name; it used to be applied to a Hyundai model called the Hyundai Genesis. That car has since moved on to become the Genesis G80, and now the brand is branching off and has been transformed into a completely separate brand, albeit owned by Hyundai. There's even bespoke Genesis dealerships being set up around the country, including one that's opening in Sydney this week.
As for the G70, this is designed to take on the BMW 3 Series and Mercedes-Benz C-Class. And it really is. We spoke with some key Genesis staff during the official media launch event a few days ago, and they said the task was to focus on the top prize, as opposed to trying to swipe attention from lower-ranking rivals such as the Infiniti Q50 and Lexus IS. So that's a pretty big task, then.
In Australia buyers are being presented with two different turbo-petrol engine options. There's the 2.0T and the 3.3T (actually a twin-turbo but the badge on the back doesn't highlight this). These are then split up in three trim lines, ranging from base 2.0T, to the 2.0T Sport and 2.0T Ultimate. Meanwhile the 3.3T comes in Sport, Ultimate, and Ultimate Sport.
For the first local drive event, which was held on some of the glorious roads of northern Victoria, we sampled mainly the 2.0T Sport and the 3.3T Ultimate Sport.
2019 Genesis G70 2.0T – THE SPECS
Engine: 2.0-litre turbo four-cylinder
Output: 179kW@6200rpm / 353Nm@1400-3500rpm
Transmission: Eight-speed auto
Drive type: Rear-wheel drive
Wheels: F: 19×8.0, 225/40, R: 19×8.5, 255/235 (Sport)
ANCAP: Five stars
Tare weight: 1604kg
Official fuel economy: 9.0L/100km
Fuel capacity/Type: 60L/95 RON
0-100km/h: 6.97 seconds (tested), 5.9 seconds (claimed)
Priced from:
2019 Genesis G70 2.0T: $59,300
2019 Genesis G70 2.0T Sport: $63,300
2019 Genesis G70 2.0T Ultimate: $69,300
2019 Genesis G70 3.3T – THE SPECS
Engine: 3.3-litre twin-turbo V6
Output: 272kW@6000rpm / 510Nm@1300-4500rpm
Transmission: Eight-speed auto
Drive type: Rear-wheel drive
Wheels: F: 19×8.0, 225/40, R: 19×8.5, 255/235
ANCAP: Five stars
Tare weight: 1719kg
Official fuel economy: 10.2L/100km
Fuel capacity/Type: 60L/95 RON
0-100km/h: 4.98 seconds (tested), 4.7 seconds (claimed)
Priced from:
2019 Genesis G70 3.3T Sport: $72,450
2019 Genesis G70 3.3T Ultimate: $79,950
2019 Genesis G70 3.3T Ultimate Sport: $79,950

2019 Genesis G70 – THE PACKAGE
Sitting in the medium-size luxury sedan market, the interior offers about average passenger space in the front. There is enough room to move about and the controls are slightly skewed toward the driver for that sporty feel. The driving position is also sunken as opposed to a more upright and perhaps luxury-focused layout. This should go down very well with buyers in this segment as most rivals are designed like this as well.
Rear passenger space is a bit tighter, with a large driveline tunnel making life hard for the middle seat passenger. In saying that, many of the rivals suffer from the same issue due to being rear-wheel drive. Headroom is decent in the back though and passengers are treated to climate vents and power sockets to keep devices charged.
Boot space does fall behind the key rivals, with only 330 litres presented. This is actually smaller than some small hatchbacks. The width of the boot area is pretty good but the depth isn't. In that sense, it may be difficult to cart around bulky items. A first-aid kit and emergency roadside assist kit come as standard.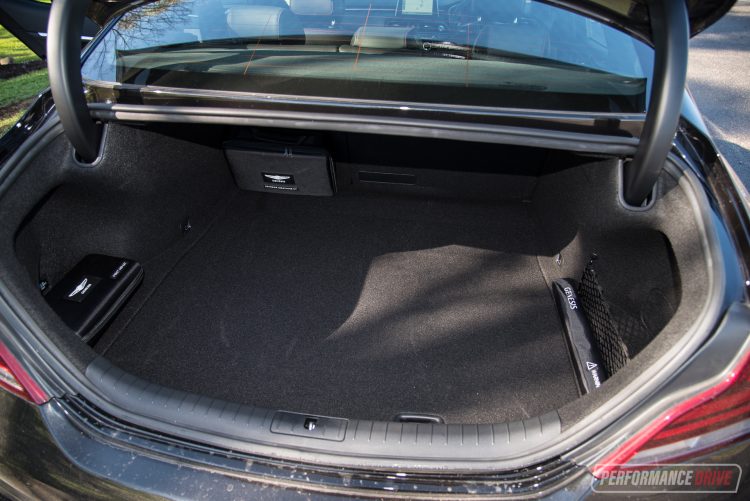 Speaking of standard features, the G70 range is extremely well packaged. All models come with an 8.0-inch touch-screen media interface packed with digital radio, Android Auto and Apple CarPlay, sat-nav, and all come with a kicking nine-speaker stereo with sub-woofers under the front seats. Actually, that's not quite the truth. The upper variants move up to a 15-speaker unit for even crisper and beefier sounds.
We like the cabin overall. The fit and finish is superb, with real aluminium trimmings giving it a genuine luxury tone, while the red stitching for the Sport models provides a racier character. It feels really nice in here. We could see ourselves happily spending hours behind the wheel, and as such, business folk in this market will likely appreciate it just as much. Even if they've just stepped out of one of the popular German rivals.

2019 Genesis G70 – THE DRIVE
So this is a pretty important area. There are many rivals in this class that are all vying to be best-handling medium sedan. The BMW 3 Series is usually the benchmark, but in recent years we've seen the Mercedes C-Class and Jaguar XE earn themselves high praise in this area. Some critics are even placing these at the top.
To start with we'll talk about the 2.0T model. The outputs stand at 179kW at 6200rpm, and 353Nm between 1400-3500rpm. These are some credible figures, although, they aren't the absolute strongest in this class for a 2.0-litre turbo. The torque spread in particular is only average. Genesis claims 0-100km/h takes 5.9 seconds but the best we saw was 6.97 seconds. Mind you, we did time it on a public road but it was very flat and the conditions were very cold.
For us, it's not so much the engine performance that might be a letdown. It's the transmission. Matched up to the engine is an eight-speed automatic. This is the same transmission used in the Kia Stinger, and in the G70 3.3T for that matter. It doesn't seem all that in-tune with how you're driving. For example, under braking it doesn't automatically kick down gears. Not consistently anyway. Instead, you'll come into a corner with some pace and it'll just stay in a high gear. You need to give the accelerator a prod and then it'll kick down and show you that it's eager to boogie.
Around corners the G70 is a thoroughly balanced machine. The 2.0T engine is light and the front end does seem more responsive and eager compared with the 3.3T. You can lean hard on the power from mid-corner and it will sling around like it's on rails. In this area, we think the G70 really is in the running to be one of the best handlers in this class.
When it comes to sheer fun and excitement behind the wheel though, the 3.3T is a hoot. This is a really refined, smooth, and gut-wrenchingly powerful engine. The G70 is around 50kg lighter in weight compared with the Stinger, but don't try to compare the two. These are completely different machines. And we're not just saying it because Genesis kept telling everyone. The two cars really are in a different league altogether.
The G70 feels agile and focused while the Stinger is more of a cruiser or a grand tourer. We're not here to compare the two but we know there will be plenty of interested punters out there who want to know the difference. Well, the difference is huge. The G70 behaves exactly like a competent thoroughbred and it wants to drive, whereas the Kia is probably more appealing to a wider market but it's not near as stable or committed as this.
With a V6 in this little sedan the performance is very impressive. Genesis claims 0-100km/h takes 4.7 seconds, but the best we could do was 4.97 seconds. We actually found a perfect little road to run some tests in the back country of northern Victoria, but it just wasn't budging below 4.97. And that's with the factory 'launch control' system. The launch control is basically a brake-hold function but Genesis does say the torque is optimised when this mode is activated. We had no traction issues at all, even with the traction and stability turned completely off during some tests.
4.97 seconds is extremely quick nonetheless. And around some spirited windy roads, the G70 induces grins wider than your face will extend. The handling is well up to the task of managing the power, with staggered wheel sizes front and rear for all 3.3T models to ensure optimum grip and balance. The steering is also beautiful. There's plenty of response and feedback without becoming fidgety, and there is pretty much no understeer unless you take a silly cornering line or come in too hot.
Like the 2.0T, the main letdown, and it's not a huge one, is the transmission. The gearshifts in auto mode just aren't up to the tempo of this engine and chassis. And in manual mode, the actual shifts aren't punchy enough for this engine. On top of this, the only way to ensure the transmission sticks in manual mode is by switching the stability and traction control off. Otherwise it will automatically upshift before the redline. As you might be able to imagine, upshifting just as you're approaching a corner can be quite frustrating.
2019 Genesis G70 – THE VIDEOS
2019 Genesis G70 – THE VERDICT
Well, what a car. This has really surprised us. It really does come seriously close to the class benchmarks for handling and chassis balance in our opinion. We love the muscular rear wheel arches and the overall design. It seems to blend the good bits of the rivals; there's a bit of Jaguar XE in there, a bit of 3 Series, and a bit of Alfa Romeo Giulia. The interior is also well executed and packed with plenty of features.
And then you come to the prices. These are noticeably more affordable than the prices of most of the Euro rivals. Especially if you match up similar powertrain levels. Add to that a five-year warranty with five years free servicing, and you'll left with a highly tempting option.
We are aiming to do a more comprehensive review of a specific 2.0T and 3.3T in the near future, and we'll put together our full performance test video with more controlled timing for you.