Welcome to the new Genesis G80. Yes, you may have seen this vehicle before. It used to be sold in Australia as the Hyundai Genesis. But now it's adopted a new global nameplate, and to go with it, Genesis has applied a range of updates to design, features, and technology.
We'll start with a little history lesson. The Hyundai Genesis entered the Australian market in 2015. It was designed and developed by what was then known as a sub-brand of Hyundai, targeting the likes of the BMW 5 Series and Mercedes-Benz E-Class. Back then the Genesis team within Hyundai was made up of just a handful of people.
Fast forward to today and Genesis is being launched as an entirely separate brand to Hyundai, in terms of marketing, products, showrooms, and customer experience. It is still owned by Hyundai but now the staff count, just for Genesis, is over 150. Think of it as more like Lexus to Toyota; the products share some fundamental components underneath, but pretty much everything on top is bespoke.
Four main variant levels of the new G80 are on sale in Australia, spanning from the G80 3.8, the 3.8 Sport Design, 3.8 Ultimate, to the top 3.8 Ultimate Sport Design. We were invited along to the official Australian media launch for a first local drive to check it out. During this two-day event we mostly drove the top 3.8 Ultimate Sport Design, but we'll talk about the G80 as a whole.
Starting prices are very attractive compared with some of the European rivals, especially considering the amount of standard kit you get with the G80. See the spec boxes below for the prices (excludes on-road costs).
2019 Genesis G80 – THE SPECS
Engine: 3.8-litre V6
Output: 232kW@6000rpm / 397Nm@5000rpm
Transmission: Eight-speed auto
Drive type: Rear-wheel drive
Wheels: F: 19×8.5, 245/40, R: 19×9.0, 275/35
ANCAP: Five stars
Tare weight: 1920kg
Official fuel economy: 10.4-10.8L/100km
Fuel capacity/Type: 77L/91 RON
0-100km/h: 6.81 seconds (tested in damp conditions), 6.5 seconds (claimed)
Priced from:
2019 Genesis G80 3.8: $68,900
2019 Genesis G80 3.8 Sport Design: $72,900
2019 Genesis G80 3.8 Ultimate: $88,900
2019 Genesis G80 3.8 Ultimate Sport Design: $92,900

2019 Genesis G80 – THE PACKAGE
Now that you know where the G80 comes from, what is it now? It's still a large luxury sedan that's looking to swipe sales from the aforementioned rivals. But it has been given a modern touch up. You might notice the new headlights with available LED technology, as well as the new LED taillights. The front and rear bumper bars are also slightly revised, with a sharper front grille.
Underneath it all Genesis has completely retuned the chassis and suspension. And then for Australia, local engineers have helped to implement an Aussie setting. In fact, the team went through around 12 different front and 16 different rear setups to find the perfect balance for local roads. Perhaps most interestingly, Australia is the first right-hand drive market to welcome the new G80, which means some of the local tuning could make it overseas.
Enough about the technical stuff. Let's get inside as this is what this car is all about. There's loads of evidence of proper, high-end luxury in almost every area that you look. The seats are wrapped in very high-quality leather, with Nappa leather for the Ultimate. You only need to touch the seats to experience the pampering softness. There's also woodgrain-style inlays and a nice mixture of colours and materials.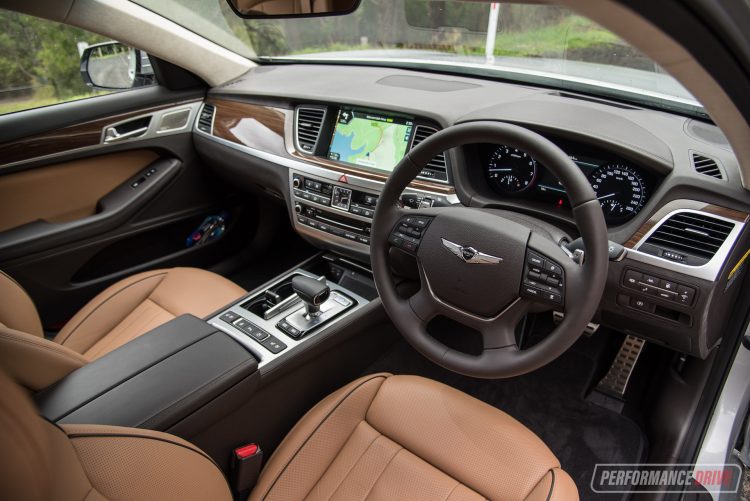 Some tidying of the dash and the use of soft-touch materials in all of the important areas makes the G80 feel like nothing short of a genuine top-end luxury sedan. About the only area that does fall a bit behind is the digital interface. Or rather, the lack of. While most rivals now come with a fully digital instrument cluster with configurable displays, and a fancy media screen that's bigger than your TV at home, the G80 makes do with mechanical dials and a comparatively basic touch-screen.
We think this might actually attract a specific buyer type. For example, some of the more senior of consumers might prefer sparse digital presence, as some rival setups can get quite complex and distracting. That's not the case with the G80. The touch-screen is very intuitive, with clearly marked buttons and apps, and the instrument cluster is clear and easy to read. And only the vital information is shown. Although, you can toggle through a small digital screen within the cluster to view trip information, as well as alter some driving and safety settings if you want to.
There's no complaints about the expanse of the cabin. There is loads of passenger space in the front, with a clean and clutter-free dash further boosting the perception of spaciousness. This itself is a form of desirable luxury. We like the flat, well-forward and squared-off dash design as it reminds us of Bentley or Rolls-Royce vehicles – we're sure the timepiece in the centre of the dash takes some inspiration from those brands. These iconic British cars have always featured a flat and fuss-free dash design. It seems to make the drive more relaxing and peaceful.
Rear seat space is even greater. And if you go for the Ultimate variants there is electric recline adjustment for the outboard seats. You're also presented with a comprehensive console that flips down as the central arm rest, housing controls such as the heating and cooling function for the seats, as well as media control. Legroom is abundant in the back, and this will go down very well with traditional large luxury sedan drivers and hire car drivers.

2019 Genesis G80 – THE DRIVE
During the official launch event earlier in the week, media were given the opportunity to test drive the G80 on some excellent roads north of Melbourne, up towards Albury. Along here we encountered some very ordinary surfaces too, with well-beaten country back roads. This gave us the opportunity to test out the local suspension tune.
We would categorise the G80 as more of a luxury vehicle than as sports sedan. Make no mistake about that. You can get the new Sport Design package but it hardly alters the fundamental properties of how the car drives and handles. Genesis has installed adaptive dampers as standard though, and these do improve the overall versatility of the car.
For example, along some poor quality country back roads the G80 is able to soak up tarmac imperfections wonderfully. There's no harsh crashing or sudden jolts as you cruise over these sections. It just sails along. However, if you leave it in the default comfort setting you will notice some body roll around bends.
Switching it over into sport mode and the G80 tenses up and becomes noticeably more sporty and eager to turn. It's no BMW 5 Series, but this setting proves to be very complaint and enjoyable on a twisty section of road. And it always feels planted and safe. It's simply not as athletic as some rivals, but then again, the G80 is designed to be more of a luxury sedan than a nimble sports sedan.
Power comes from the same 3.8-litre naturally aspirated V6 petrol engine as we had with the previous model. Overseas the G80 is offered with a 3.3-litre twin-turbo V6, like what you see in the Kia Stinger. However, our understanding is that this engine wasn't offered here due to the need for re-engineering for right-hand drive. We think the twin-turbo V6 would be nice, but this 3.8 is silky smooth and offers credible performance and economy.
Genesis has overhauled the engine, installing some new injectors and some lighter-weight parts. As a result, the same outputs of 232kW and 397Nm carry over from before. But, the fuel economy has dropped from an official average of 11.2L/100km to 10.4L/100km.
Despite being slightly damp we managed to see an improvement on the 0-100km/h time with our Vbox compared with the previous model. On a deserted piece of flat road we clocked 6.81 seconds, compared with 6.98 seconds in the previous model. Genesis claims 6.5 seconds for the new model. On a decent surface we think such a time would be totally possible.
2019 Genesis G80 – THE VIDEO
2019 Genesis G80 – THE VERDICT
We think the most attractive element to the Genesis G80 is the ongoing customer experience. The car is covered by a segment-leading five-year warranty and you're covered for five years with complimentary servicing. You can even call to have your vehicle picked up from your home or office at any time it needs to go into the service centre, and they will bring you a like-for-like vehicle to use during the service.
We think this is the area that will attract most buyers to Genesis, as you rarely see that level of ongoing customer commitment from the Euro rivals.
We are aiming to do a more in-depth review and performance test in the near future. For now, we've put together a quick demo of the 0-100km/h and engine sound. See above.