The McLaren 675LT is now officially on sale in Australia from $657,000. However, all 14 examples allocated for the local market have been sold.
Australian media were invited to an exclusive first look at an example of the stunning hypercar at the Sydney dealership, one of only two showrooms in the country.
We weren't given the opportunity to test drive the car, unfortunately, but it was a great chance to see the new model in the metal. Or, we should say, in the carbon fibre. We did manage to record a quick video of the start up sound for you. See below.
The awe-inspiring body stands just 1188mm tall, and spans 4546mm in length. This is 34mm longer than the 650S on which it is based, hence the LT name which stands for Longtail.
Yes, this new beast, as revealed in full earlier this year, is inspired by the Longtail McLaren F1 GTR racing cars of the 1990s. From the cabin back, the new 675LT is all carbon fibre, unlike the 650S which uses aluminium panels.
The particular car on display at Sydney features the carbon pack too, with naked carbon for the side intakes that are larger than those on the 650S, an exposed carbon rear diffuser, side skirts, and front spoiler. The $53,000 option also includes exposed carbon for the interior.
Overall, the 675LT is 100kg lighter than the 650S. It offers a dry weight of 1230kg. This translates to a big increase in performance, while the sleeker body improves downforce by 40 per cent.
Speaking of performance, thrust comes from the familiar 3.8-litre twin-turbo V8. McLaren has made some significant revisions to the unit though, including adding new turbos, altered cylinder heads and exhaust manifolds, and new camshafts and lighter weight conrods. These changes result in 497kW (675PS) and 700Nm.
Out on the tarmac, acceleration from 0-100km/h takes just 2.9 seconds, with 0-200km/h coming up in 7.9 seconds. Flat out, drivers will be looking for a top speed of 330km/h.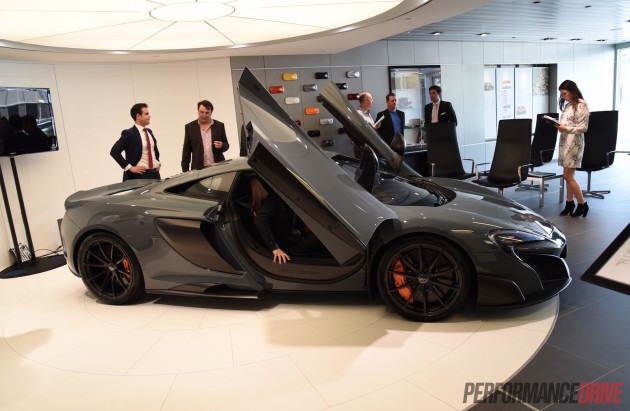 The local arm says it is trying to secure more examples for Australia, but given just 500 are being made globally, it doesn't seem likely. Instead, the 14 existing customers will be happy the 675LT remains as one of the most exclusive new cars on the market. Customer deliveries are scheduled to commence late this year.
McLaren sales are picking up in the country. So far this year (through July) the supercar brand has sold 21 vehicles, up from 14 during the same period in 2014.