Looking for a cool new family car that offers more than just the practicality of an SUV? Here are two highly credible options. But which one is best? This is a battle between performance-inspired, force-fed six-cylinder recreational vehicles that promise everyday practicality, definitive brand reputation and luxury, and big smiles when you feel like turning up the heat.
The Jaguar F-PACE S joined the party in 2016, and it has since undergone a few minor updates. Until the fire-breathing SVR V8 arrives a little later this year, this is the flagship variant. It's available with either the '30d' twin-turbo diesel that produces 221kW and 700Nm, or, what we have here, the 3.0-litre supercharged V6 petrol that barks out 280kW and 450Nm. This is the most powerful variant on sale, until the 404kW SVR arrives.
From Bavaria (actually built in USA) is the X3 M40i. This was only introduced earlier this year as the first performance variant of the X3 in Australia. It uses a 3.0-litre turbo inline six that screams out 265kW and 500Nm. Like the Jaguar, the X3 adopts an eight-speed automatic built by ZF. However, the X3 uses a constant all-wheel drive system while the Jaguar's setup is a variable on-demand type of setup. The M40i is also the flagship variant, until the X3 M comes along.
Pricing is very close between these two, with the BMW just edging out with a more attractive figure of $99,900 compared with the Jaguar's $104,827 (excluding on-road costs). There are a lot of options available in both, but the Jaguar presents more customisation possibilities albeit with fewer frills in base form.

2018 Jaguar F-PACE S vs BMW X3 M40i – THE SPECS
| | 2018 Jaguar F-PACE S | BMW X3 M40i |
| --- | --- | --- |
| Engine | 3.0-litre supercharged V6 | 3.0-litre turbo inline six |
| Output | 280kW@6500rpm / 450Nm@4500rpm | 265kW@6500rpm / 500Nm@1520-4800rpm |
| Transmission | Eight-speed auto | Eight-speed auto |
| Drive type | All-wheel drive | All-wheel drive |
| Wheels | F & R: 20×8.5, 255/50 (optional 22in fitted) | F: 21×8.5, 245/40 R: 21×9.5, 275/35 |
| ANCAP | Five stars | Five stars |
| Tare weight | 1822kg | 1768kg |
| Power-to-weight | 6.50:1 (kg:kW) | 6.67:1 (kg:kW) |
| Official fuel economy | 8.9L/100km | 8.9L/100km |
| Economy during test | 11.5L/100km | 10.5L/100km |
| Fuel capacity/type | 63L/95 RON | 65L/95 RON |
| Power efficiency | 31.46kW:L/100km | 29.77kW:L/100km |
| 0-60km/h | 2.85 seconds* | 2.40 seconds* |
| 0-100km/h | 5.62 seconds* | 4.96 seconds* |
| 60-110km/h | 3.64 seconds* | 3.22 seconds* |
| 1/8 mile | 9.10 seconds at 133.0km/h* | 8.67 seconds at 140.2km/h* |
| 1/4 mile | 13.87 seconds at 165.1km/h* | 13.28 seconds at 172.8km/h* |
| Max acceleration | 0.674g | 0.924g |
| 100-0km/h braking | 3.03 seconds at 37.49 metres* | 3.05 seconds at 37.28 metres* |
| Max deceleration | -1.099g | -1.194g |
| Decibel at idle | 42* | 46* |
| Peak decibel at 60-100km/h | 85* | 86* |
| Priced from | $104,827 | $99,900 |
* Figures as tested by PerformanceDrive on the day. Factory claims may be different
2018 Jaguar F-PACE S vs BMW X3 M40i – THE PACKAGE
We say the Jaguar comes with fewer frills because, as a standard, no-option-ticked product, you do miss out on some stuff that would otherwise be regarded as standard kit for a vehicle of this price range. For example, Jaguar Land Rover's latest 10-inch 'Touch Pro' touch-screen media interface with dual-view is optional ($1840), as is digital radio ($950), and surround-view parking cameras ($2160). We think, being the top S model, Jaguar should want to showcase these items as standard.
In saying that the BMW isn't exactly a no-options-needed vehicle. Apple CarPlay will set you back $623, and bad luck if you're an Android user as there's no Android Auto option (the Jaguar isn't offered with either of them). The X3 M40i does come with BMW's latest and largest 10.25-inch media interface as standard though, with touch-screen capability and surround-view camera technology as standard. Head-up display is also standard, or a $2650 option on the Jaguar.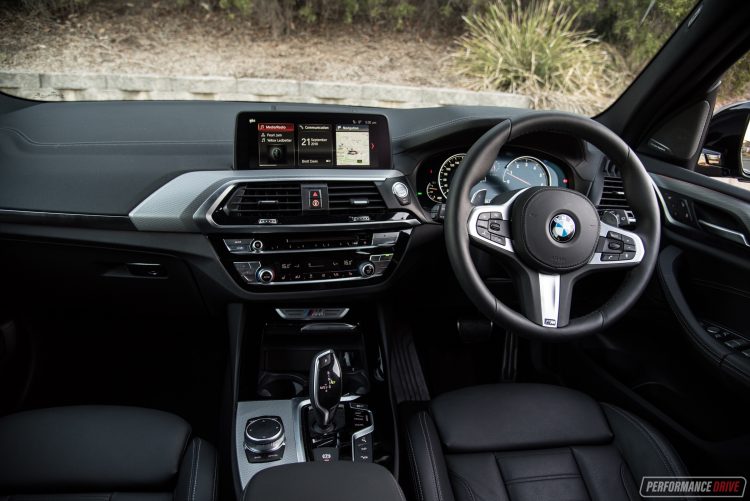 So, at a quick glance at some of the specs it can seem pretty obvious the BMW is a better value proposition. That's looking at the specific outlined features anyway. Where the Jaguar wins some points back is with personalisation. Buyers at this end of the market might not be interested in pure value for money but rather, they might be after exclusivity and opulence. And that's where the Jaguar excels.
You can choose between around 14 different wheel designs and sizes, compared with a small handful in the X3. There's also around five leather and trim options and multiple combinations, to the BMW's three or four different interior trims. And you can deck out the F-PACE with the popular 'black pack' for that tough street-tune look.
Both vehicles offer decent cabin space, with good headroom for average-height individuals in the front and rear. In our opinion, the Jaguar's interior layout is more elegant and trumps the BMW on aesthetic merit. We like the way the dash is encircled with indented skirting that blends in with the door trims. We also love the centre console with the rising rotary gear selector. It's a work of art. On the other hand the X3 is very practical. The cabin feels upright and outward visibility is superior, while the dash design is more functional than pleasing to the eye. There isn't a real winner in this department as these are two quite different approaches, and we think it simply depends on what you'd prefer. Build quality and fit and finish is very similar between the two.
Boot space is rated at 550L/1600L in the BMW while the Jaguar measures in at 508L/1740L. For added convenience, both have rear seat fold-down tabs in the back. You can flip the seats down from either the rear seat or from the cargo area. There's also some handy tie-down loops, some under-floor storage, and the BMW is equipped with a netted storage pocket in the sidewall and moveable tie hooks. For extra cargo, the F-PACE has a towing capacity of 750kg/2400kg (unbraked/braked), while the X3 can haul 750kg/2000kg.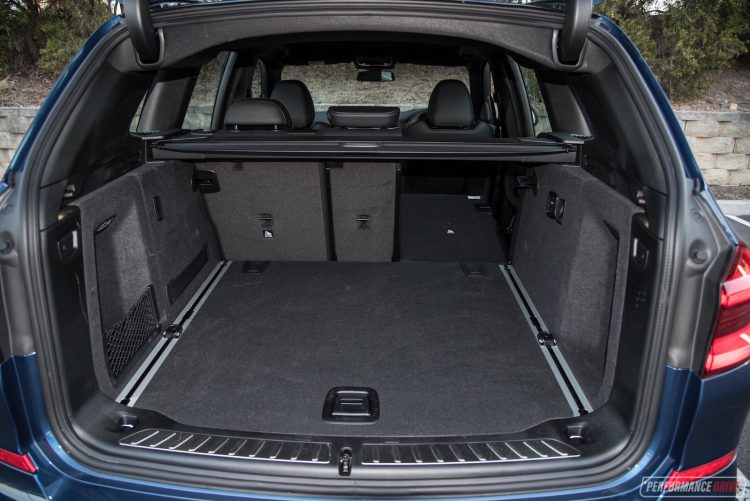 You can almost see the difference in external dimensions between these two. They do compete in the same medium-size SUV category in Australia, according to the Federal Chamber of Automotive Industries. But on paper the Jaguar is 15mm longer, 39mm wider, and rides on a wheelbase that spans 10mm further. The only area where the BMW is larger is with overall height, standing 9mm taller. This seems to coincide with the taller cabin orientation.
For those interested in heading off road the ground clearance is rated at 204mm in the X3, to the Jaguar's superior 213mm. Anything over 200mm is usually good enough for very light off-road duties, such as rough dirt roads. We wouldn't expect capability to extend much beyond that, though. Snow and firm sand driving ability would be very good compared with a conventional wagon.

2018 Jaguar F-PACE S vs BMW X3 M40i – THE DRIVE
Interestingly, these both offer an official fuel consumption average of 8.9L/100km. This isn't bad for a performance vehicle, especially an all-wheel drive one. In the real world the trip computer on the X3 (both reset at the start of our week-long test) displayed an average of 10.5L/100km compared with 11.5L/100km in the Jaguar. The X3 comes with a fractionally larger fuel tank too, at 65L to the Jag's 63L, which means the theoretical average range is 730km to 708km.
The 'B58' straight six engine in the BMW is fantastic. It has previously been awarded in Ward's 10 Best Engines list, and is set to power the upcoming Toyota Supra sports car. It sounds delicious. But for us, it's the performance and output characteristics that really tickle our fancy. Peak torque of 500Nm is available from just 1520rpm and held until 4800rpm. This means it is extremely versatile, pulling away from corners or off the lights with almost no hesitation. And like a classic BMW inline six, it loves to rev. Peak power comes in at 6500rpm.
Powering the Jaguar is the long-lived Ford-based AJ-derived 3.0-litre supercharged V6. It too is a great engine. You'll find it under the bonnet of the sexy F-Type sports cars. In the F-PACE it gets the higher tune, at 280kW and 450Nm – the engine comes in 250kW form as well in other JLR models. Accessing peak torque requires 4500rpm, which means it doesn't quite have the long stride of the BMW. Response off the mark is very impressive though, partly thanks to the supercharger which operates immediately. It sounds crisp and barks loudly when revved, making it feel like a true performance model. Despite offering more power, the Jaguar couldn't get near the X3's acceleration figures during our testing.
Across the 0-100km/h sprint our Racelogic Vbox displayed a best time of just 4.96 seconds in the BMW and 5.62 seconds in the F-PACE. There is a marginal weight sacrifice in the Jaguar, with tare mass stamped at 1822kg to the BMW's 1768kg. But, we reckon the main difference is down to the 50Nm of extra torque. We also suspect this engine produces more power than the 265kW claim.
These days the SUV vehicle category seems to be taking over what we used to know as the station wagon. And manufacturers are now at a point where they can engineer an SUV to feel and handle just like a traditional wagon. Both of these vehicles are a perfect case in point. Along a spirited drive down your favourite road, you wouldn't even know you're driving a vehicle with a higher ground clearance than a wagon. They are an absolute pleasure to drive.
When you really start to push them the X3 just edges out in front in terms of outright agility and precision. The suspension is noticeably firmer than the Jaguar's setup, coming standard with Adaptive M suspension, and that does mean comfort is jeopardised in normal conditions. However, this is a very competent package during high-tempo scenarios. The turn-in is sharper and with a better response from the CLAR-based chassis, and the constant all-wheel drive system and standard M Sport differential never give away acceleration to wheelspin.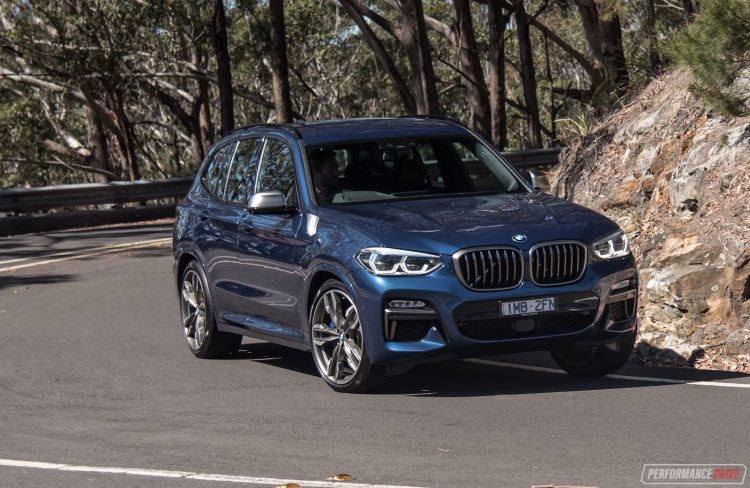 As a performance variant, or performance-inspired variant, the X3 M40i is able to brake later and harder than the Jaguar as well, thanks to a set of bespoke multi-piston M Sport brakes (painted in blue). During measured testing, both SUVs performed very well across the 100-0km/h stop, pulling up in the 37-metre range. It's during repeated abuse where the BMW feels the most confident and reassuring in this department.
Not all buyers are going to be worried about spirited driving capability – although you probably should if you're considering these two as it would be such a waste not to enjoy them. These two also have to present a certain level of civility and practicality. And this is where the Jaguar wins back some points. It is more comfortable on regular roads and does a smoother job of soaking up road imperfections. And that's despite this test car featuring optional 22-inch wheels compared with the standard 21s on the X3.
Strangely, adaptive cruise control is not standard on the Jaguar, but overall, it does feel more planted and more comfortable on long highway journeys. Jaguar has pulled a lot of the engineering and development work from the F-Type sports car to come up with the chassis for the F-PACE, sharing a similar double wishbone front and integral link rear suspension arrangement. Adaptive Dynamics driving modes allow the driver to toggle between different settings, spanning from comfort and eco-focused to sporty driving setups. And they all help to increase the F-PACE's overall versatility.

2018 Jaguar F-PACE S vs BMW X3 M40i – THE VIDEO
2018 Jaguar F-PACE S vs BMW X3 M40i – THE VERDICT
The Jaguar F-PACE S is a beautiful machine to behold, and, subsequently, much nicer to look at than the BMW. A similar thing can be said about the interior, too. And if you get the colour and wheel options right, you could say the F-PACE is the 'coolest' SUV in the class. In S 35t form you'll thoroughly enjoy the barking supercharged V6, and you'll appreciate the relaxed ride in comparison to the X3. For us, the F-PACE wins on character, design and defining luxury.
As a sporty variant of something that is already one of the most practical propositions in the class, the BMW X3 M40i is hard to beat. Yes, the suspension is rather firm but this means it handles like a bona fide sports car (or a sports wagon). It also feels much lighter in weight than the Jaguar, with a lively turn-in and better poise around corners. Value for money is also higher with the Bavarian. Pair that with the sensual inline six engine that offers incredible acceleration, and you're left with a very enjoyable and desirable performance SUV. As a result, we hand the crown to the X3 in this contest. We can't wait to see how the X3 M and F-PACE SVR shake up this class.
As always, if you're thinking about buying a new car don't forget to click here to speak with our car buying specialists.