Ever wanted a Tesla Model S station wagon? A group of engineers and a designer have built a one-off example of exactly that.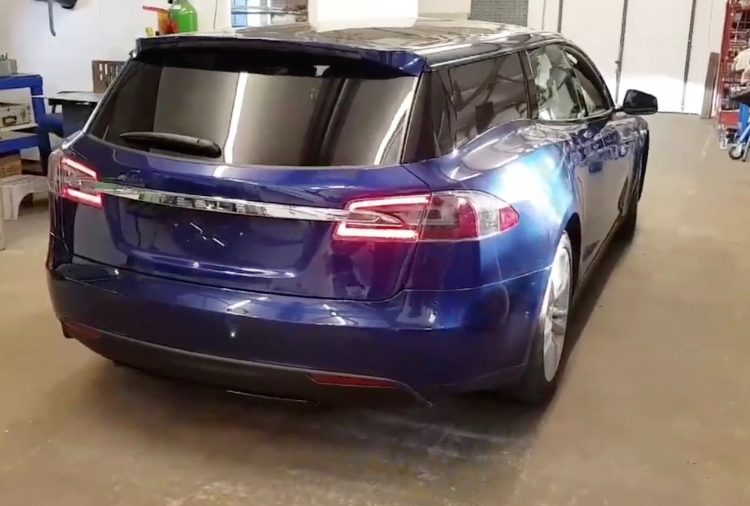 The Model S wagon project has been a custom build in the making for about a year now. It started with Neils van Roij Design. The firm was responsible for coming up with the styling of the wagon, which, in the initial sketches, looks quite stunning.
From there, Qwest Norfolk, based on the UK, were then tasked with actually building the unique creation. And now it's all complete. It uses much of the Model S's sedan body, including the wheelbase, front and rear lights, and all of the front end.
At the rear, the wheel arches seem to bulge out similar to the sedan but the upper edge leads into a unique set of rear windows and windscreen. Correct us if we're out of place but the roof line doesn't seem all that consistent, looking very flat and almost like an old-school Volvo; very boxy.
The underpinnings remain the same, based on the Model S P90D, which, during its launch, was the quickest-accelerating production sedan in the world. We're guessing the addition of the wagon section hasn't added significant weight so the performance probably remains.
What do you think? Would you like to see Tesla offer an official wagon variant of the Model S? Check out the video below for more of a look.
And finally… the bit you've all been waiting for. A few of you doubted it was even real..captured earlier today the moment that @TeslaTed very own P90D-SB connected to the #ElonMusk network became visable and moved #theteslashootingbrake #british @BBC_TopGear @FullyChargedShw pic.twitter.com/ZRCiEAclUR

— Qwest Norfolk (@QwestNorfolk) 16 December 2017