The sexy new Volvo S60 and Volvo V60 (wagon) is already a quite a potent package, we even went as far as calling it a sleeper in our recent Volvo S60 T6 R-Design review. To amplify the character, tuning company Heico Sportiv has just released an upgrade kit which brings more power and various styling tweaks.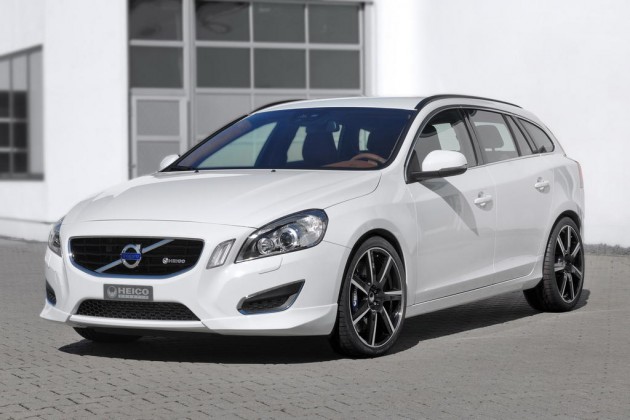 The Heico Sportiv Volvo V60 tuning package doesn't really completely transform the car into an indistinguishable kit, neither does it alter the foundations of the powertrain so much so that vast transmission reinforcements need to be made. Instead, the Heico Sportiv kit extends upon the already subtle styling and technical cues of the original Volvo V60 and Volvo S6o range.
The Heico Sportiv kit starts with a slightly more aggressive bodykit consisting of a new two-piece front bumper bar and chin spoiler. At the back, there's a matching rear bumper bar with a new carbon fibre rear diffuser slotted in between a quad tailpipe layout (stock uses a single pipe on each side).
Completing the visual tweaks are a set of 19-inch Volution VII diamond-cut matt-finish alloy wheels measuring eight inches in width front and rear. Making sure these sit nicely within the wheel arches, Heico also provides a sports lowered suspension kit which drops the Volvo V60 30mm.
As for the hardware, the Heico Sportiv Volvo V60 features new, larger disc brakes clamped by blue-painted six-piston calipers swearing special Heico Sportiv logos.
Under the bonnet, the Heico Sportiv Volvo V60 comes with a plug-and-play-style ECU upgrade called 'e.motion' which boost power levels for various Volvo V60 engine trims. For the top-spec Volvo V60/S60 T6 variant, which comes with a 3.0-litre turbocharged straight six, power is taken from the standard 224kW up to 243kW.
The e.motion chip also comes with an in-car driver's setting which alters engine mapping to suit different characteristics. There's an option for more economical driving as well as one which provides the optimum outright performance. Best yet, Heico Sportiv provides five-year warranty for the upgrade.
They are no Heico Sportiv dealers in Australia that we're aware of at the moment, so unfortunately the kit is only available overseas. Still, it's a taste of what one could do, tuning wise, to the new Volvo S60/V60 range.