The stunning Jaguar F-Type Coupe will go on sale in Australia in July, joining the equally striking F-Type convertible. Three variants will be available, all of which are supercharged.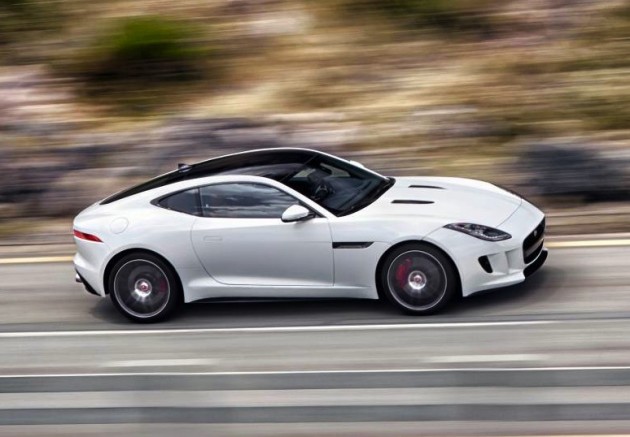 Like the convertible, the F-Type Coupe will come in three states of awesomeness. The entry-level F-Type with its 3.0-litre supercharged V6 producing 250kW and 450Nm is able to conquer 0-100km/h in 5.3 seconds.
Stepping up a notch, the F-Type S comes with a boosted version of the 3.0-litre supercharged V6 producing 280kW and 460Nm. It's able to crack 0-100km/h in just 4.9 seconds.
Standing at the top of the range is the F-Type R. It comes with an almighty 5.0-litre supercharged V8 producing 404kW and 680Nm. It's able to cover 0-100km/h in just 4.2 seconds and go on to a top speed of 300km/h.
This will be a cracking car when it arrives, and it will place itself in the market very competitively against rivals such as the Porsche 911, upcoming BMW M4, and Mercedes-Benz C 63 AMG Coupe.
Full prices are as follows (excluding on-road costs):
Jaguar F-Type Coupe – $119,900
Jaguar F-Type S Coupe – $152,300
Jaguar F-Type R Coupe – $219,600
See below for the standard features:
F-TYPE R
Engine: 5.0-litre V8 404kW supercharged petrol
Acceleration: 0–100 km/h in 4.2 seconds
Top Speed: 300 km/h
Emission: CO2 259 g/km
Standard Equipment:
Jaguar Super Performance Braking System with Red calipers
Sports Suspension with Adaptive Dynamics
Switchable Active Sports Exhaust with quad exhaust pipes
20-inch Gyrodyne Black & Diamond Turned alloy wheels
Electronic Active Differential with Torque Vectoring
Performance seats with leather facings and 'R' embossing
Three-spoke leather flat-bottomed steering wheel with Ignis gear shift paddles
Dark Technical Weave Aluminium console finisher with 'R' graphic
Configurable Ambient Interior Lighting with selectable palette
F-TYPE S
Engine: 3.0-litre V6 280kW supercharged petrol
Acceleration: 0–100 km/h in 4.9 seconds
Top Speed: 275 km/h
Emission: CO2 213 g/km
Standard Equipment:
Jaguar High Performance Braking System with Red calipers
Sports Suspension with Adaptive Dynamics
Active Sports Exhaust with centre mounted twin exhaust pipes
19-inch Propeller Silver alloy wheels
Limited Slip Differential
Sports seats with leather facings
Three-spoke leather steering wheel with Ignis gear shift paddles
Dark Hex Aluminium console finisher with 'S' graphic
Configurable Ambient Interior Lighting with selectable palette
F-TYPE
Engine: 3.0-litre V6 250kW supercharged petrol
Acceleration: 0–100 km/h in 5.3 seconds
Top Speed: 260 km/h
Emission: CO2 205 g/km
Standard Equipment:
Jaguar Performance Braking System with Silver calipers
Sports Suspension
Sports Exhaust with centre mounted twin exhaust pipes
18 inch Vela alloy wheels
Sports seats with leather and Suedecloth facings
Three-spoke leather steering wheel with Black gear shift paddles
Light Hex Aluminium console finisher