A McLaren employee has crashed a brand-new 650S Spider in West Sussex, UK, tipping the supercar over, causing huge damage to various parts of the car. The driver was seriously injured.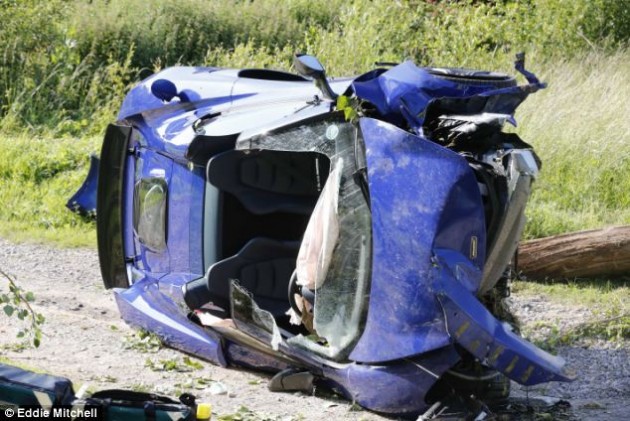 The unfortunate accident occurred on the A285 in Duncton at about 5pm. According to reports the car spun off the road and rolled. In the process, a wooden post came into contact with the driver who had the roof down at the time. He was travelling back to the McLaren factory in Woking. McLaren spoke about the incident in a statement, saying,
"The car was being driven by a McLaren employee on it's way back to Woking. We are working closely with the police trying to find out how the crash happened. There are a limited number of employees who are permitted to drive our cars.

"They have to pass an intensive driving court before they are permitted to drive. This man did exceptionally well on our course and had been drive our cars for a long time. Out of respect for his family we have been asked not to discuss his condition."
The 650S is high-powered, rear-wheel drive supercar featuring a 3.8-litre twin-turbo V8 producing 478kW and 678Nm. It's able to cover 0-100km/h in just 3.0 seconds and a quarter mile in 10.5 seconds.
Some reports say the driver is in a stable condition while others say he is in a more serious state. McLaren sent out its concern for the driver, saying,
"We are all thinking of our friend and colleague following a serious accident on Friday. Out of respect for his family we won't mention his name but we wish him a swift recovery and look forward to seeing him back at work soon."