We've run into a bit of a problem with the 2013 Ford Fiesta ST. It's laughingly fun to drive, thoroughly engineered, turbo, built by a big reputable company, fuel efficient, and it's as cheap as chips. Why isn't it more popular? Why aren't the roads inundated with these things?
This is the first proper Fiesta ST introduced in Australia, and it's the closest factory creation you can get to Ken Block's insane rally car.
Based on the chirpy, happy-go-lucky Fiesta hatch, the ST is the full potential of what Ford's Team RS performance division can do for the mini hot hatch market segment.
That means a bespoke engine, brakes, styling, interior, and plenty of unique features. Think of it as like a shrunken down, pokier Focus ST – a much loved vehicle in itself.
Unfortunately for some, the ST is a single-shelf model. It's only available in three-door form (in Australia) which means it is going to miss out on some of the market that require the convenience of four doors, and it's only available with a manual transmission.
The upshot to this simple one-size-fits-all packaging is one streamline price; just $25,990 – easily the best bang-for-your-buck in this segment. See, this is why we think there should literally be swarms of these whizzing about in every city street and backroad in the country. What a bargain.
2013 Ford Fiesta ST – THE SPECS
Engine: 1.6-litre turbo four-cylinder
Output: 134kW@5700rpm / 240Nm@1600-5000rpm (147kW/290Nm overboost)
Transmission: Six-speed manual, active differential with torque vectoring
Drive type: Front-wheel drive
Wheels: F: 17×7.0, 205/40  R: 17×7.0, 205/40
ANCAP: Five stars (scored 34.44 out of 37)
Kerb weight: 1197kg
Power-to-weight: 8.9:1 (kg:kW)
Official fuel economy: 6.2L/100km
Economy during test: 8.8L/100km
Fuel capacity/Type: 48L/91 RON
Power efficiency: 21.6kW:L/100km
0-100km/h as tested: 6.9 seconds
Priced from: $25,990
2013 Ford Fiesta ST – THE PACKAGE
Ford has taken engineering work for the Fiesta ST very seriously. It has been honed and perfected with real motorsport pedigree, including 7500km of race track calibration and 5000km of high speed testing. As a result, almost every aspect has been synchronised to provide fun, capable sportiness without jeopardising practicality. It's the epitome of what a hot hatch is meant to be.
Starting with the interior. The moment you open the door you'll see a pair of huge bucket seats with the words RECARO embroidered down the hips. This is your first point of contact and your first colleague that you instantly become friends with.
They are almost amusingly flamboyant and 'shouty', with two-tone material and massive bolsters sprouting out like it's a baby seat. In fact, the one criticism we have with the seats is that they actually feel a bit big inside the little Fiesta. They make you feel like you're sitting in a high chair at the dinner table – they should probably come with a bib too as you tend to require one after the first drive.
With the seats lowered down as low as they can go, the driving position is good, but not quite perfect. It's a bit high for our liking. We'll call it quirky.
All of the controls are nicely placed though, with a slick-shifting gear lever at arm's length and very well placed pedals with proper rubber studs allowing you to get settled in with confidence that you have the right tools for the job of driving.
If you're planning on taking passengers in the back, you needn't worry too much. Rear seat space is surprisingly accommodating. There's respectable levels of headroom thanks to the high rear end – of which kind of ruins the fat hot hatch rear stance a bit in our opinion – with legroom probably the only minor restriction, especially if there are tall passengers in the front.
In the very back there is 276 litres of cargo space. There's enough room back there for a small family's shopping or a weekend away, but the boot floor is fairly high due to the spare wheel underneath.
Ford has been really stepping up the technology lately with its vehicles. Given the Fiesta ST is an all-new model around the world and not just in Australia, it's filled with all of the company's latest and greatest tech and safety features. Chief among which is the Ford SYNC multimedia interface which comes with something Ford calls Emergency Assistance.
Essentially what this does is contact emergency services automatically, in the event of an accident. If the car is involved in a crash, for instance, emergency services will be dialled through the Bluetooth interface allowing you to talk with help as soon as possible. The system also sends out location data so that help can be dispatched promptly to the right place. It's quite clever, and no other car in this segment offers such a service.
Aside from the safety stuff, the SYNC system is compatible with multiple platforms, such as USB and iPod and so on. While the technology is there, the user-friendliness could do with some further tweaking.
The centre dash fascia is frankly a mishmash of buttons. It takes a good getting used to before anything becomes second nature. Some of the interior design is a bit inconsistent as well, particularly where the door trim meets the dash; it's almost as though two different departments designed each section without actually talking with each other.
Standard highlights include a beefy eight-speaker Sony stereo system and a 4-inch TFT display, voice recognition, pollen-filtered climate control, an on-board tyre pressure monitor, automatic wipers and headlights, parking assistance with a graphic display, hill-hold, cruise control, and nine airbags with five-star ANCAP safety.
Mechanically, the ST is distinguished via a sharp bodykit and rear spoiler, a gaping big black grille at the front, 17-inch alloy wheels, dual exhaust tips, sports suspension, and an active torque vectoring differential.
2013 Ford Fiesta ST – THE DRIVE
Driving the Fiesta ST can be a serious amount of fun. It's a genuine driver's car. It enjoys skipping from corner to corner, bobbing and bouncing around like it's actually dancing, and it loves to belt out its turbo grunt on the straights.
The first element you ought to thank for the joy is the engine. It's a 1.6-litre turbocharged four-cylinder, built as part of Ford's EcoBoost family. Peak power is 134kW and peak torque is 240Nm. However, during overboost (full throttle for a short time) there's actually 147kW being churned through the front wheels. This makes it the most powerful vehicle in its segment, if momentarily, along side the new Renault Clio RS (147kW).
With this much power coming from such a small engine, there is some turbo-lag. The lag only exists if you decide to suddenly nail the throttle at mild revs. If you're leaning on the power and keeping some form of tempo going, the power delivery is quite linear. We kind of like a bit of turbo-lag anyway, it tends to make the drive all the more exciting.
Nail the throttle off the mark and the front wheels will scramble for traction for most of first gear (traction control off of course). This is accompanied by a thrilling rally-car-like deep engine note that climbs into a burbling roar. Slot home second gear with the smooth-clicking shifter and it'll give off a distinct chirp as the engine puffs in another peak power and torque combo. 100km/h comes up just as you push home third gear. We timed a best 0-100km/h sprint in 6.9 seconds.
Although 6.9 seconds might not sound too exhilarating, this is one of those cars that performs best when it's up and going. There's heaps of torque available down low, and you can feel it surging through. You can go through roundabouts in third gear with no hesitation, for example, and even feed in the throttle and it'll haul you out with that gut-wrenching pull that we all love.
Combine this brilliant engine and transmission with a well-sorted chassis and steering and you're left with a fantastic package. And that's what Ford has done. The handling is really fun, with direct, communicative steering, and a suspension setup that's not too firm for ordinary roads nor too soft for hitting high lateral gs.
When you really push it, there is some movement and nervousness to the handling. The suspension bobs around on anything but baby-arse smooth roads, and if you've got the stability control switched off, both understeer and lift-off oversteer is present. You need to be driving pretty darn hard though for any of these characteristics to occur. For a vehicle with a torsion-beam rear suspension layout, the chassis response and pin-point accuracy is impressive.
Happily, the 278mm front and 253mm rear disc brakes take a bashing without battering an eyelid. After our usual mountain run, up and down, there was no fade or pedal drop that we could notice.
Overall, the Fiesta ST is not as planted or as reassuring as a Volkswagen Polo GTI – the pioneer of this segment. On the contrary, it is more fun as there is a threshold of forgiveness, allowing you to play around with some oversteer, understeer, and full-throttle wheelspin bursting out from corners. It's an absolute hoot. We'd even go as far as saying it is one of the most joyous and engaging 'practical' cars on the market right now.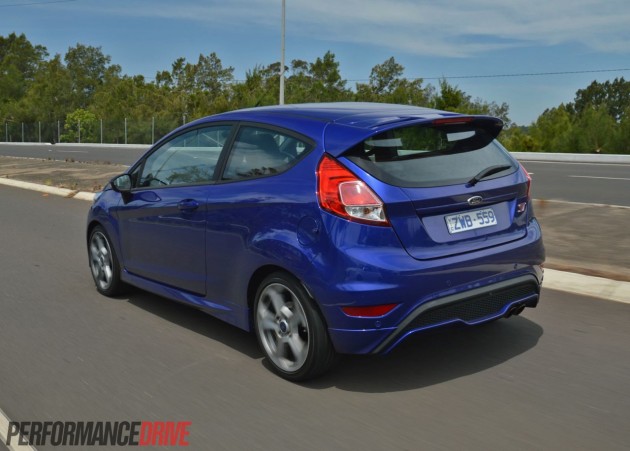 2013 Ford Fiesta ST – THE VIDEO
2013 Ford Fiesta ST – THE VERDICT
To be taken in the best possible way, the Fiesta ST is exactly like a slightly shrunken Focus ST. Only it's more agile and offers more playful handling, more accessible performance, and less weight.
About the only negative aspects to the Fiesta ST are the driving position, as mentioned, and the layout of the dash, which looks like it would be more at home on the Starship Enterprise.
Other than that, it's a fast, really fun-handling super mini, and a car that is sincere about wanting to provide an entertaining drive. It's packaged well with lots of standard kit too, and the price is right. If you're even slightly thinking of buying one, trust us, just go for it, you won't be disappointed.
PROS:
– Agile and super-engaging handling
– Plenty of torque and sporty in-car engine note
– Well packaged
– Fuel economy
– Price

CONS:
– Driving position is a bit high, Recaro seats almost too large for the cabin
– Only available as a three-door
– No auto option
2013 Ford Fiesta ST – THE COMPETITORS
Renault Clio R.S. 200 EDC
1.6-litre turbo four-cylinder – 147kW-240Nm – 6.3L/100km – from $28,790
Skoda Fabia RS 5dr
1.4-litre turbo supercharged four-cylinder – 132kW-250Nm – 6.1L/100km – 1253kg – from $27,990
Suzuki Swift Sport 5dr
1.6-litre naturally aspirated four-cylinder – 100kW-160Nm – 6.5L/100km – 1060kg – from $23,990
Volkswagen Polo GTI 3dr
1.4-litre turbo supercharged four-cylinder – 132kW-250Nm – 6.1L/100km – 1189kg – from $27,790