Toyota is keen to extol the virtues of its fuel cell technology, as seen in the Mirai, so it is even taking the awkward-looking sedan to race events and hillclimbs to promote it, such as the Gurston Down hillclimb.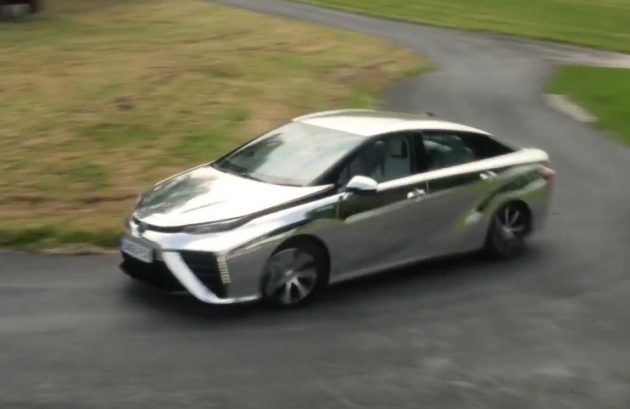 The mirror-finish wrap meant every onlooker's eyes were dragged kicking and screaming to the ridiculously-proportioned vessel, which used its fuel cell drivetrain to savage the 1km course in 44.44 seconds, at a 100.58km/h average rate of knots.
Other unexpected places where the Mirai has shown up include the Monte Carlo circuit at the Monaco Grand Prix, where it did a lap of honour, reminding petrol-headed fans that a silent and water-emitting future is inevitable and there's nothing we can do about it.
The car itself is available in the US, Japan and some European countries such as Norway, which have an active hydrogen infrastructure. Range is 500km while top speed is 178km/h. The 0-100km/h dash is taken care of in a not-too-shabby 9.6 seconds.
Although Tesla's success has seemingly prompted a mega-tsunami of electric cars in the pipeline, hydrogen still looms large on the product plans of Daimler, Hyundai and Honda – the latter also has the FCX Clairty to compete with the Mirai.
Toyota Mirai at Gurston Down Speed Hill Climb from ToyotaGB on Vimeo.