Volvo has unveiled an interesting interior design layout to go with its advancements in autonomous driving technologies. It's called the Concept 26.
Why Concept 26? Volvo says it relates to 26 minutes, which is apparently the average daily commute motorists make every day – obviously the data wasn't recorded in Sydney.
To make journeys all the more relaxing and enjoyable Volvo's design team are proposing an extravagant cabin layout. If you thought the 17-inch touch-screen was big in the Tesla Model S, this concept features a full wide-screen LCD screen about the size of a home TV.
The huge screen scrolls out from the dash, taking up pretty much the entire passenger side and middle. Activating an autonomous driving mode, the passengers and the driver can then sit back and relax while watching movies or even stream content from services such as Netflix. Robin Page, VP of Interior Design at Volvo Cars, spoke about the concept, saying:
"It's all about people. Our research clearly shows that some people will want to use their commuting time creatively when they have full autonomous drive available, while others will want to just sit back and relax, watch online media or listen to music. Autonomous drive will make all of this possible. This is what Concept 26 has captured by reimagining the entire car experience."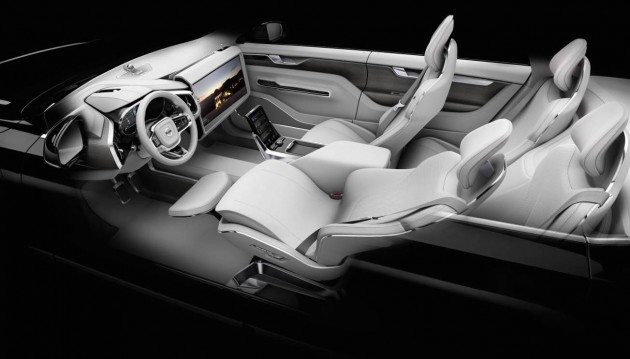 Drivers can select between three drive modes, including Drive, Create, and Relax, with each providing different commuting experiences. Whatever the mode, passengers are treated to a plush Scandinavian decor with patented cradling seats, with wood and leather trimmings, and a retractable steering wheel for the driver for maximum space and comfort.
Volvo is committing a lot investment into autonomous driving technology, with vehicles such as the new XC90 already offering semi-autonomous capability in certain conditions. Fully autonomous Volvo production cars are expected to roll out by around 2020, potentially offering interiors inspired by the Concept 26.