Following news of Audi planning the e-tron GT, the company has also confirmed some timing details about the upcoming Q8 large luxury SUV, as well as a string of other new models planned over the next 24 months.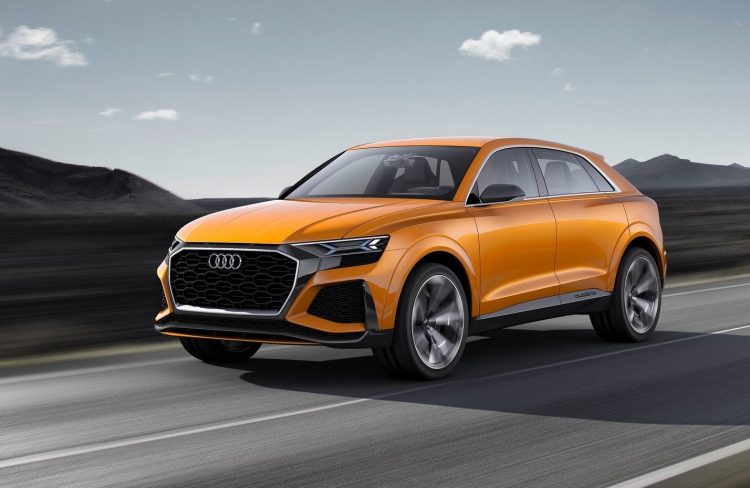 Speaking out at its annual press conference in Germany, Audi said it is planning to launch a new model about every three weeks this year. First will be the new A6, and then the Q8. The latter is part of a major onslaught of new SUV models, which includes 11 new variants or completely new Q models between now and next year.
The Q8 will be the "new face of the Q family", and will be presented to the public in Shanghai in June. There's also the new Q3 on the way which has been seen in prototype form recently, undergoing harsh winter testing in snowy northern Europe.
Audi says the Q3 is a growth driver, especially in China and America. For the new model Audi is set to apply a fresher design language, giving the small SUV a much needed, more modern look. The current Q3 has been around now since 2011 with only facelift updates along the way.
Also confirmed, Audi is planning to launch an SQ2 performance derivative of the Q2 compact SUV in the next 24 months. It's expected to come with a similar 2.0-litre turbo-petrol engine as used the S3, which produces 213kW. This might be turned down a little for the SUV.
Speaking of the Q2, a longer wheelbase version will be launched in China, along with a long wheelbase version of the new Q5 in the next 24 months. These are expected to help tip SUVs sales for Audi into the next phase. In fact, Audi expects that by 2025, 50 per cent of its sales will be made up of SUVs. In a statement, Audi said:
"We are really mixing up the SUV segment. This year and next, we will launch eleven new derivatives or completely new Q models, such as the new face of the Q family, the Audi Q8, which we will present in Shanghai in June."
As for the Q8, it's set to be a grander version of the Q7, sharing the same platform and likely the same engines. Audi is the last German automaker to jump on board the four-door coupe SUV bandwagon, following the likes of the BMW X6 and Mercedes GLE Coupe, and the Q8 is set to be the first. We can look to the Q8 Sport Concept for some clues on this (pictured above).
Stay tuned for plenty of news on the release of these new models as they debut. In the meantime, check out the next-gen Q3 undergoing testing in prototype form in the video below.