It's not very often we come across insane yet interesting performance modifications for commercial vehicles. Here's one that deserves some recognition called the Stinger 200HIACE, built by a Japanese company called S.A.D Custom.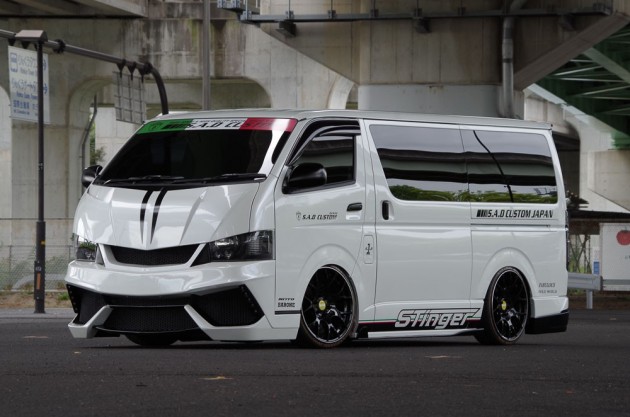 The Toyota HiAce is one of the most popular vans on sale in Australia. And we're sure you've seen countless 'custom' vans bopping around with chopped suspension and massive wheels, and often matt paint.
S.A.D Custom has elected to go for a different approach; Italian supercars. Yep, this crazy van features a bodykit that's inspired by the likes of Lamborghini and Ferrari supercars.
At the front is a custom bonnet complete with racing stripes and a rippling 'V' contour, leading to a Lamborghini Reventon-style intake grille, angular and tinted headlights, and a low front spoiler/apron with engulfing side winglets.
The styling specialist has decided to go for a neat white and black colour scheme, extending to the midnight black tinted windows, 'Stinger' decals down the sides, racy black rear diffuser, and set of black forged alloy wheels. There's also black wind visors for the side windows (after all, this is a work car) and freshly painted black side mirrors.
Unfortunately, the extent of the mechanical enhancements is limited. You can probably notice the slammed suspension bringing the body considerably lower to the ground than the standard courier-spec HiAce, while the exhaust gets a quad-outlet system with fake carbon fibre (fire proof) tips.
In the engine bay sits the standard '1KD-FTV' 3.0-litre turbo-diesel engine pumping out a massive 100kW and 300Nm. It's untouched and probably runs 0-100km/h in about 13 seconds. But who cares about speed when you have a van that kind of looks like a Lamborghini, right?