Subaru, sponsoring this year's Isle of Man TT event, has smashed the Isle of Man record for a motor vehicle in a Subaru Impreza WRX STI driven by British rally driver Mark Higgins. He posted an epic lap of 19 minutes and 37 seconds, beating the old record which has been in place for the past 21 years.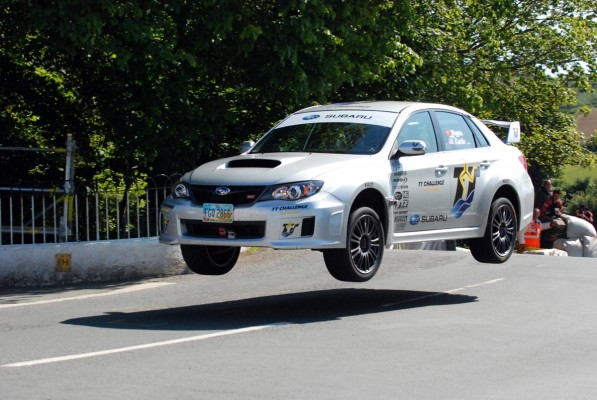 Not that the old record would have beat hard to beat, previously held by a Rover 827 Vitesse, although, it was driven by ex-Group B rally driver Tony Pond, the Subaru WRX managed to maintain an average speed of 185km/h around the 60.8km road circuit.
The amazing thing about the Isle of Man is just the sheer danger of it all. There's very hard, and very pointy walls surrounding the circuit, which are made out of large rocks. Literally. It doesn't stop hundreds of mad men racing around there on the superbikes though. And it certainly hasn't stopped Mark Higgins from setting a record lap. Higgins said in a recent report,
"This is one of the most daunting tracks I have ever driven, and the most terrifying. We were only able to get two practice runs and on our second practice I had the biggest 'moment' of my career.

"We had a passenger on the run and so coming into Bray Hill at more than 150 MPH, the extra weight compressed the suspension more than on previous runs and shifted the Subaru to the left and then right as I corrected–it was a real tank slapper.

"The whole thing went by so quickly that we never slowed below 110 MPH, and then we were back on the power. It was amazing and the helicopter shots really show just how hairy it really was."
Take a look at the video below for the incredible save.
Subaru has also put together a rather nice video showcasing the record-breaking attempt. Take a look, and check out those speeds; 150mph, or 250km/h, on what is normally a public road. (The Isle of Man actually has no speed limits out of built up areas during normal days, so plenty of practice can be undertaken all year round.)